Choosing between two top-rated platforms isn't easy. Each is worthy of consideration, but by honestly considering your own goals and needs you can make a confident selection. Datapeople and JDXpert each offer a range of distinctive features that meet the different needs of HR and talent acquisition (TA) teams. Let's find out which is best for you.
JDXpert helps you create internal job descriptions to keep your company's job documentation in order for HR, legal, and recruiting purposes. Purpose-built for talent acquisition teams, Datapeople helps you create external job posts designed to attract qualified and diverse candidate pools for a more efficient, fair hiring process.
Still not sure which one is best for you? Read on for a detailed comparison.
---
Datapeople: a full-funnel recruitment platform
Datapeople is a full-funnel recruiting intelligence platform with a unique emphasis on job post creation – a critical step in the hiring process yet one that isn't captured by your applicant tracking system (ATS). Datapeople is built to optimize your inbound and outbound talent acquisition efforts, and it all starts with on-the-spot guidance to help hiring teams write inclusive, market-calibrated jobs that attract stronger candidate pools and fill faster.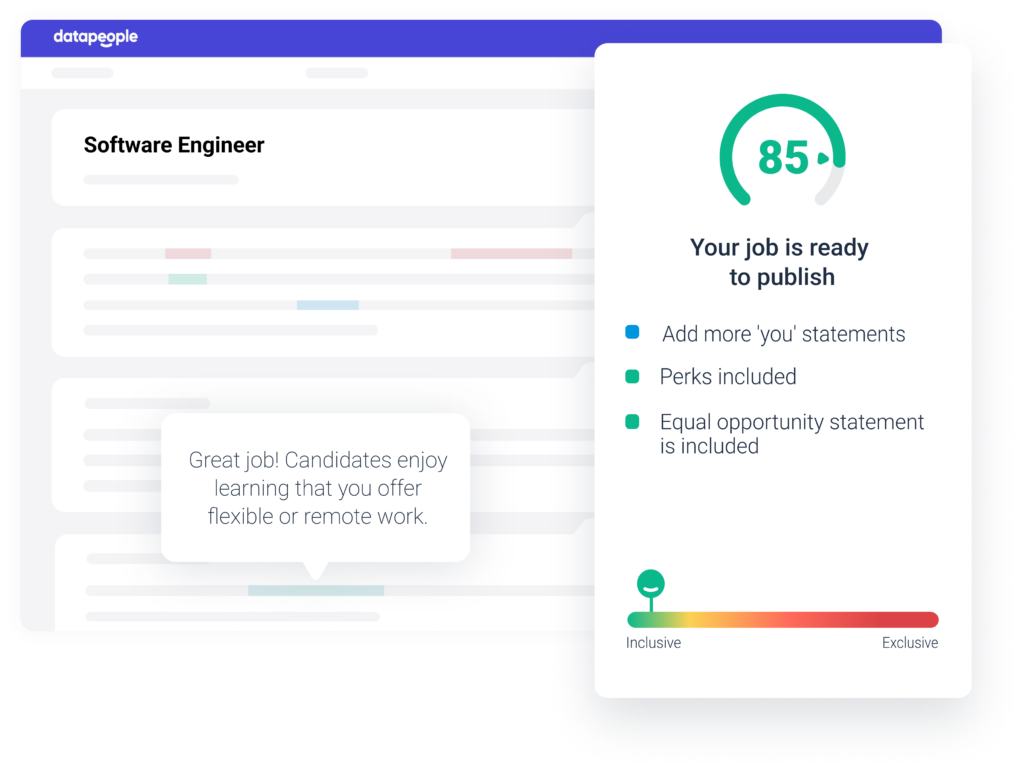 Datapeople offers a range of features that align hiring teams, attract qualified candidates, and systematically improve your hiring process:
Real-time guidance for job posts
Datapeople's job post editor offers data-informed, actionable suggestions that help you write more clear, inclusive job posts – in real time. It flags things like jargon, cliches, wordiness, mismatched requirements and job title, and mismatched responsibilities and requirements – so your message is clear and compelling. And it nudges you to include crucial content that job seekers want to see like job location, benefits, and a DEI statement.
Each job description receives a score (based on historical data from over 65 million job postings and thousands of hiring outcomes) predicting how well the current version of the content will do to attract a diverse pool of qualified candidates. This benchmark is particularly helpful for large talent acquisition teams aspiring to standardize – it keeps everyone focused on the same goal and fosters consistency.
Focus on DEI
More than a basic job description platform, Datapeople helps to create inclusive job posts that are rooted in fairness and free of potential biases. With Datapeople's recommendations, you can establish a strong employer brand and build a more diverse workforce.
Datapeople goes far beyond grammar checks with statistics on both the content (what you say) and language (how you say it) of your job ads and how they affect the diversity of your pipeline. Simply focusing on gendered language isn't enough – that's why the Datapeople platform detects eight forms of bias – sexism, racism, tokenism, mental and physical ability, nationality, socioeconomic background, and religion.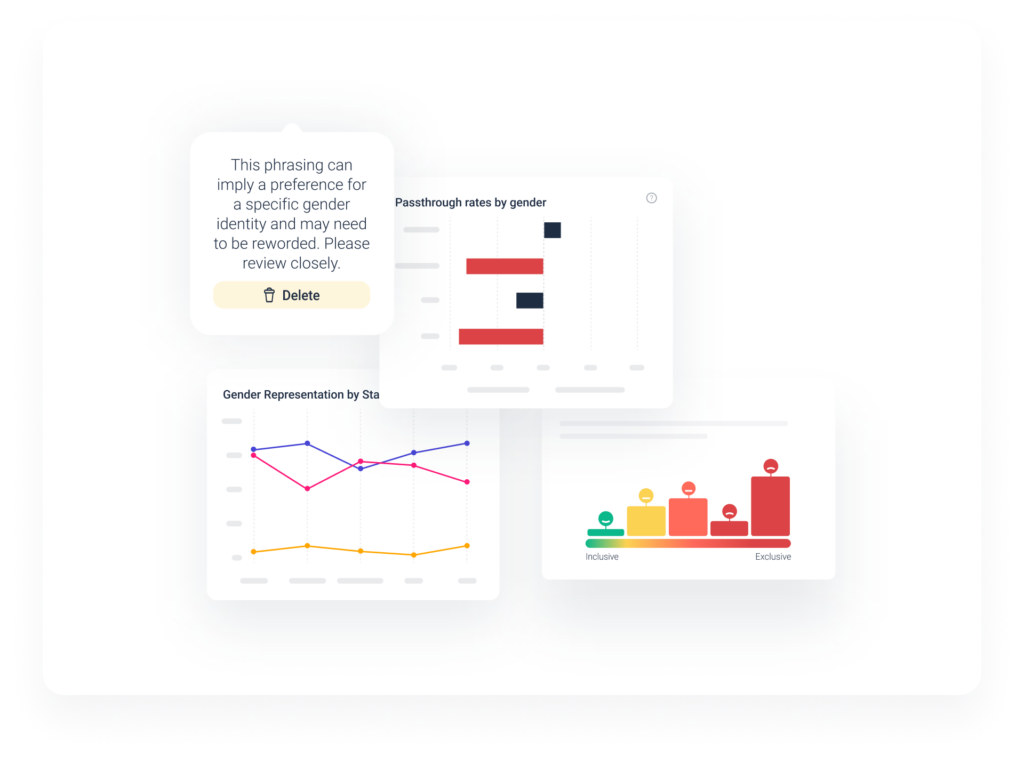 Job post compliance
Datapeople checks your job content for compliance with local salary transparency laws and alerts you to missing salary information.
You can also "feed" your company's salary disclosure policy to Datapeople to allow the platform to proactively notify recruiters and hiring managers whenever they forget to include salary information.
Brand consistency
You can save job templates and lock the information that should remain uniform across different job ads like "about us" or company benefits and perks. This way, all your job posts will follow a standard structure and, most importantly, use a consistent tone and language aligned with your brand voice.
Templates also free hiring managers from having to write an entire job post from scratch or track down and copy-and-paste certain sections. They don't have to worry whether they included all of the necessary content or used the very latest version of boilerplate copy like your diversity statement.
Instead, they can simply focus on the sections that are editable and related to the job they're opening like requirements and qualifications. They just have to write those sections, and the template auto-populates the rest of the content. This way, hiring managers can create a meaningful document quickly.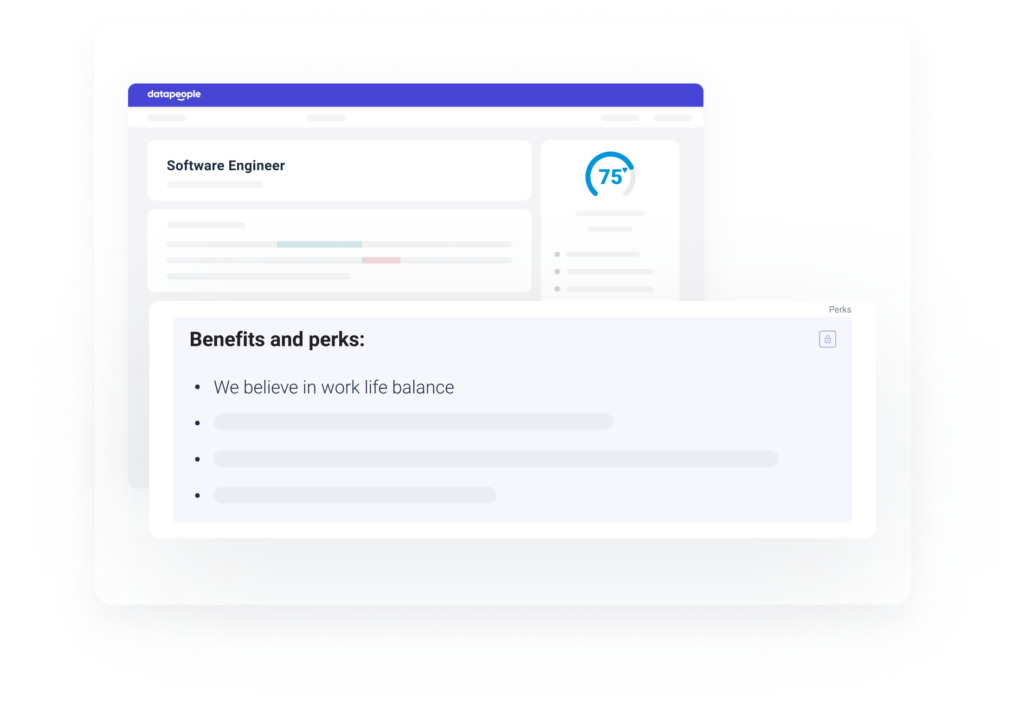 Better candidate experience
Datapeople provides real-time suggestions for refining language in your candidate outreach emails, ensuring you don't miss impactful information. And once you land on "the one" you can create shared email templates to improve effectiveness and maintain consistency no matter who clicks the "Send" button.
With Datapeople, you won't miss a piece of critical information in candidate communications – dynamic content nudges always remind you to include essential information, eliminating communication gaps, increasing your chance of a positive candidate response, and creating a better candidate experience.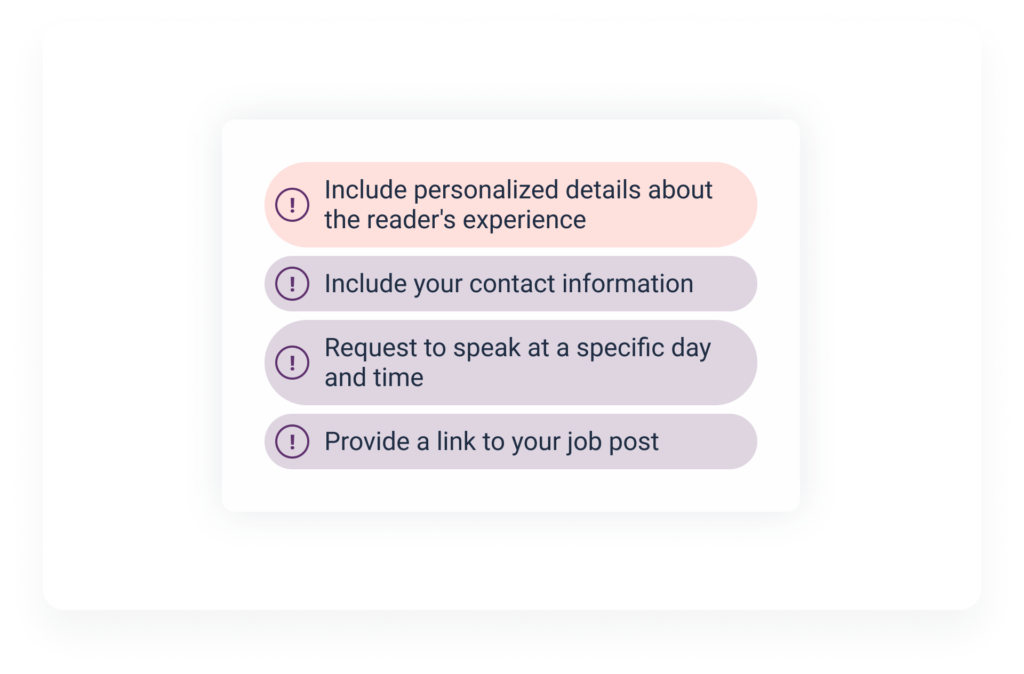 Efficient recruiting workflows and collaboration
Datapeople knows that successful recruiting is a team sport. The platform has been built to allow Talent Acquisition to orchestrate seamless engagement and management with hiring teams. Helpful features include:
Job post guidance in your ATS so you can minimize login fatigue and increase user adoption by writing jobs where you already work
Accelerated workflow powered by a centralized library for accessing, repurposing, or cloning any open, closed, and draft job posts
Revision history for tracking who has made changes to job content and when, and requesting edits from team members right in the interface
Operations analytics for tracking how jobs from different recruiters, hiring managers, departments, and office locations perform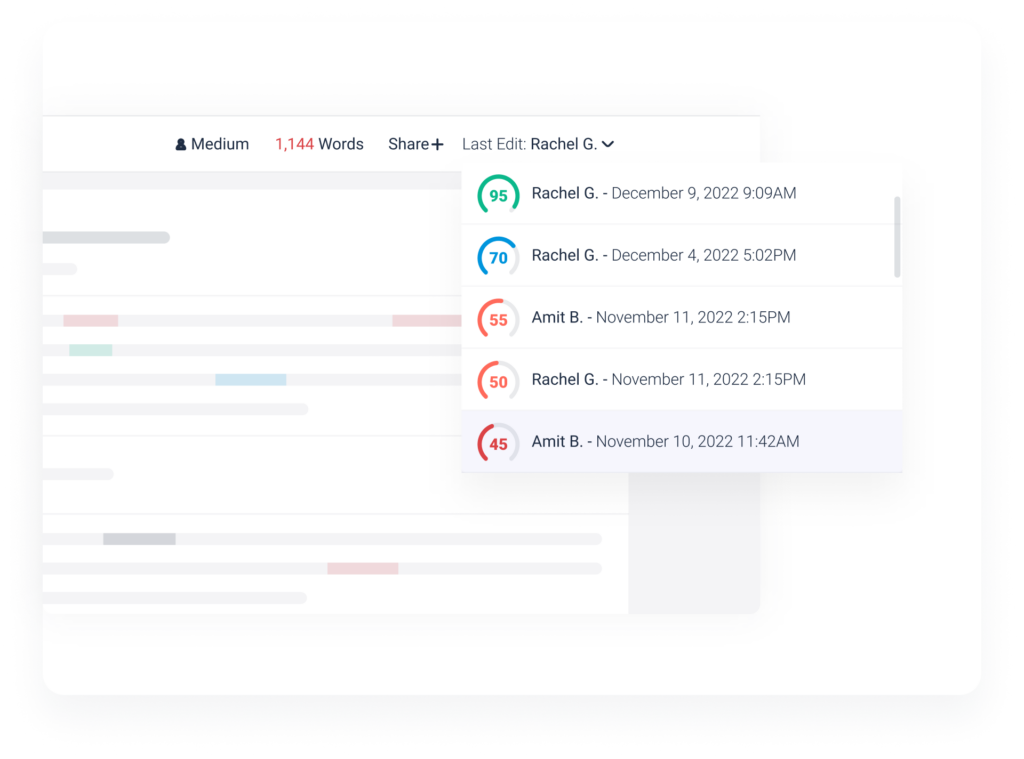 Full-funnel recruiting analytics (and we mean full-funnel)
Some of the most important hiring steps, decisions, and data live outside the ATS. Job requisition creation and TA capacity planning, for example, happen in other places – documents, spreadsheets, and emails (just to name a few).
Datapeople gives you intelligence and control over the entire recruiting process, beginning with job post writing (not just publishing) all the way through forecasting for the future. (We're proudly the only platform to do so.)
ATS integration
And of course, Datapeople integrates with the most popular ATSs on the market. Our ATS integrations allow you to work more collaboratively and efficiently while also ensuring everything is compliant and up-to-date with your core systems.
---
JDXpert: a job description software
JDXpert is primarily job description software that assists you in writing and managing internal job descriptions, from providing a standardized structure to integrating the resulting content into your HRIS. JDXpert aims to minimize risk by ensuring your job descriptions are accurate, compliant, and easily accessible. This helps you do everything from determining market-calibrated compensation to fulfilling requests from government entities like the Department of Labor and EEOC.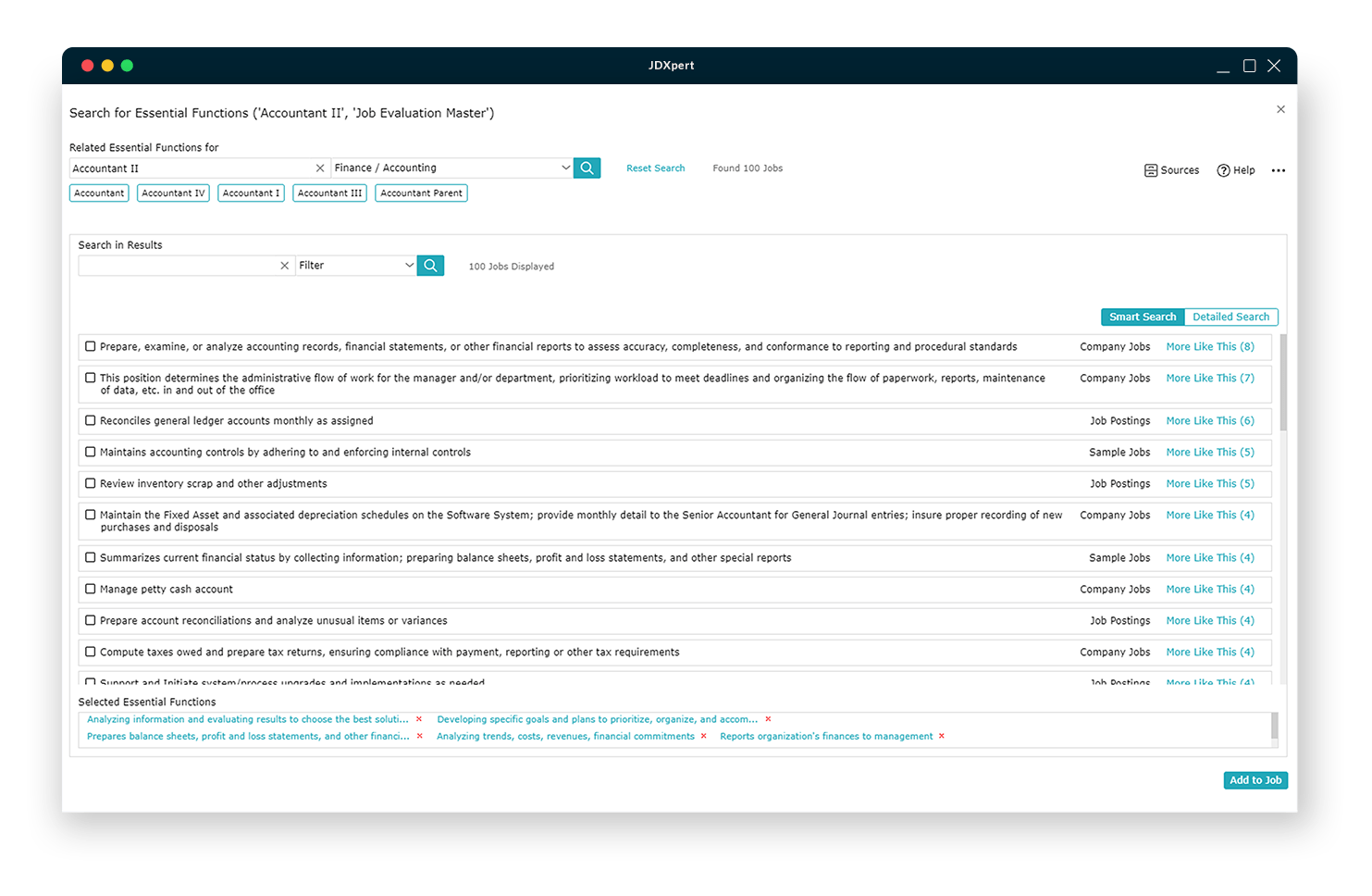 Job description management
JDXpert analyzes hundreds of thousands of job descriptions to suggest content that fits the specific positions you're creating documentation for. It offers a range of features that let you do so:
Templates: You can use JDXpert's templates instead of having to write new job descriptions from scratch.
Similarity scoring: The platform surfaces the twenty most similar job descriptions for each job in the system so that you can identify jobs that may be consolidated or grouped under one category.
Job description debiasing: JDXpert supports your DEI efforts by flagging potentially biased language.
Collaboration: JDXpert maintains a history of changes made to job descriptions, allowing users to track edits, revisions, and updates over time. Furthermore, admins can control access and editing rights to ensure that only authorized individuals can make modifications to job descriptions.
Integrations with major HR systems: You can distribute your job descriptions to most major HR platforms.
Internal documentation
Managing internal documentation is no less important than creating polished candidate-facing materials. JDXpert brings consistency to the way you create and maintain internal job descriptions.
It helps HR teams organize all job information in a centralized repository. Team members can collaborate on those internal documents, make changes on the fly, and see document version history – as long as they have access rights.
Risk management
Inaccurate or outdated job descriptions eventually lead to misunderstandings, disputes, or even legal issues. JDXpert's internal documentation minimizes such risks by providing a reliable record of job description changes.
---
Datapeople or JDXpert?
This is where we need to talk about the difference between job descriptions and job postings.
A job description is an internal document outlining the responsibilities, requirements, and expectations of a particular role. This is the document HR teams and managers turn to not only during the hiring process but also after it – to communicate expectations from a new hire, conduct performance reviews, benchmark compensation, and define career advancement plans.
A job posting is a public-facing marketing material that hiring teams use to attract potential candidates to apply for an open position. It's the first (and often the only) interaction job seekers have with your company, and it can make or break your recruiting success. Inclusive, compelling, market-calibrated job posts are key to building healthy, qualified candidate pools, filling roles efficiently, and avoiding no-hire outcomes.
JDXpert offers tools for creating and storing job descriptions. Datapeople specializes in optimizing the entire recruiting process including the development of highly performant job posts.
But Datapeople's job post editor is just one individual element of a powerful recruiting platform.
If you have the singular (yet vital) need to maintain internal job descriptions, JDXpert will suit you well.
Datapeople, meanwhile, helps you systematically optimize every aspect of your end-to-end hiring process to be more fair and efficient. It helps you create a consistent recruitment process and build a strong employer brand.
The verdict
Choose Datapeople if you're looking for:
An efficient, fair, and scalable way to increase the quality and diversity of your candidate pipelines
Data-backed guidance for writing inclusive, effective, and compliant job posts
Assistance in writing candidate emails
Full-funnel recruiting analytics that consolidate ATS data from your inbound and outbound talent acquisition efforts
Data-driven DEI insights to make your job posts and hiring process more fair
Choose JDXpert if you're looking for:
A platform to create and manage internal job descriptions for HR, legal, and recruiting purposes
Internal and market calibration for job competencies, leveling, and compensation
Legal compliance and risk mitigation
Learn more about Datapeople
Does it sound like Datapeople may be just what you need to bring better intelligence and control to your entire recruiting process? Request a demo to get one step closer to more fair, efficient, and successful hiring outcomes.
This is based on our research as of November 2023 and may be inaccurate, incomplete, or outdated.