Implementing recruiting software should be easier. But software adoption is still notoriously difficult. And hiring teams (understandably) worry about how easy recruiting software will be to use and how it will impact their workflow. That's where Datapeople's Chrome extension comes in.
Our Chrome extension makes using Datapeople in your applicant tracking system (ATS) seamless. It operates similarly to a Grammarly Chrome extension for spellcheck or a GoodTime extension for meetings. You get guidance that ensures your job posts are clear and inclusive right where you need it ─ in your ATS.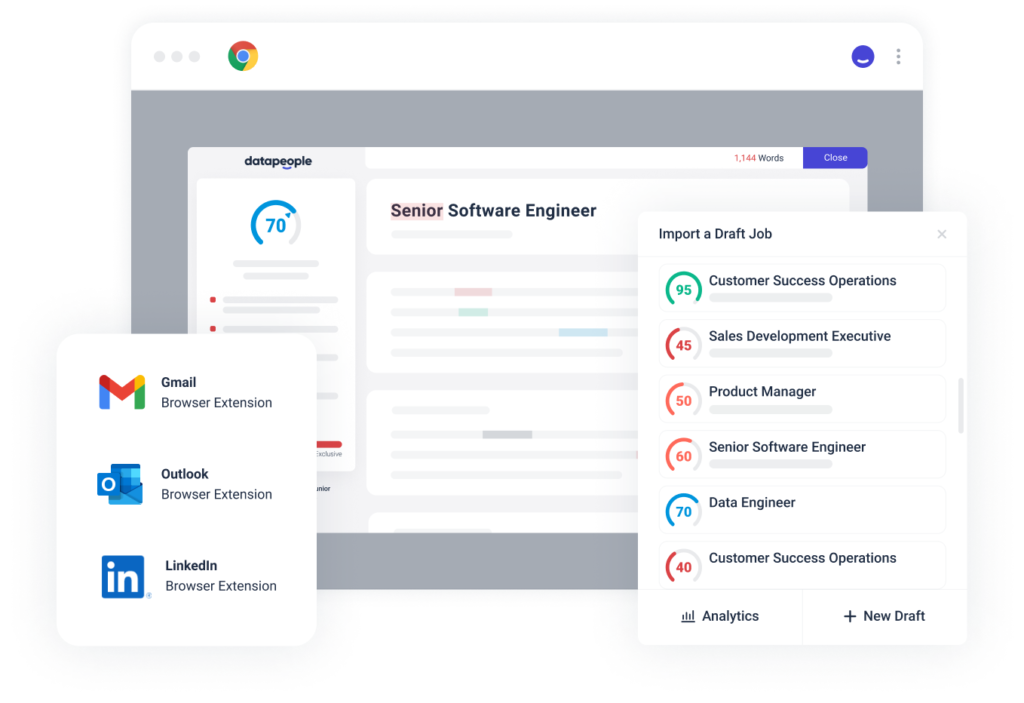 ---
Software adoption should be easier
At Datapeople, helping your team achieve high user adoption rates is one of our primary goals. That's because high adoption rates improve your ability to attract more qualified and diverse candidate pools and fill roles faster. It's why we've included an adoption analytics report right in our platform.
With our adoption analytics report, companies have a way of monitoring and growing Datapeople software adoption. At a glance, administrators can view team performance analytics, team usage data, user trends over time, and even individual user data.
---
How hiring teams use Datapeople's Chrome extension
With Datapeople guidance available right in your ATS, you can achieve high adoption rates and rest assured that your job posts are clear and free of bias. With little to no workflow disruptions.
As a benchmark, most large companies typically see a 15% increase in Datapeople Job Scores in the first year of their engagement. When companies integrate their ATS and institute score mandates internally, they see a year-over-year increase of 21% in their Job Scores.
How does the Datapeople Chrome extension fit into a recruiter's existing workflow? Quite easily.
Step 1) Go where you usually go to post jobs ─ your ATS.
Step 2) Click on the Datapeople logo in the job post section.
Step 3) Either start a job from scratch or select a similar job from your Datapeople repository.
That's it! From there, Datapeople will analyze the language and content of your job post right in your ATS.
---
---
Our platform integrations
The number of platforms that Datapeople integrates with is always growing, but here's a list of some we integrate with already. If you don't see your ATS listed below, don't worry ─ it's probably on our product roadmap. If not, we'd love to know what integrations would help your team!
Greenhouse
Workday
Lever
SmartRecruiters
iCIMS
SAP SuccessFactors
GR8people (New!)
LinkedIn Messenger
LinkedIn Recruiter (New!)
Gmail.com
Outlook.com
By the way, the benefits of integrating Datapeople with your ATS go far beyond workflow. An ATS integration with Datapeople gives you access to meaningful metrics beyond your ATS data.
Performance Analytics enable you to identify how recruiting efforts compare across your organization and offer a streamlined view of your applicant funnel broken down by source and stage. With Operations Analytics, you can see how your job post language and content is attracting or deterring applicants.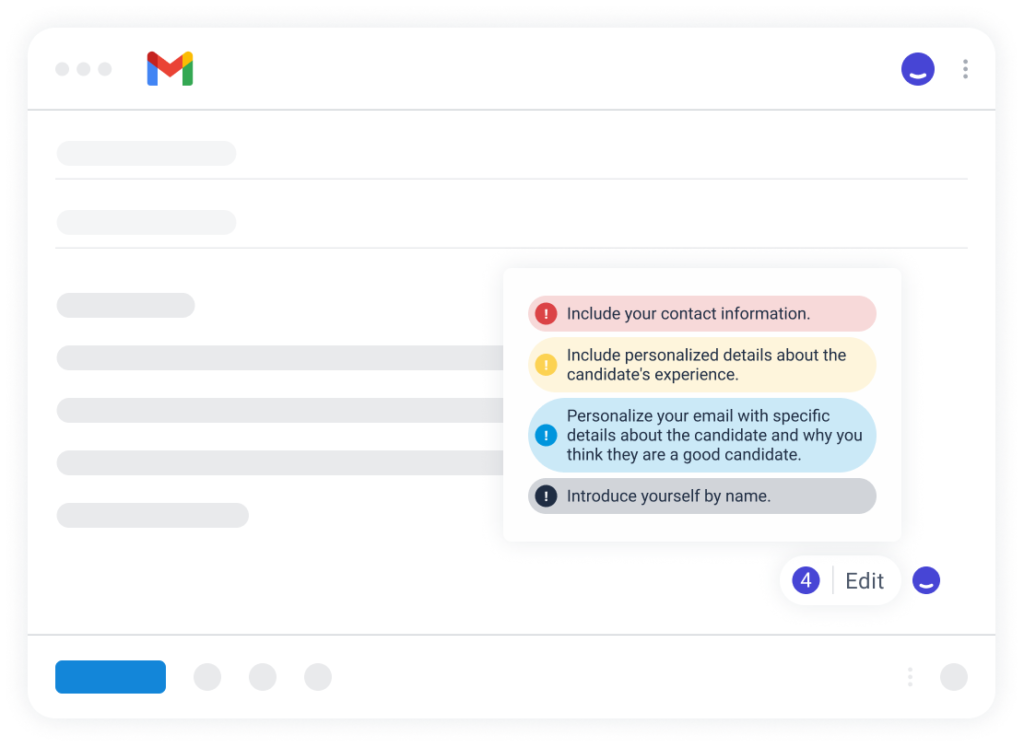 ---
Datapeople's Chrome extension for your ATS
A Chrome extension is about more than just convenience. When it comes to implementing a new piece of software, a Chrome extension can actually make or break your return on investment.
Recruiting software like Datapeople can only help if users actually use it. It's why we include adoption analytics in our platform. And it's why we created a Chrome extension. If hiring team members don't have to leave their ATS to use Datapeople, they're more likely to use it. Which leads to more inclusive job posts and larger, more qualified, and more diverse candidate pools. 
If you'd like to learn more about Datapeople's platform, we invite you to schedule a demo. You can also read how our customers like Twitch, Square, DoorDash, and Riot Games are using Datapeople to write inclusive, effective job ads.