Remote jobs are wildly popular with job seekers, attracting bigger and more diverse candidate pools than non-remote jobs. Yet inbound recruiting for those roles remains competitive. Meanwhile, not every job can go remote, but hiring for non-remote roles is more complicated because of remote work. If the ground under your feet feels wobbly, it's understandable. We hope these tips for recruiting remote, onsite, and hybrid jobs (a mix of remote and onsite) help steady the ground beneath your feet.
Tips for recruiting remote and non-remote jobs
When in doubt, go remote.
Focus more on inbound recruiting.
Leverage remote work to attract women.
Turn tech roles into remote roles.
Be careful how you use "remote" in job ads.
Be upfront about onsite expectations for hybrid jobs.
Promote remote and hybrid jobs, but don't mislead candidates.
Offer bonuses and fair chance hiring for onsite jobs.
Tell the same story throughout your job ads.
---
1. When in doubt, go remote (or hybrid)
Remote (and hybrid) jobs are becoming permanent features of work life. Before the Covid-19 pandemic, remote jobs represented about 1 in 50 professional jobs. By 2022, they represented 1 in 10 professional jobs. Who knows where they'll end up.
It's obvious that job seekers really like remote work. Remote jobs attract 120% more candidates than non-remote jobs, 120% more women, and 125% larger inbound candidate pools. (Inbound candidates come from careers pages or online job boards rather than from sourcing or referrals.)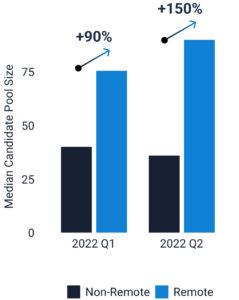 Tips for recruiting teams:
The hiring advantage for remote jobs is substantial, especially in tight labor markets. If you can offer remote or hybrid jobs, even if it's just a few, you should. And don't hesitate to say the job is remote or hybrid in your job ad. In fact, be very clear about it, especially for hybrid jobs.
---
2. Focus more on inbound recruiting
Inbound recruiting sometimes takes a back seat to outbound recruiting. (Inbound recruiting attracts candidates with employer branding, your careers page, online job boards, and various marketing strategies. Outbound attracts them through prospecting, sourcing, referrals, and other outreach.) But inbound recruiting shouldn't have to take a back seat. When done right, it's more efficient – especially for remote jobs.
Outbound methods may feel more necessary if you're not getting enough qualified organic candidates. (For example, during a tight labor market when there are more open jobs than qualified candidates searching.) Or if your budget or team (or both) have been cut and you're struggling to do more with less.
But oftentimes, outbound isn't very efficient. It requires, among other things, time-consuming searches, a lot of unsuccessful personalized outreach efforts, and expenses like third-party search fees and referral bonuses that quickly add up.
Sifting through qualified inbound applications is a better use of time than prospecting passive talent that may or may not reply – let alone apply. Also, attracting talent through inexpensive-if-not-free methods is a better use of money for teams with shrinking budgets.
Inbound recruiting already brings in the vast majority of candidates. Over 80% of all applicants to tech jobs between 2019 and 2021 came from inbound sources. And with remote jobs, the candidate pipeline is even stronger. (Hiring teams are seeing 125% bigger inbound candidate pools for remote roles.) Inbound recruiting done right attracts plenty of qualified applicants.
Tips for recruiting teams:
Shift your jobs to remote wherever possible and focus on inbound recruiting over outbound. Inbound is already more efficient and cost-effective than outbound, but for remote roles it's even more efficient and even less expensive.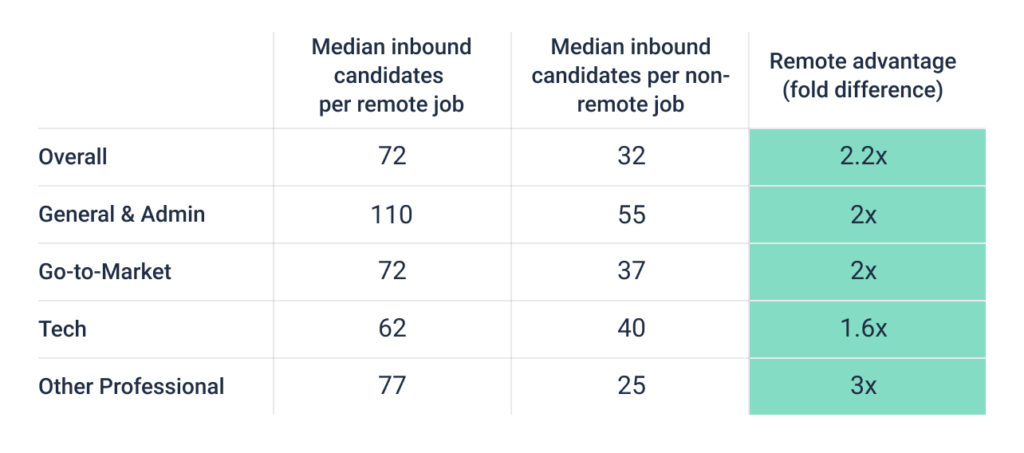 Remote jobs will fill your pipeline with qualified applicants, so don't waste time and money going after passive candidates unnecessarily. Focus on the qualified applications you get. It's the best approach, whether you're facing a tight labor market, budget cuts, team downsizing, increased expectations, or other challenges.
Also write better job ads, focus on your employer brand, and reassess your careers page. If, for example, you're still using old-school job ads (i.e., paragraphs copied and pasted from a job description), update them. Today's candidates want job ads to speak to them and make real connections.
---
3. Leverage remote work to attract women
Remote jobs attract more than twice the total candidates of non-remote roles. But they also attract over twice the female candidates of non-remote roles. Our data shows that remote jobs are, in effect, helping to level the playing field.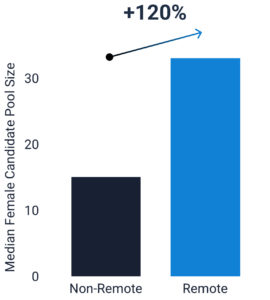 Women represent the vast majority of caregivers. During Covid-19, the job market saw a mass exodus of women who suddenly found themselves home-schooling their children. Many of them didn't go back to work.
Simultaneously, it's often women who get hurt most during economic downturns (along with minorities). Some of the first functions to see layoffs are those deemed "non-essential" like human resources or public relations. (Non-essential is obviously debatable.)
Tips for recruiting teams:
Offer remote roles to level the playing field for women. They offer caregivers a way to keep working. And they represent an opportunity for you to improve diversity hiring outcomes.
---
4. Turn tech roles into remote roles
These days, tech roles are more remote-friendly than other roles. In fact, they're twice as likely to be remote than hybrid jobs even, let alone all non-remote jobs.
Tips for recruiting teams:
Transition to remote to save substantial time and money when you're hiring for tech roles. Remote roles attract larger candidate pools, which mean shorter time to fill and lower overall hiring costs. Even if your company isn't a tech company, consider turning your tech roles into remote roles.
---
5. Be careful how you use "remote" in job ads
When anything new comes along, it takes a little while for people to figure out what it is and what to call it. That's true for remote jobs. It's important to be careful when describing your jobs as remote.
Again, job seeker expectations are ever-changing, and it can be hard to know what's current. Today's job seekers expect remote roles to be fully remote, as in they can work anywhere they want within the country. If there's an obligation to come into the office, even if it's rare, the job isn't remote (it's hybrid).
This is particularly important during tight labor markets. Applicants don't like thinking they've applied to a remote role only to find out later that it's actually hybrid or onsite. It wastes their time and the recruiter's time. And it can create negative impressions of your employer brand, which job seekers may share with others.
Tips for recruiting teams:
Be careful how you characterize remote jobs. A lot of companies inadvertently advertise roles as "remote" when they're really hybrid. Be careful to distinguish clearly between jobs that are fully remote and those that are only hybrid.
---
6. Be upfront about onsite expectations for hybrid jobs
Again, employers are still figuring out the differences between remote and hybrid jobs. Hybrid jobs are a combination of remote work and onsite work. While fully remote jobs are work-from-home all the time, hybrid jobs include days in the office on a regular basis (even if rare). Hybrid jobs are growing nearly as fast as remote jobs.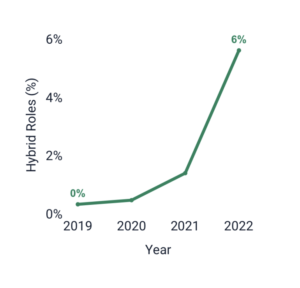 Tips for recruiting teams:
Be upfront in your job ad about location restrictions and explain the reasoning behind them. Any roles that require frequent or even infrequent-but-regular office visits are hybrid. Beyond that, the ratio between remote and onsite work is whatever you want. It varies greatly depending on the employer, type of work, and unique aspects of the job.
Some examples:
✅ "We support hybrid work, and you will be expected to work 40% of your time each month in our Portland office."
✅ "This is a remote role, but you will need to be able to travel to our Metropolis office 1-2 weeks per quarter for planning meetings."
❌ "This role is work-from-home, but you'll be expected to live within a 40-mile radius of our Cincinnati office."
❌ "This role is remote or non-remote depending on the preference of the hiring manager."
Getting location right is key to a successful recruiting effort. Not only do online job boards use the location field to provide search results, candidates also use them to gauge fit. (It's why we've included LinkedIn tag guidance in Datapeople.)
---
7. Promote remote and hybrid jobs, but don't mislead candidates
Many candidates are looking for some sort of remote arrangement. Remote jobs attract more than twice the number of candidates, female candidates, and inbound candidates. Content around remote work, therefore, will make your job more attractive.
Tips for recruiting teams:
If you're able to offer remote or hybrid jobs, go ahead and talk about that in your job ad copy. However, make sure your messaging is clear about the location restrictions. You don't want to create uncertainty or inadvertently mislead candidates.
Some examples:
✅ "While there are work-from-home options available, this role is not remote."
✅ "We are a remote-first workplace. You'll work with teammates across the globe, mostly via tools like Zoom and Slack, but occasionally travel (5%) for face-to-face meetings like project kick-offs and team offsites. If you prefer office life, we have offices in Springfield (OR), Sunnyville (CA), and Emerald City (OZ)."
❌ "This position will be a remote or in-office position based on the candidate's location."
❌ "You will begin your employment with us working from home, if you meet the criteria of the work-from-home program. As the world recovers from the pandemic, the criteria of work from home will change."
Something else we've included in Datapeople are alerts about missing or unclear job location language. Statements like the ones marked by a red "X" above can create confusion and deter candidates, which means smaller, less qualified candidate pools.
---
8. Offer bonuses and fair chance hiring for onsite jobs
Remote work is spread unevenly across job type, industry, seniority level, and more. Mid-level and senior roles are twice as likely to be remote than junior roles. And tech jobs are far more likely to be remote in general (actually, they're twice as likely to be remote than hybrid even).
At the same time, some jobs are onsite by their very nature and can't transition to remote or hybrid. (Think nurse or warehouse manager.) And not every employer can go remote, either. Or maybe they can go remote for some jobs but not all of them. (Think of a hospital with administrators but also nurses.)
Tips for recruiting teams:
If you have onsite jobs, consider dropping degree requirements and taking advantage of bonuses and fair chance hiring for those roles.
Degree requirements are getting less popular anyway. Between 2021 and 2022, they dropped for both remote and non-remote jobs alike, with employers eliminating them altogether for some roles.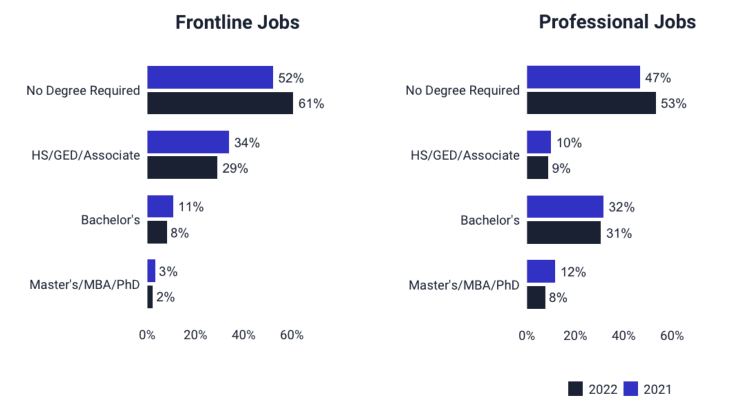 Bonuses, meanwhile, are getting more popular. In 2022, 4x as many job ads mentioned bonuses than in 2019 across several industries, including retail, healthcare, and production.
And fair chance hiring (encouraging candidates with arrests or convictions to apply) is up too. Less than 1% of job ads mentioned fair chance hiring in 2019 – 7% did in 2021. Fair chance hiring has grown proportionally in the retail and healthcare sectors, and it's up by 50% in professional roles. Take advantage of it, along with bonuses, for onsite roles.

---
9. Tell a consistent story in your job ads
It's confusing if the first paragraph of your job ad says the role is remote but the last paragraph says it requires onsite work. Or if the intro says the job is remote but the benefits section highlights your office amenities. Confusion can deter potential candidates, which leads to smaller candidate pools and longer time to fill.
Actually, that goes for more than just job location. Mismatched titles, locations, responsibilities, and benefits are also confusing. If a title is junior, for example, candidates expect to see junior requirements and responsibilities. A junior title with senior requirements may turn them away.
Tips for recruiting teams:
Keep your story straight throughout the job ad. Consistency clarifies your messaging and improves the ad's performance, attracting more applicants and reducing time to fill. Stay on message, especially when it comes to remote or hybrid jobs.
Also make sure you're speaking directly to job seekers. When candidates read a job ad, they want to feel like it was written for them, or at least written to them. Don't include perks specific to the office like commuter or food benefits in ads for remote jobs, for example.
And update your job post templates every now and then. If you're changing your job posts to include new language about remote or hybrid work, update your benefits language as well. Write benefits and perks specifically for each type of role rather than listing benefits for all roles (or no benefits at all) in every job ad. And if you can, create separate ad templates altogether for remote, onsite, and hybrid jobs. That way your jobs are accurate and consistent across each type.
---
Tips for recruiting remote and non-remote jobs
It may feel like the ground is shifting beneath your feet because of remote and hybrid jobs. If you haven't figured out your approach to recruiting in this new landscape, now is a good time. For hiring remote and non-remote jobs alike.
These nine tips come from a report put together by the Datapeople R&D team. If you'd like to go deeper into remote jobs data, read the full report: Hiring in a Distributed World.