Remote working is one of the latest and most impactful recruiting trends. More and more companies are turning to remote hiring in response to the pandemic and changing views of modern workers. Even companies that need or choose to have all their employees on site now find themselves tweaking job descriptions and in need of remote hiring tips.
Your recruiting team doesn't have to dramatically change how they do things to succeed at remote hiring. But your recruiting process matters. You need to tailor the job descriptions you write for remote jobs and add a couple of tweaks to your processes. Here are four remote hiring tips that are simple but can make or break your efforts.
---
Remote hiring is growing, changing job requirements
Recently, Datapeople's science team analyzed job listings data from over 10,000 U.S.-based employers and found, among other recruiting trends, that remote hiring is booming and changing job requirements along the way.
Our data shows that remote hiring for tech jobs has increased significantly in the last few years. This is true for startups, which were already on the remote hiring bandwagon. And it's true for companies that, prior to the pandemic, were hesitant to adopt remote hiring. Fortune 500 and public companies, for example, have 300% more remote tech jobs now than they did in 2019 (even after spending fortunes on huge campuses).
Our data also suggests that remote hiring may be at least partly responsible for a shift in hiring away from traditional tech centers (like Silicon Valley) and towards newly emerging hubs. While the big tech hubs are still growing, they aren't growing as much as emerging tech hubs.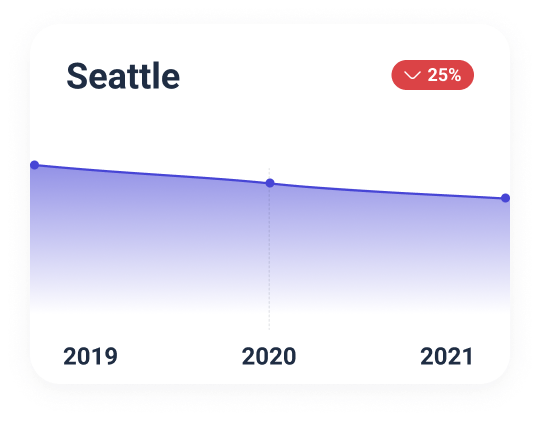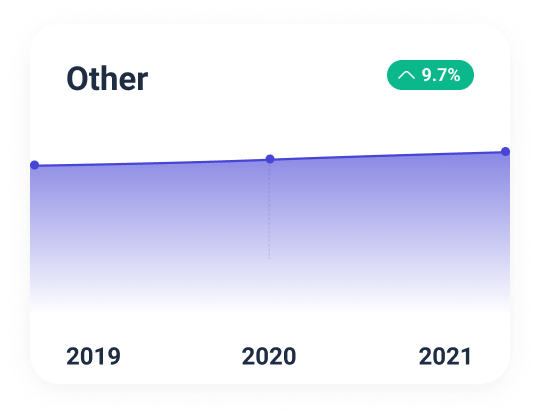 Places like San Francisco, Seattle, and New York aren't adding tech jobs as fast as places like Austin, Salt Lake City, and Miami, which saw a 160% increase in jobs between 2019 and 2021. The map below illustrates these cities' job growth as a proportion of all tech jobs in the U.S. (i.e., how much their share of the pie grew). This suggests that employers are broadening their recruiting efforts thanks to remote work.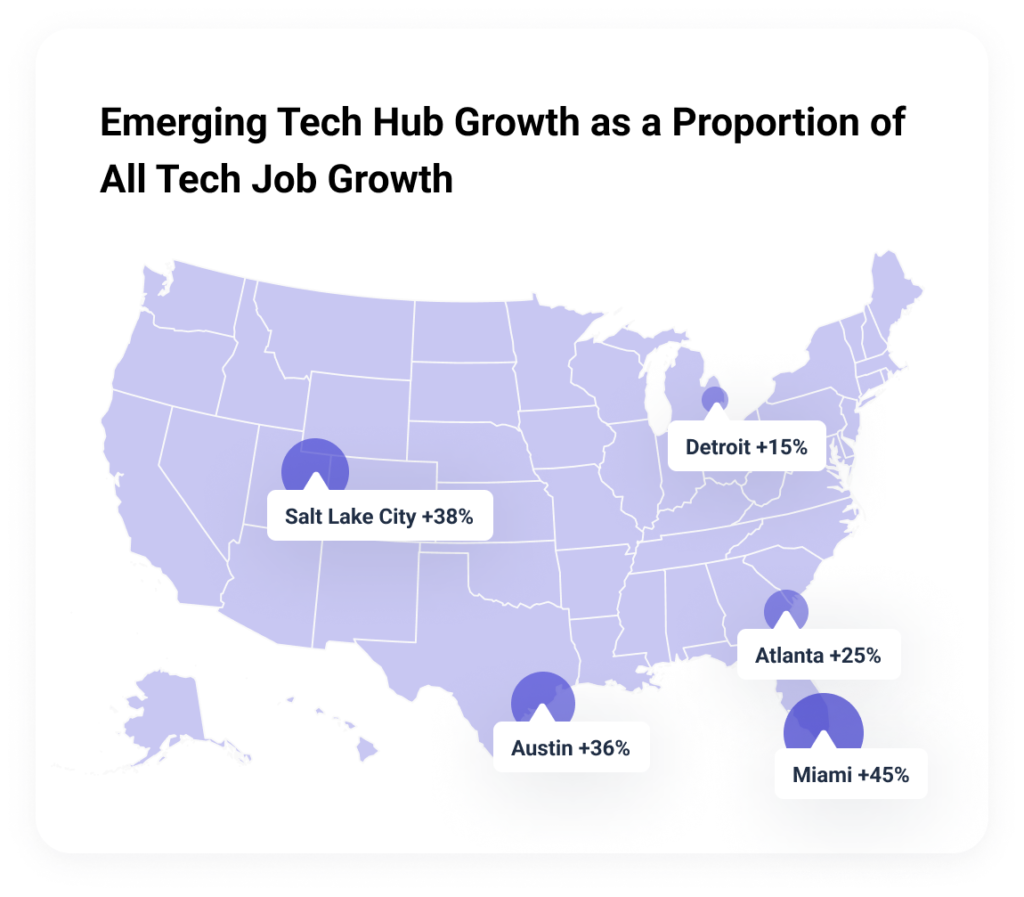 Meanwhile, all this growth is starting to have an impact on requirements in job descriptions. Realizing the importance of remote work experience, companies are now including remote-centric requirements. Our data shows demand for experience managing remote teams and experience working within remote teams rose 221% and 67%, respectively, between 2019 and 2021.
Given these strong trends, we've identified the following remote hiring tips…
---
1. Add a city and state, and 'or remote' to job descriptions
All job descriptions ─ even for remote jobs ─ need a location, for two reasons. One, job seekers search by city and state. Two, job boards use the city and state a candidate enters to determine which results to surface. Candidates rarely find jobs that don't have a location. In fact, jobs with a valid city and state appear in searches 10x more than ones without.
Include a city and state in the location field of the job no matter what. Add 'or remote' after the city and state for remote positions. Adding 'or remote' lets candidates know that the job is remote without messing with job board search engines. It also helps potential candidates find your jobs. (Most job seekers learn about roles and companies on third-party boards, not career sites.)
---
How can you use your ATS to target remote employees?
Some applicant tracking systems (ATSs) enable hiring teams to write multiple job posts for a single requisition. If yours does, you can target candidates in different talent markets simply by putting different cities in the location field of each of your posts. 
---
2. Discuss remote hiring in job descriptions
You go to the trouble of describing jobs in detail, especially in the requirements sections of your job descriptions. If the end goal is for candidates to understand your jobs clearly, tell them the jobs are remote right in your job descriptions.
Tell prospective candidates:
Where they'll be working (e.g., satellite office, home),
What days (e.g., 3 days at home per week, fully remote),
What hours (e.g., online for core hours of 10 a.m. to 2 p.m.),
How often you'll expect them to travel, and
Any other details they need for a clear picture of the position.
If your remote culture is unique enough, you may want more space than you have in job descriptions to describe it. However, it's best to keep your job descriptions to only the copy you need to convey clarity about the job. For example, around 400 words for an entry-level position, around 700 for a senior role. But feel free to add copy to your company careers page, write a blog post, or bring up your remote working culture in interviews.
Something else to consider is candidate experience. How long your hiring process typically takes, how many interviews they can expect, and whether you'll ask them to complete a project (and if you'll pay them for the project). You can, of course, just put these on the careers page of your website rather than in the job post.
---
---
3. Publish job descriptions on remote job boards
Not all channels are great at sourcing remote candidates. If your chosen job board shows posts that have the word 'remote' in either the location field or anywhere in the body of the job description, you're fine. Indeed works that way, and LinkedIn now has 'remote' search functionality.
But if your traditional job board can't do remote search, you may need to look elsewhere. There are lots of job boards like FlexJobs and We Work Remotely aimed specifically at candidates looking for remote work.
Another option is to target certain areas. If you can identify key talent markets for the types of skills you're looking for, you can pick job boards or other channels that work well in those markets.
---
4. Track your results
Whatever approach your hiring team decides to take, it's important to track your results. Keeping an eye on your talent pipeline helps you understand how well or poorly your new hiring efforts are doing.
This is particularly important if you're transitioning a lot of jobs from onsite to remote positions. When you're trying out new strategies, you need to know in real time which ones are working and which aren't (e.g., different sourcing platforms). Are you getting more applications, more diverse candidates, more qualified candidates? How are your remote jobs doing overall? A data-driven approach will better inform your remote hiring efforts.
Note: In Datapeople, for example, you can use a 'remote' filter to compare outcomes of remote jobs against those in specific locations.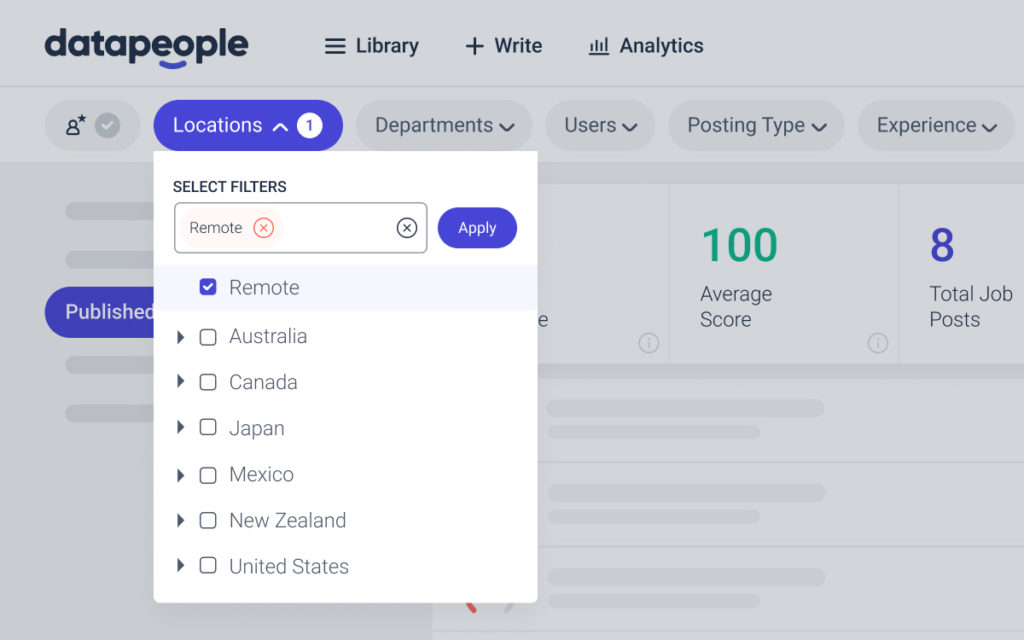 ---
Simple, yet vital remote hiring tips
Remote jobs are on the rise, and even companies that were averse to telecommuting in the past are now getting in on the act. Thankfully, these remote hiring tips don't require big changes to how your team works. They just take a few simple tweaks.
One, include a city and state in the location field of your job postings. Two, talk about the remote nature of the position right in the job description. Three, use remote job boards, which are better at finding remote workers. And, four, analyze your pipeline to understand what hiring efforts are working and which aren't. Follow these four remote hiring tips, and you'll attract larger, more qualified, and more diverse candidate pools for your remote positions.