Recruitment software is transforming recruiting workflows for the better at companies of all sizes and in all industries. Team structures aren't changing, and hiring team leaders remain mission-critical roles. But job description software like Datapeople is enabling those roles to function more strategically and improve recruiting workflows overall.
---
How does Datapeople's recruitment software improve the recruiting workflow?
Our recruitment software automates repetitive manual tasks, freeing up your hiring team for more strategic efforts. Datapeople un-silos your hiring team, encouraging more meaningful collaboration with other departments like human resources and finance. It also eliminates guesswork through analytics and lessens dependence on third-party recruiters.
---
1. Fewer repetitive manual tasks with recruitment software
Recruitment software streamlines the recruiting process and automates a lot of the simple yet time-consuming tasks that recruiters and hiring managers perform.
For starters, a scalable recruiting workflow for your hiring team requires seamless integration of all technology platforms. If you're using an applicant tracking system (ATS), which we recommend, it's the heart of your recruiting tech stack. Any recruitment software you use should support integrations with common ATSs.
Datapeople integrates with all major ATS platforms, including Greenhouse, Workday, and SmartRecruiters. With integration comes benefits like single-sign-on (SSO), one-click syncing of jobs between systems, custom job templates, and easy links for sharing and tracking edits to job descriptions. Datapeople also understands from your ATS who else is on the hiring team, so collaboration is simple.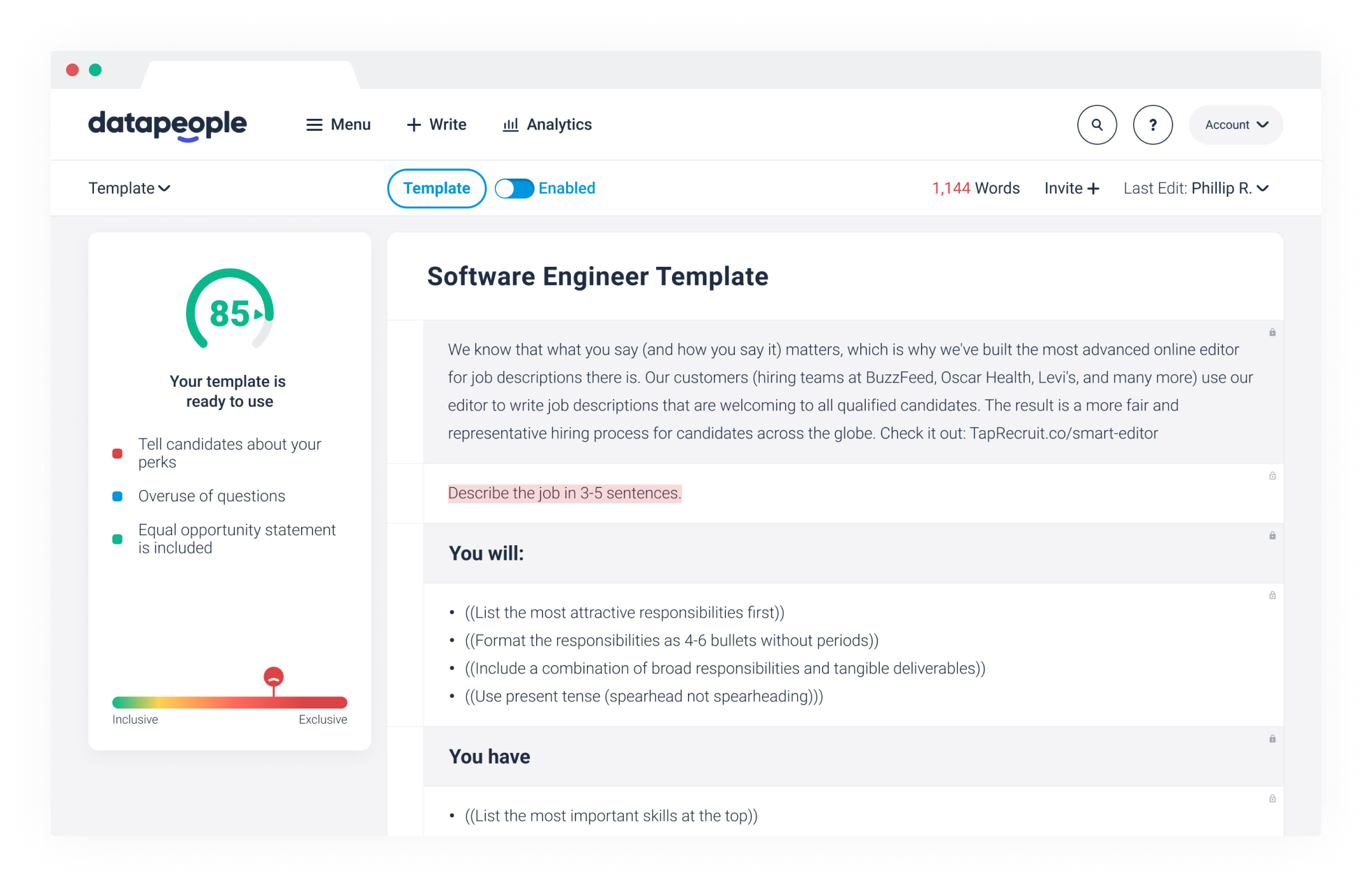 Using Datapeople, you don't have to (wild-goose) chase down your latest style guides and standard company text from wherever they live. Things like perks, location, and diversity statements already live in templates within the platform via account-wide default settings. This obviously saves a lot of steps and ensures consistency across job descriptions, no matter who writes them. And updating the default wording from time to time is easy.
Whenever you're ready to start a new job description, you can do it right in the platform. You can also start by duplicating existing job descriptions that live in Datapeople, so you don't have to start from scratch every time. When you're done editing the draft with language analytics, Datapeople can automatically sync it back to your ATS. You can also notify hiring managers or recruiters (whichever way that traffic goes) and invite them to edit the job description right from the platform.
---
2. More time for meaningful connection
No one gets into recruiting to spend their days managing document versions in Google Drive or emailing hiring managers. And, now, recruitment software eliminates the need for that sort of thing altogether. More time means more strategy and meaningful connections.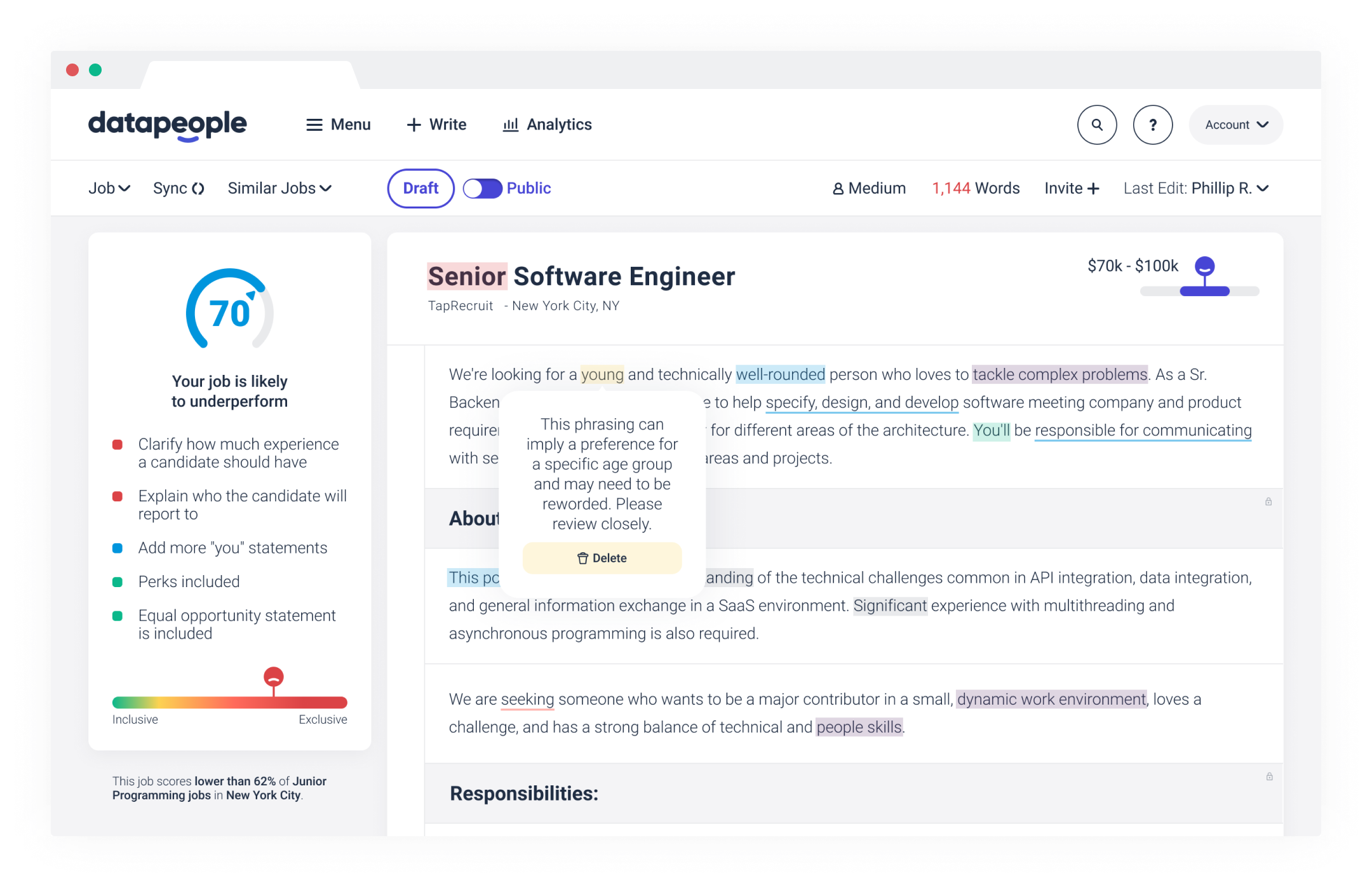 Hiring team members can skip the email back-and-forths about job descriptions. Instead, they can collaborate on a single document, review highlights together, and build a stronger working relationship in general.
Datapeople frees up you and your team members for more strategic efforts. It enables your people to focus on high-touch, human moments and experiences with candidates. Junior recruiting team members, for example, don't have to spin their wheels on low-level recruiting tasks. They can just get on with the high-touch tasks that help them develop their skill set.
---
---
3. Less instinct, more hard data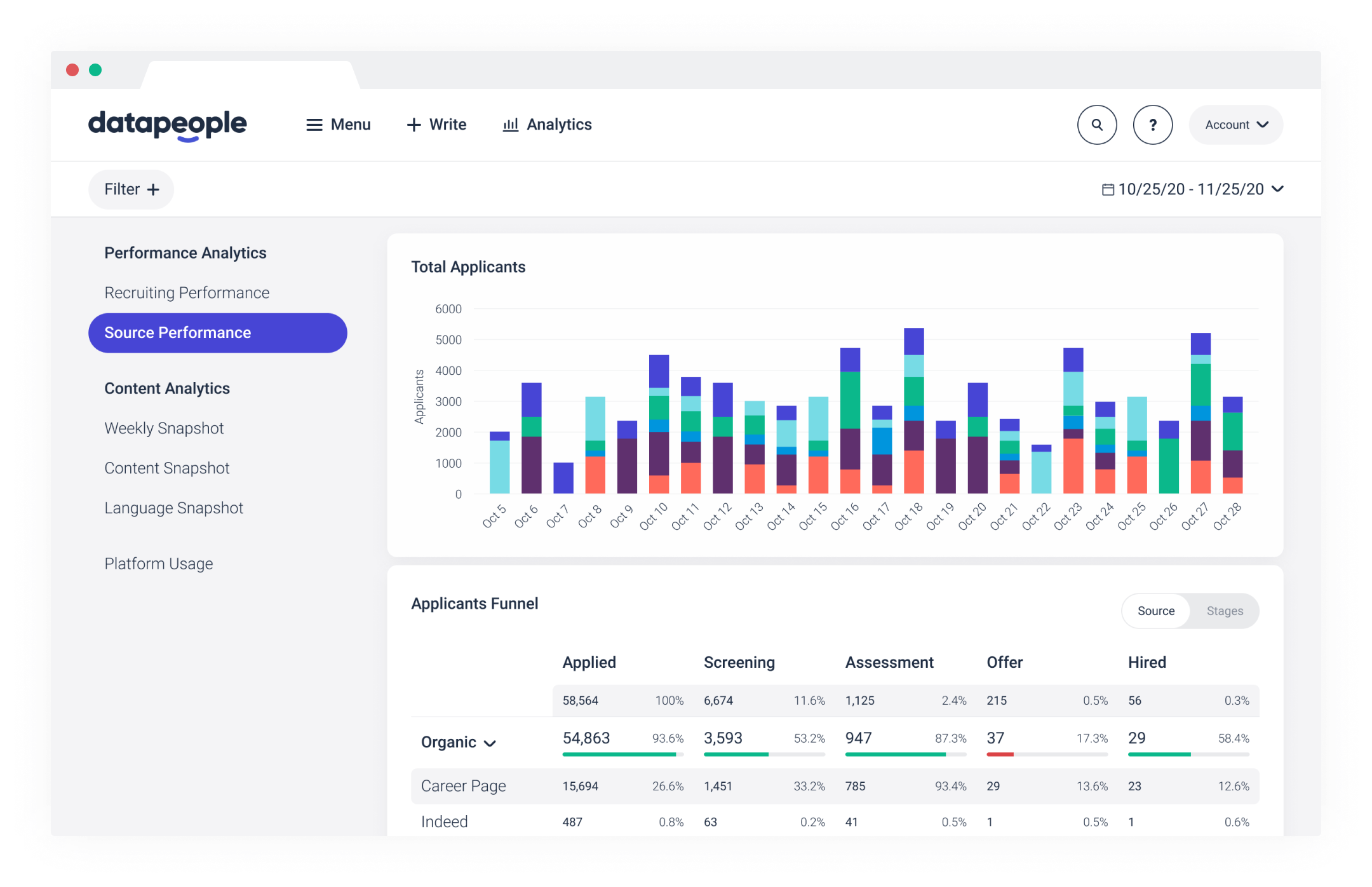 Data science, or analytics, is becoming a must-have rather than a nice-to-have in all industries, including recruiting. And although your recruiters probably don't moonlight as data scientists, you can still take advantage of recruitment metrics.
Instead of operating on instinct and anecdotal evidence, your hiring team can use recruitment software to base decisions on your own real-world data. Because recruitment metrics illuminate in cold, hard numbers what you could only guess at before.
In Datapeople, we've thoughtfully broken out some of the most important recruiting metrics and put them on your analytics dashboard. Your hiring team can view all of your jobs, how long they've been open, how many applicants they've attracted, and what content or language issues might be hindering their performance.
Your hiring team can view trends over time, such as how candidates from different inbound sources perform, so you can better focus your resources. They can also dive deeper into individual jobs. They can see whether each individual job is attracting enough qualified candidates to result in a hire or enough female and organic applicants (i.e., from job boards) to ensure fairness.
---
4. No (or fewer) third-party recruiters
Recruiting team members are internal partners who understand company goals and how their teams work best. They are brand experts. Because of that (and as obvious as it sounds), they are uniquely suited to do your company's recruiting.
Robust candidate pools can help your company avoid costly external recruiting options. And you can maintain healthy candidate pools just by writing better job descriptions and leveraging Datapeople's recruiting analytics suite.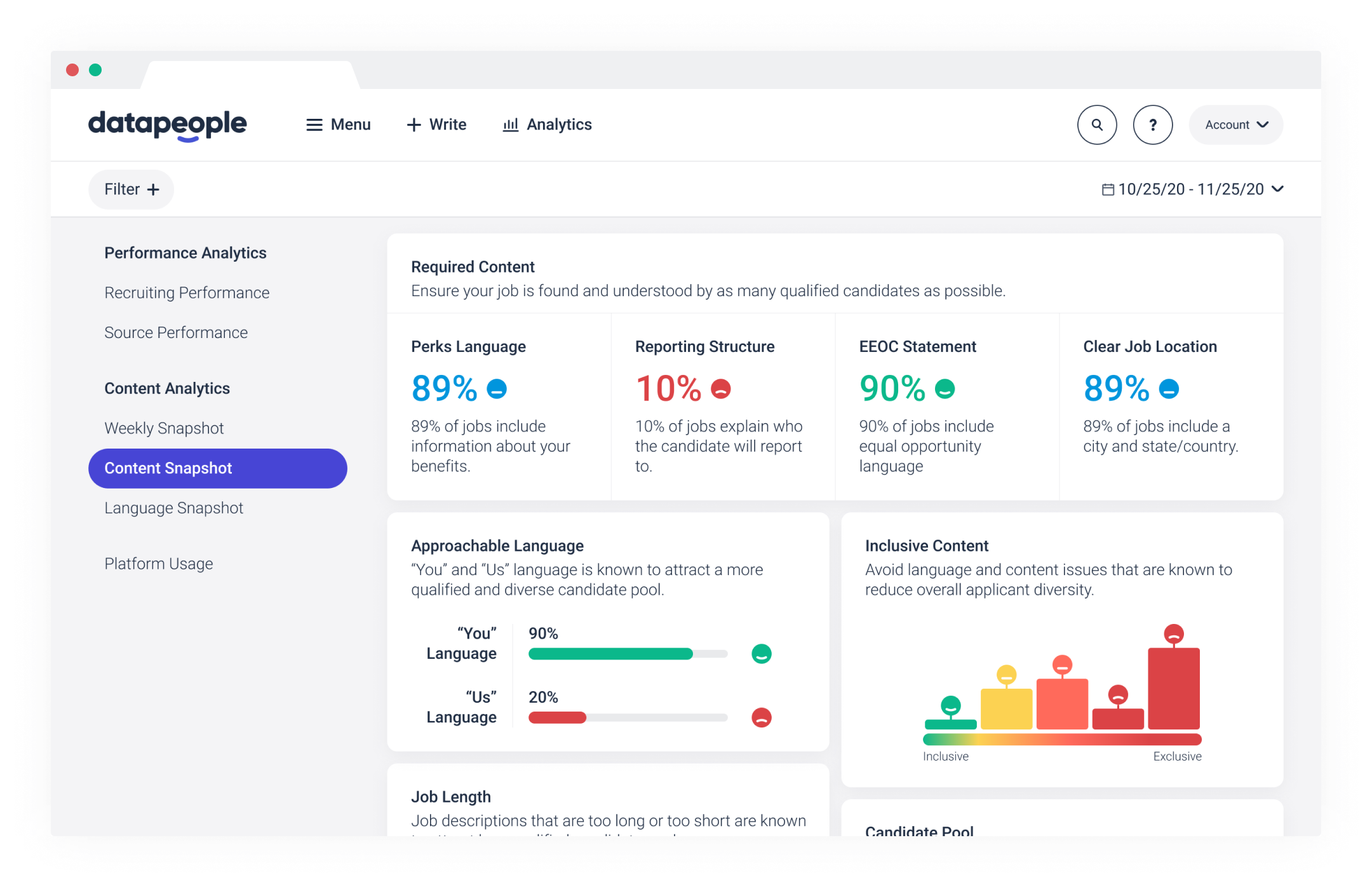 Datapeople's language editor helps your hiring team write job descriptions that show up in job board searches, make sense to candidates, and attract qualified candidates. In other words, they have uninflated, industry-standard titles that candidates actually use in searches. They don't have meaningless soft skills, unnecessary degrees and certifications, or overly broad experience ranges. And the language they use is bias-neutral to attract qualified candidates from all backgrounds.
Datapeople's recruiting and language analytics help your hiring team measure the health of your talent pipeline and make stronger, evidence-based hiring decisions. Your team can see how each of your jobs performs as well as how your jobs perform collectively. They can measure the performance of candidate sources, content, language, and more to identify issues in your talent pipeline.
If your talent pipeline is attracting qualified, diverse candidates organically, there's no need for outside help. And it's hard to overstate the savings. Depending on the job, an outside recruiter may take 20% to 30% of a starting salary, or tens of thousands of dollars per job. Outside recruiters are incredibly expensive, and companies rely on them too often.

---
5. Un-siloed recruiting teams
Recruiting is strategic and deserves a seat at the table. Hiring teams are true partners to other teams in your organization, including human resources, diversity and inclusion (D&I), finance, and upper management.
Recruitment software empowers hiring teams with real-world data and guidance to create more successful job descriptions. At the same time, it makes hiring teams more efficient, freeing their time for more strategic efforts.
As a result, hiring teams can partner with HR teams to beef up diversity, equity, and inclusion efforts and streamline performance reviews with a centralized job description database. Meanwhile, they can use Datapeople to reduce time-to-fill and overall recruiting spend.
---
Recruitment software improving recruiting workflows overall
Less time slogging through manual tasks, more time collaborating with hiring managers to get job descriptions right. Fewer silos, more communication channels with compensation teams, finance departments, and company executives. Less reliance on outside recruiters, more recruiting done in-house by the brand experts.
Recruitment software enables your hiring teams to work better and more efficiently. That, in turn, empowers your team to fulfill its promise as a partner in company strategy. Which makes your organization as a whole that much stronger.