Earnest was founded in 2013 on the belief that financially responsible people, including younger generations, deserve better, more accessible credit options. So the company is using data science, smarter design, and exceptional service to rebuild financial services.
Earnest is on a mission to democratize high-quality financial services. Instead of relying solely on credit reports, they're using data. Chiefly, they're looking at applicants' savings patterns, employment histories, and expected career trajectories. And, accordingly, they offer interest rates and terms that are unique to each individual borrower.
---
Challenge
Colleen McCarty, Head of People and Talent, knew that language had the power to make a job more inclusive. As a matter of fact, she was using augmented writing software when she contacted Datapeople. But she was looking for more: a solution that could improve her recruiting efforts while seamlessly integrating with her current workflow. In fact, she wanted a whole new hiring process that would achieve not one, but three goals: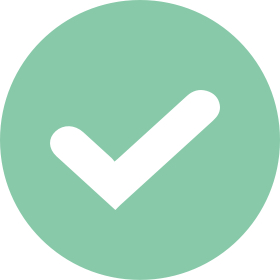 Speed up talent acquisition without adding more recruiters
A small hiring team with the right software platforms should be able to handle a fast-growing organization with significant hiring targets.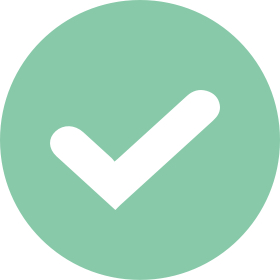 Reduce Earnest's dependence on sourcing channels
Expensive job marketing solutions should be used sparingly, if at all. In fact, most talent should come via organic sourcing.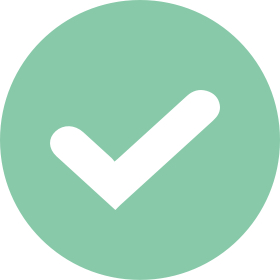 Enable her distributed team to draft jobs together
Managers in the company's various locations also need to engage in the hiring process.
---
Solution
Earnest uses Greenhouse as their applicant tracking system. So Datapeople's integration with Greenhouse made it a perfect fit. Here's how Earnest's new, Datapeople-powered hiring process is helping Colleen achieve her three goals: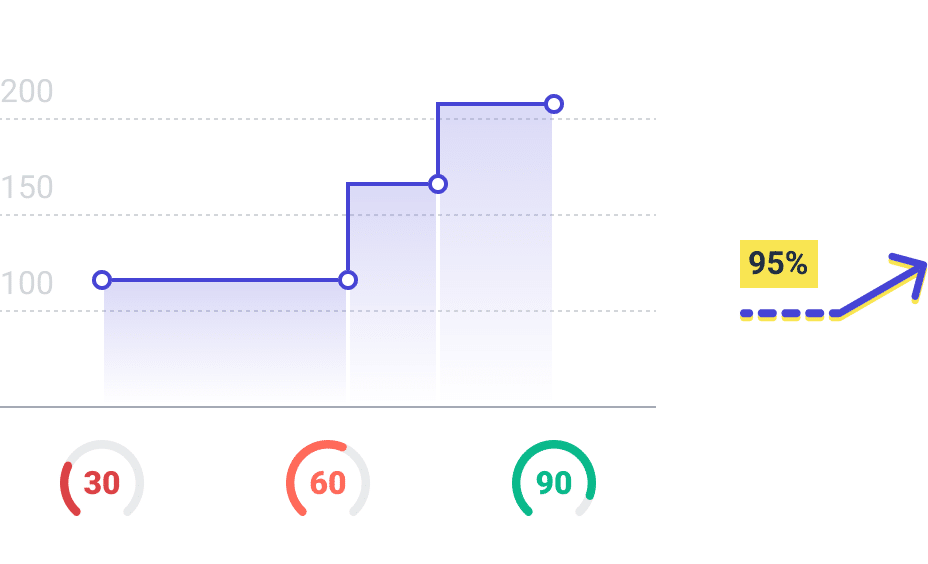 Earnest now attracts 95% more candidates
Earnest's hiring teams see a 95% increase in total applicants when they work together to write job posts that score 85+. Moreover, they're doing it in a San Francisco job market that's often starved for talent. In short, Earnest is using Datapeople's language and content guidance to maximize recruiting in a tough market.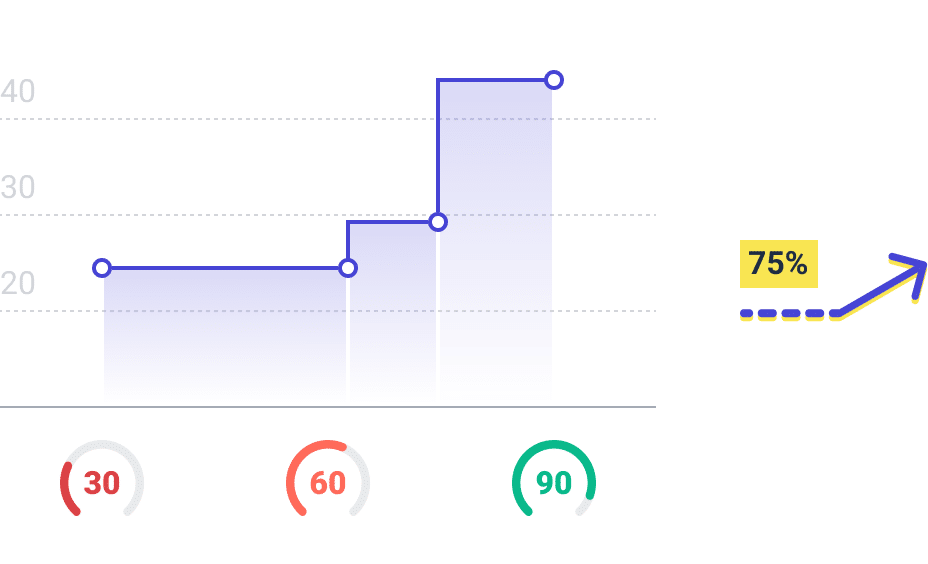 Earnest also attracts 75% more qualified candidates
Additionally, Earnest has seen an incredible 75% increase in the number of qualified candidates for jobs that score 85+. The increase in qualified candidates is subsequently translating to faster time-to-fill for Earnest's jobs. In fact, their jobs are typically only live for 30 days.
---
"I love Datapeople. In fact, it's something the recruiting team and hiring managers use every day and on every job. Because we see the significant positive impact that it has on our hiring."

– Colleen McCarty, Head of People and Talent
---
And Earnest is also seeing substantially more hires from organic inbound candidates
Immediately, Earnest discovered that better job descriptions drive better quality organic inbound candidates. As a result, they were able to cut their dependency on expensive sourcing solutions in half.
January – June 2017
Attracting 55 percent of candidates from organic sources and 27 percent from sourcing in 2017.
January – June 2018
Attracting 63 percent of candidates from organic sources and 13 percent from sourcing in 2018.
Earnest's distributed team works together on job descriptions
Earnest is able to support a large, distributed organization with only two recruiters because hiring managers are now part of the team. Also, it doesn't matter whether the person writing the job is a Recruiter in San Francisco or a Customer Happiness Lead in Salt Lake City. Datapeople makes it possible for everyone to work together on the company's job descriptions.
| | |
| --- | --- |
| Recruiters: | 2 |
| Datapeople Users: | 9 |
| Jobs Written: | 72 |
| Job Revisions: | 1,566 |
| Average Score | 78 |
---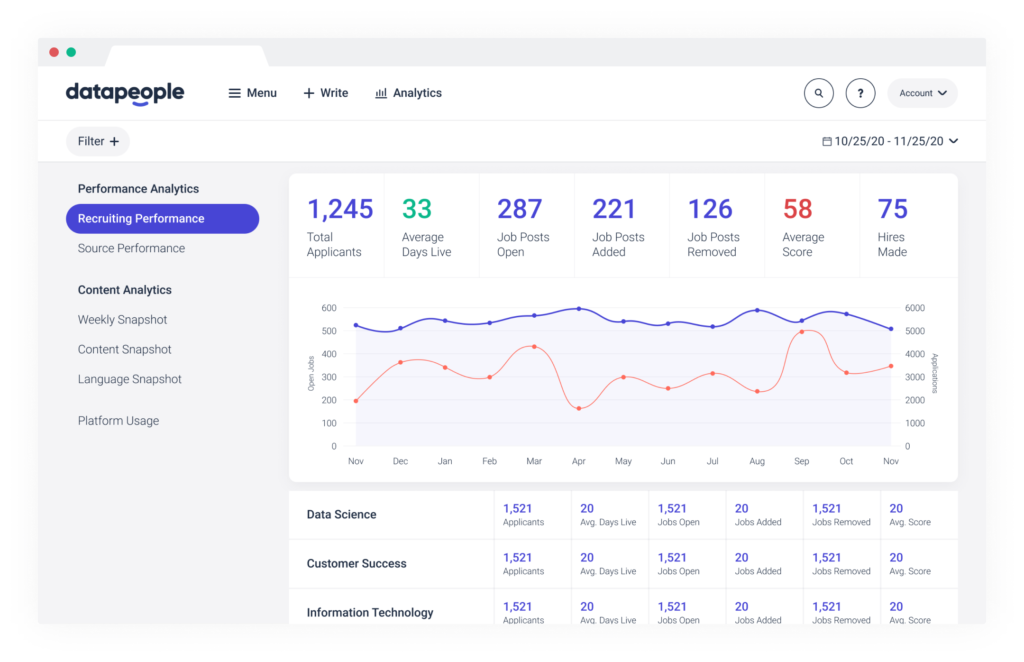 Job Performance Report
Datapeople's Job Performance Report offers a birds-eye view of your organization's jobs. You can filter by date, department, kind, and also job seniority and run weekly or monthly reports. So you can see what's working and what isn't.
Applicant Funnel Report
Datapeople's Applicant Funnel Report can tell you how well your sourcing channels are working. You can filter by date, department, kind, and also source. So you can see how candidates from different sources are performing in your hiring funnel.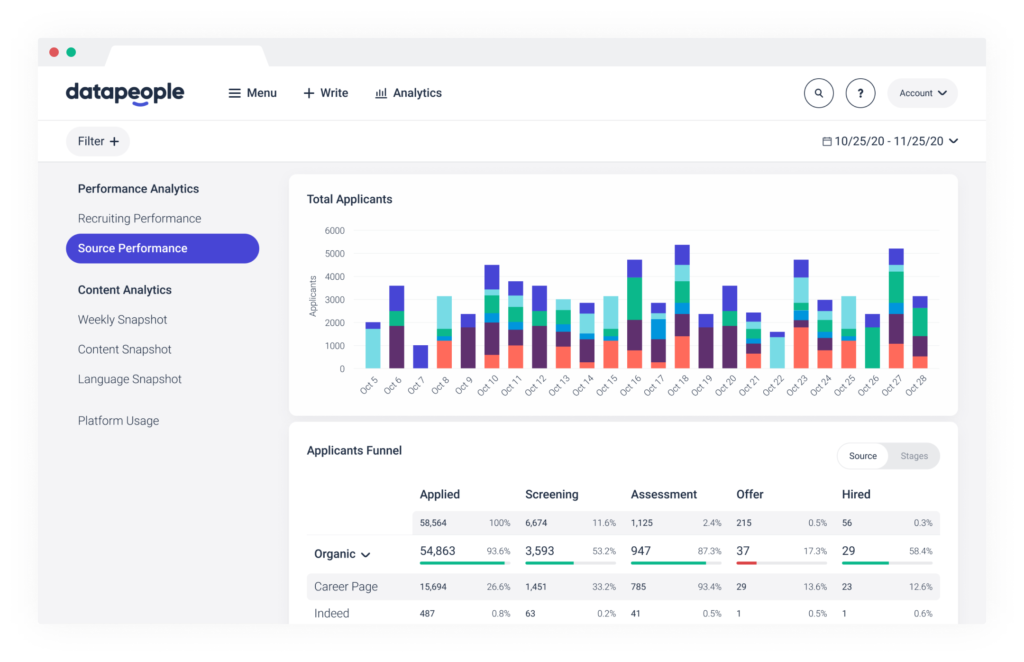 ---
Try Datapeople for free
Want to take Datapeople for a spin? If so, you and your team can try Datapeople for free! Then you can see for yourself how easy it is to write job descriptions that attract more qualified and diverse candidate pools. You can also schedule a demo, and we'll show you around.