First, some numbers: Remote jobs attract 125% larger inbound candidate pools than non-remote jobs and 120% more women. Now a question: Does it make sense to source passive candidates if inbound recruiting is already bringing in larger, more diverse candidate pools?
With non-remote jobs that are harder to recruit for in the remote work era, it may make sense. With remote jobs that are attracting larger and more diverse candidate pools, it really doesn't. Not when hiring teams can save time and money through inbound, which is more efficient and equitable than outbound.
---
What are inbound recruiting and outbound recruiting?
Inbound recruiting attracts candidates with employer branding, career pages, online job boards, and various marketing strategies. Not to be confused with post-and-pray recruiting (i.e., publishing an unvarnished job description on job boards and that's it), inbound is strategic and companywide. Outbound recruiting attracts candidates through prospecting, sourcing, referrals, and other outreach.
---
Most candidates come from inbound recruiting
Again, some numbers: Between 2019 and 2021, 85% of female applicants and over 80% of all applicants to tech jobs came from inbound. Most applied on a company careers page or on LinkedIn.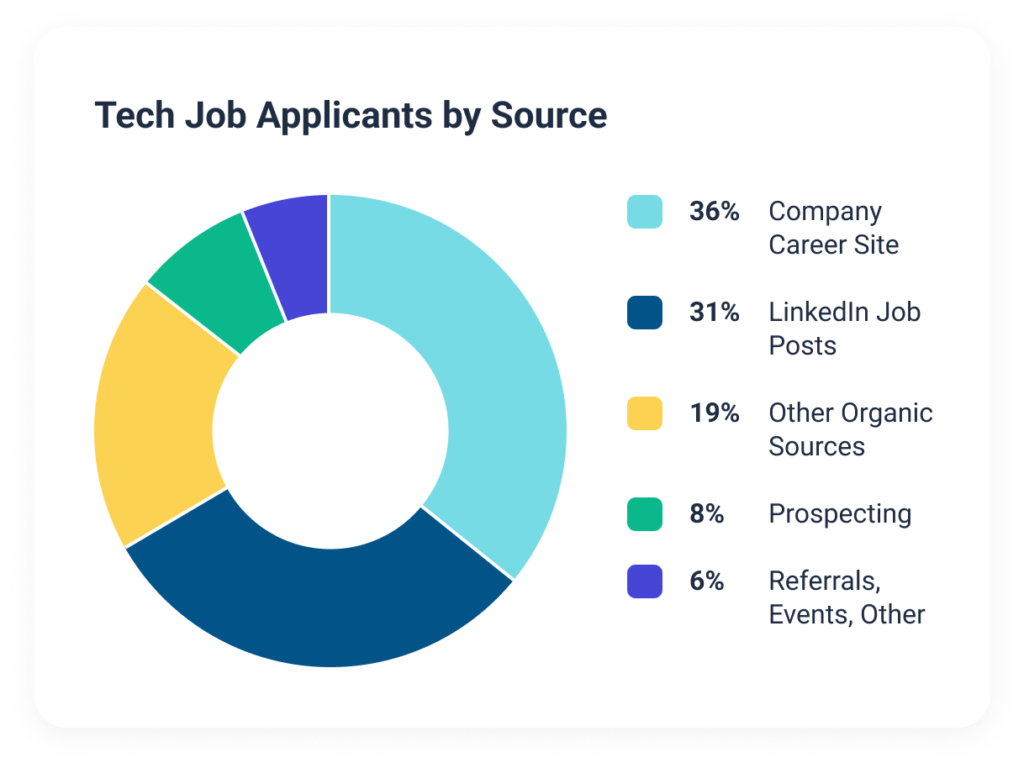 With remote jobs, the inbound pipeline is even stronger. Candidate pools in 2022 were 125% larger for remote jobs than for non-remote jobs.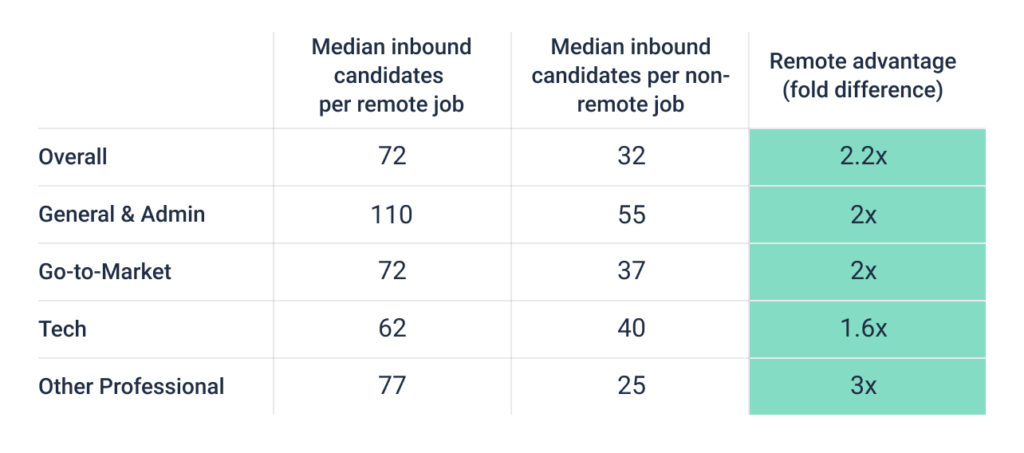 ---
Inbound is more efficient and equitable
It takes real heads-down time to sift through resumes, so sometimes hiring teams ignore inbound recruiting. Or they think of it as post-and-pray recruiting, although it's so much more. (Writing better job ads [i.e., inclusive and clear] and letting candidate pools fill for at least a week before moving anyone forward is much more proactive and effective than post-and-pray.)
There are lots of reasons why hiring teams avoid inbound recruiting. Maybe they're trying to do more with less because of budget and team cuts. Or maybe they're not getting enough qualified inbound candidates because of a tight labor market. Or maybe they just prefer outbound. Whatever the case, they turn to tactics like sourcing, referrals, and prospecting lists.
But outbound recruiting isn't all that efficient when compared to inbound, especially for remote jobs (again, 125% larger inbound candidate pools). And outbound recruiting isn't as equitable as inbound either (again, 120% more women).
Finding and reaching out to passive candidates may feel proactive and productive, but it yields few responses, let alone applications. Relying on sourced candidates rather than sifting through the inbound pipeline limits the talent pool. And the costs associated with referral programs and third-party sourcing add up quickly.
Meanwhile, hand-picking a few candidates to apply rather than inviting everyone isn't equitable. It leaves job seekers not connected to your network or outside of the LinkedIn boolean search out in the cold. And it can hurt DEIB efforts by reducing the diversity of candidate pools.
Again, the vast majority of applicants to tech jobs between 2019 and 2021 came from inbound sources like company career sites and LinkedIn. Yet these applicants only represented half of all hires. In fact, applicants from referral programs were 9 times more likely to get an offer than applicants from inbound recruiting. Put simply, candidate sourcing isn't equitable.
---
Hiring teams should focus on inbound recruiting for remote jobs
Inbound recruiting is equitable. (Anyone with internet access can apply, so the net you cast is much wider.) It works well, if done correctly. (Inclusive job ads on common job boards attract large, diverse candidate pools.) And it's inexpensive, comparatively speaking.
But those things are even truer with remote jobs, where inbound is even more efficient, cost-effective, and equitable. Wherever possible, hiring teams should transition non-remote roles into remote roles. And they should focus on inbound recruiting for those remote roles rather than outbound.