It goes without saying that a job post is a vital element of any recruiting process. It's the main way to connect with job seekers and encourage qualified candidates to apply to your job (duh). But it's also much more than that. 
---
What other role does a job post play in recruiting?
A job post's main role in the recruiting process is to advertise a job to potential candidates and get them to apply. But a job post is also a handshake, a hello, and an elevator pitch. It's an introduction to your organization.
---
If you work at a mature company in a mature industry, you may have job seekers knocking down your door. They may already know your brand and go straight to your website's careers page to find and apply for jobs. Or they may apply to your job posts based on brand recognition alone. In fact, your hiring team may get more applications than you can handle.
But what if you work at a startup in an emerging industry? Job seekers may not know your industry exists, let alone your company. In that case, your job post may be the first thing a potential candidate sees from you. It may also be the only thing they see.
---
Your job post advertises your entire organization
Think about it in terms of private life and, in particular, dating. (Bear with us for a moment.) Early on, everyone wants to present themselves in a good light, but no one wants to waste anyone's time either. It's why couples typically discuss core values and life goals before making a commitment. Shared hobbies are great, but can they really overcome values or goals that are worlds apart? Not in the long run, usually.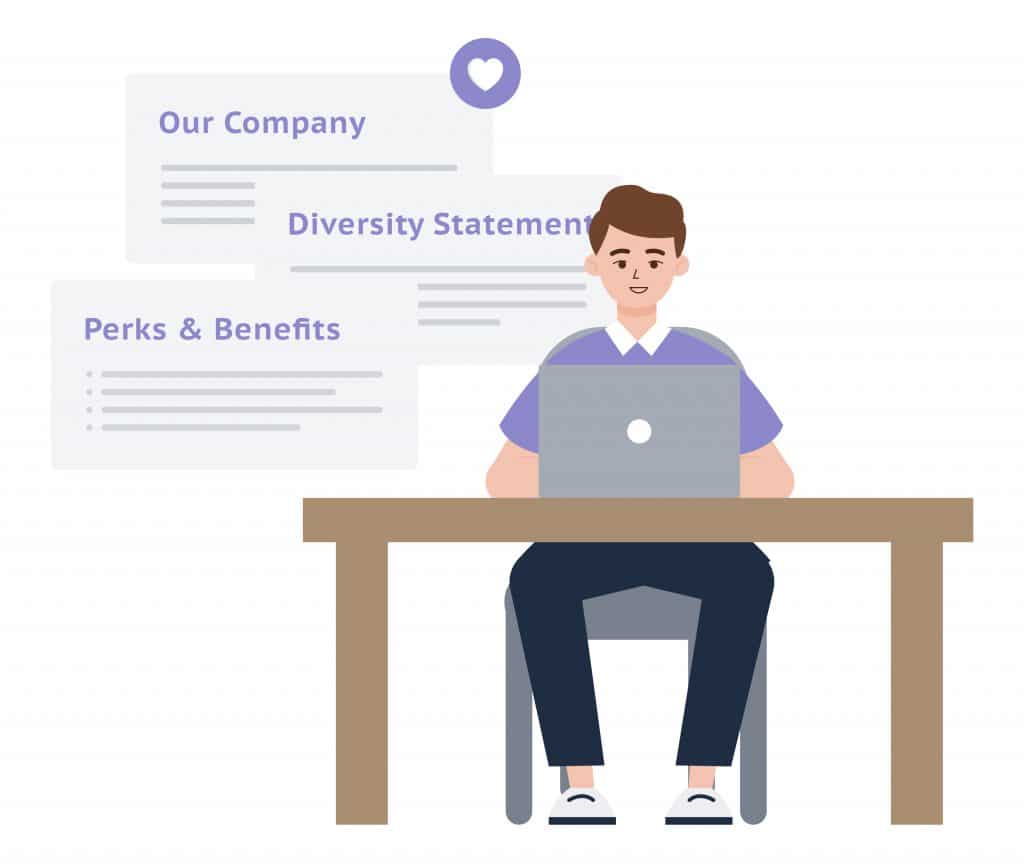 It's a similar dynamic in hiring. Candidates and companies alike want to put their best foot forward, but they also want to be realistic. If a candidate and a job don't match up, the relationship may not last long. And that's a risk when you consider how costly and disappointing it is to both parties when an employee or a job doesn't work out.
Too often organizations aren't putting their best foot forward. They write job posts that are internally focused and loaded with phrases and concepts that only insiders can understand. Hiring teams don't go out of their way to provide clarity about the position and the company. And while they still get applications because they're the ones with the job, that power dynamic is shifting. The candidate experience is becoming more and more important in recruiting all the time.
A job post is a window into an organization. If potential candidates feel like the hiring team is focused solely on their own needs, it reflects poorly on the organization as a whole. It may signal to job seekers that the organization doesn't focus enough on the employee experience in general. It's past time for organizations to look at job posts from the perspective of the candidates.
---
---
Accurate, comprehensive
It's not just about selling your job, so clarity is key here. Your job post has to paint a clear and comprehensive picture (through inclusive content as well as language). That way both parties are on the same page (i.e., their values and life goals are aligned) from the very start of the hiring process.
It's vital to make it stupid-simple for job seekers by putting whatever you have to say right in the job post. Describe your organization and culture succinctly and accurately. Be transparent about the job and what you expect from the person who fills the role. And prove that you take care of employees by listing benefits, perks, and your commitment to diversity and inclusion (i.e., show, don't tell).
Even if you have a wonderful careers page that accurately conveys your culture, there's no guarantee that candidates will go to it. Job seekers are often interacting with your job post on a third-party site like Indeed or LinkedIn. The reality is, they may not have the time or inclination to go beyond that and peruse your website for more information.
---
The other role a job post plays
Your job post has to do more than just advertise your job. It has to advertise your entire organization, often to someone who has never heard of you. And it has to do it in a way that accurately and comprehensively conveys who you are.
So take the time to write job posts that any outsider can understand. Be clear and comprehensive. Include perks, benefits, and commitments to diversity and inclusion. And factor the candidate experience into every line of every job post and every step of your hiring process. (Also, use job description software to optimize your posts.)