Twitch is a video streaming platform where communities can form and thrive around live, interactive entertainment of all types. More than two million users are on the site at any given moment watching broadcasters live stream video games, music, cooking advice, or live chats.
With such a large audience, diversity and inclusion are a natural priority for the Twitch Talent Acquisition team. Twitch's commitment to diversity, equity, inclusion and belonging is linked directly to its vision statement for the company to be a global economy of multiplayer creators from all backgrounds.
---
Creating intention behind Twitch job posts
Increasing representation of underrepresented groups continues to be a priority at Twitch. The Talent Acquisition team is working hard to foster and live an inclusive environment where people feel that they belong.
Before Datapeople, however, Twitch didn't have a set process for writing and approving job posts. They didn't have standardized templates or a way to analyze the inclusiveness of their job descriptions. The Talent Acquisition team members decided they needed to act with more intention by taking a more thoughtful approach to creating job descriptions. That meant acquiring a diversity and inclusion (D&I) platform to provide guidance and an operating framework.
"We were looking for a way to think critically about our job posts," says Meg Crampton, Senior Manager, Global Employer Brand & Events. "Datapeople creates intention around how we're speaking about the jobs we have. We're not taking shortcuts with our assumptions and thoughts."
Datapeople's dynamic content feedback helps job post writers slow down and think about how their words may impact candidates. And the language guidance benefits are actually cascading beyond job posts.
"It has taught our hiring teams to be more inclusive with the language we use," says Crystal English, Recruiting Manager. "We bring a lot of the language we use in job posts into our day-to-day work too, and it's improving that as well."
---
"Consistent content is critical"
Standardization is key to improving job posts, according to the Twitch team. Often, a job post is the only place where Twitch can communicate the company's employer brand.
---
"Up until Datapeople, we didn't funnel our job posts through one single approval process," says Meg. "So we were relying on a bunch of different perceptions on what a good job post is. Datapeople is critical to us having one single approval process to ensure consistency."
---
Standardized job posts are key to creating a consistent experience and first impression. And the templates in Datapeople are extremely important because, without them, hiring managers are starting from scratch for every person they hire.
"The ROI is that I'm not sitting here worrying about what we are saying in each individual job post we have out there," adds Meg.
Standardization also helps with compliance, which is a must-have for the Twitch team because they need to comply with the guidelines of the Office of Federal Contract Compliance Programs (OFCCP).
"Datapeople has really helped us," says Rachel Miller, HR Business Systems Analyst and Program Lead. "It sounds boring, but it's actually quite important to standardize our job posts in a way that's compliant with federal and other regulations around equitable hiring and inclusivity. As an operations person, I like Datapeople a lot."
---
Working with Datapeople
When it comes to the working relationship with Datapeople, the Twitch team members feel like it's a true partnership.
---
"I'm actually blown away by the level of detail Datapeople was willing to go into about their vision and roadmap," Rachel says. "It helped us better understand why things are designed the way they are on the platform. I've never experienced that with a vendor, and I'm totally enamored by it."
---
That help also enabled Twitch to integrate Datapeople into their workflows faster compared to other vendors.
"I had another vendor at my previous company," says Crystal. "If we ever wanted to make a modification or provide feedback, it felt like we were added to a queue. And maybe we heard back from them in a month or a quarter, if ever. From that perspective, it's been very different with how responsive Datapeople has been. I've really enjoyed partnering with the Datapeople team."
---
Datapeople is table stakes for Twitch job posts
In poker, the table stakes rule says that players can never bet more than they have on the table at the beginning of the hand. In business, table stakes are the bare minimum for moving forward with a project, purchase, or other endeavor.
---
"Datapeople has become table stakes for job posts at Twitch," says Meg. "Hiring managers have to run their jobs through Datapeople. That's the baseline: they need to do that, or we won't post their job. When I say Datapeople is table stakes, I mean it's actually the foundation of how we're approaching and articulating our jobs."
---
In fact, Meg says that Datapeople is so ingrained in the hiring process at Twitch that it's now a must-have.
"When you're launching a new platform like Datapeople and getting change management in place, you're constantly talking about it," says Meg. "But we don't actually talk about Datapeople much anymore, which I think is a good thing because it's now the foundation of our job post process. Datapeople is essential to our hiring process, and I couldn't imagine going without it."
---
Try Datapeople for free
Want to take Datapeople for a spin? If so, you and your team can try Datapeople for free! Then you can see for yourself how easy it is to write job descriptions that attract more qualified and diverse candidate pools. You can also schedule a demo, and we'll show you around.
---
About Meg Crampton, Rachel Miller, and Crystal English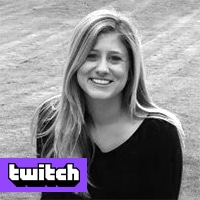 Meg Crampton, Sr. Manager, Global Employer Brand & Events, manages Twitch's overall employer brand strategy. Meg focuses on establishing Twitch as an awesome place to work and the obvious choice for talented candidates.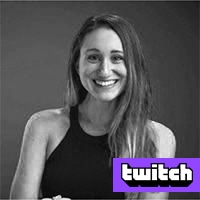 Rachel Miller, HR Business Systems Analyst/Program Lead, is part of the systems team that scopes, configures, and implements new technology for Twitch's HR organization. Rachel cares deeply about analytics, seamless system integrations, and making sure that technology serves HR.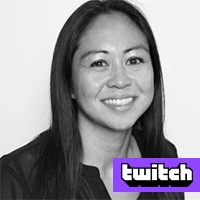 Crystal English is a powerhouse Recruiting Manager at Twitch. Crystal manages talent acquisition efforts for Twitch's sales and international teams. She believes in inclusive hiring and writing clear job descriptions that speak to candidates.