Datapeople includes recruiting performance analytics designed to offer insights into your talent pipelines using your own real-world data. Datapeople's robust analytics suite enables you to make stronger, evidence-based decisions that yield more qualified, diverse hires. (It helps you get the recruiting analytics basics right.)
With a central repository of job descriptions and actionable data from our robust analytics suite, recruiters can see how well their job descriptions are performing and recruiting managers can also see how well hiring efforts are working overall.
---
1. Get a bird's-eye view with recruiting analytics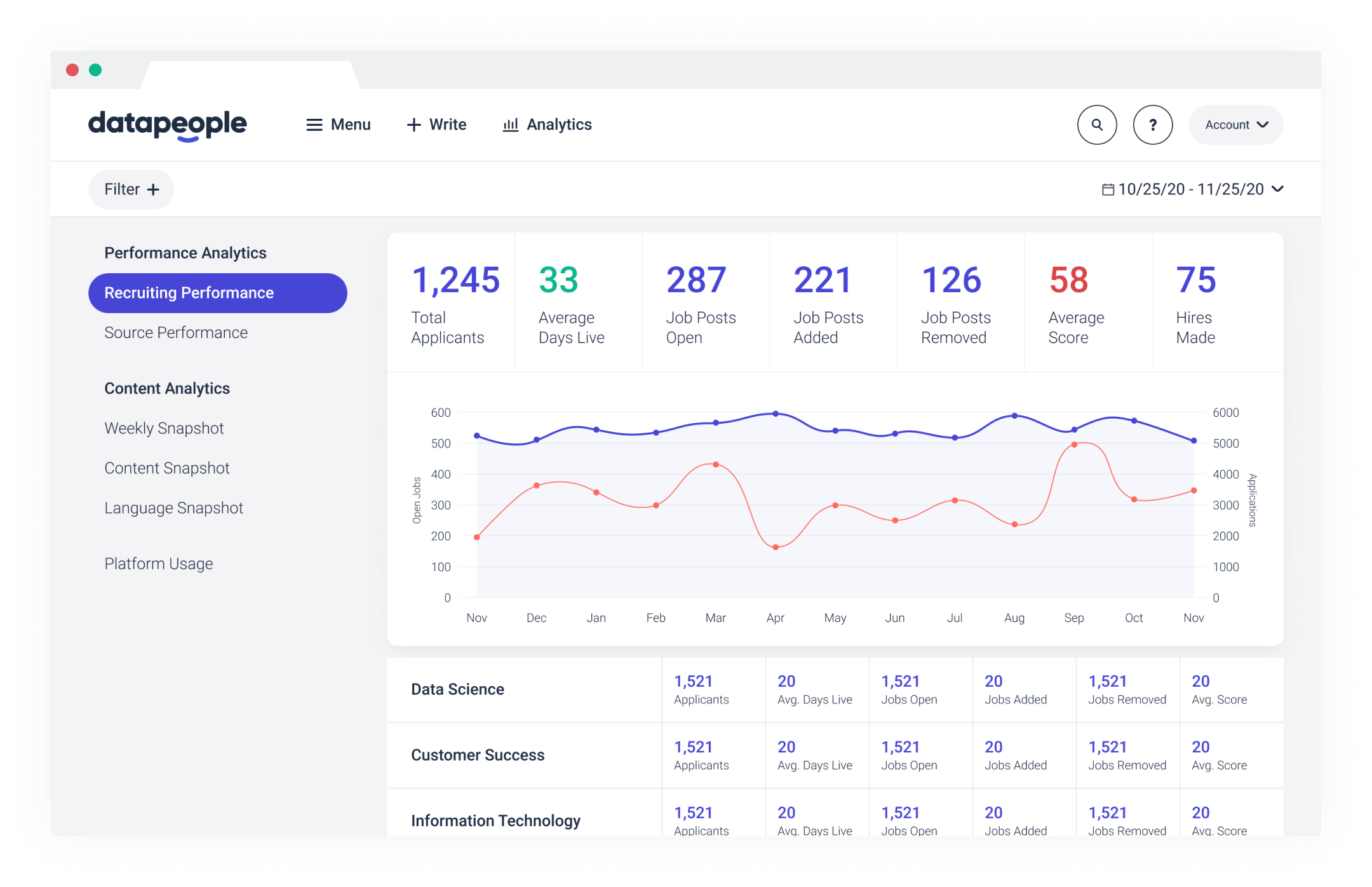 Analytics can answer some basic questions about your recruiting efforts like where the hiring bottlenecks are and which jobs need attention. 
Want to see how many jobs you have live at any given time filtered by location, department or experience level? How about historical data like total applicants versus total hires over time, jobs added versus jobs removed or average time live?
Our performance analytics provides a snapshot of your recruiting efforts as well as trends over time. It's actionable data you can subsequently use to better understand and improve your entire hiring funnel.
2. Understand your applicant funnel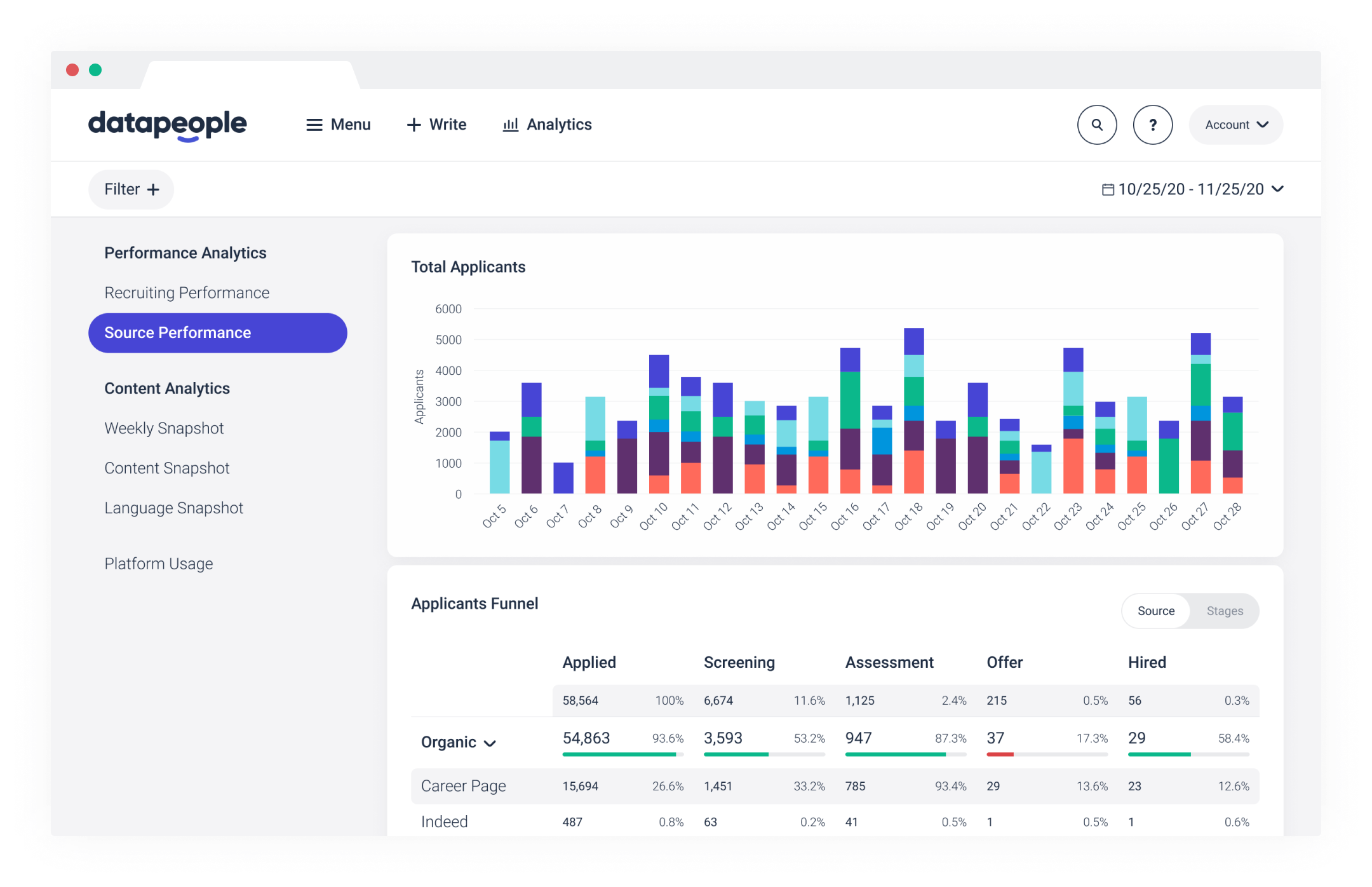 Recruiting analytics can answer the fundamental question of how your organization is attracting talent. Towards that end, our applicant funnel report gives you a detailed view of how candidates from different sources perform in your hiring funnel.
Which sources routinely net the best candidates? Also, should you invest more in job boards or social media and, if so, which ones? And is your organization trying to improve the fairness of your hiring process by optimizing for organic candidates?
Candidate pools from organic sources like your career page and public job boards are by nature more diverse and representative than those from other recruiting sources. Datapeople breaks this out for you automatically.
Reporting on your applicant funnel enables you to see how your applicants are doing at every stage of the funnel. (Without manually extracting data from an applicant tracking system like Greenhouse or SmartRecruiters and building reports yourself.) You can view reports by location and job seniority to see, for example, how organic candidates perform in California versus New York or in junior versus senior jobs. With that information, you can address sourcing issues or low-performing areas of your funnel.
3. Write content that attracts the right candidates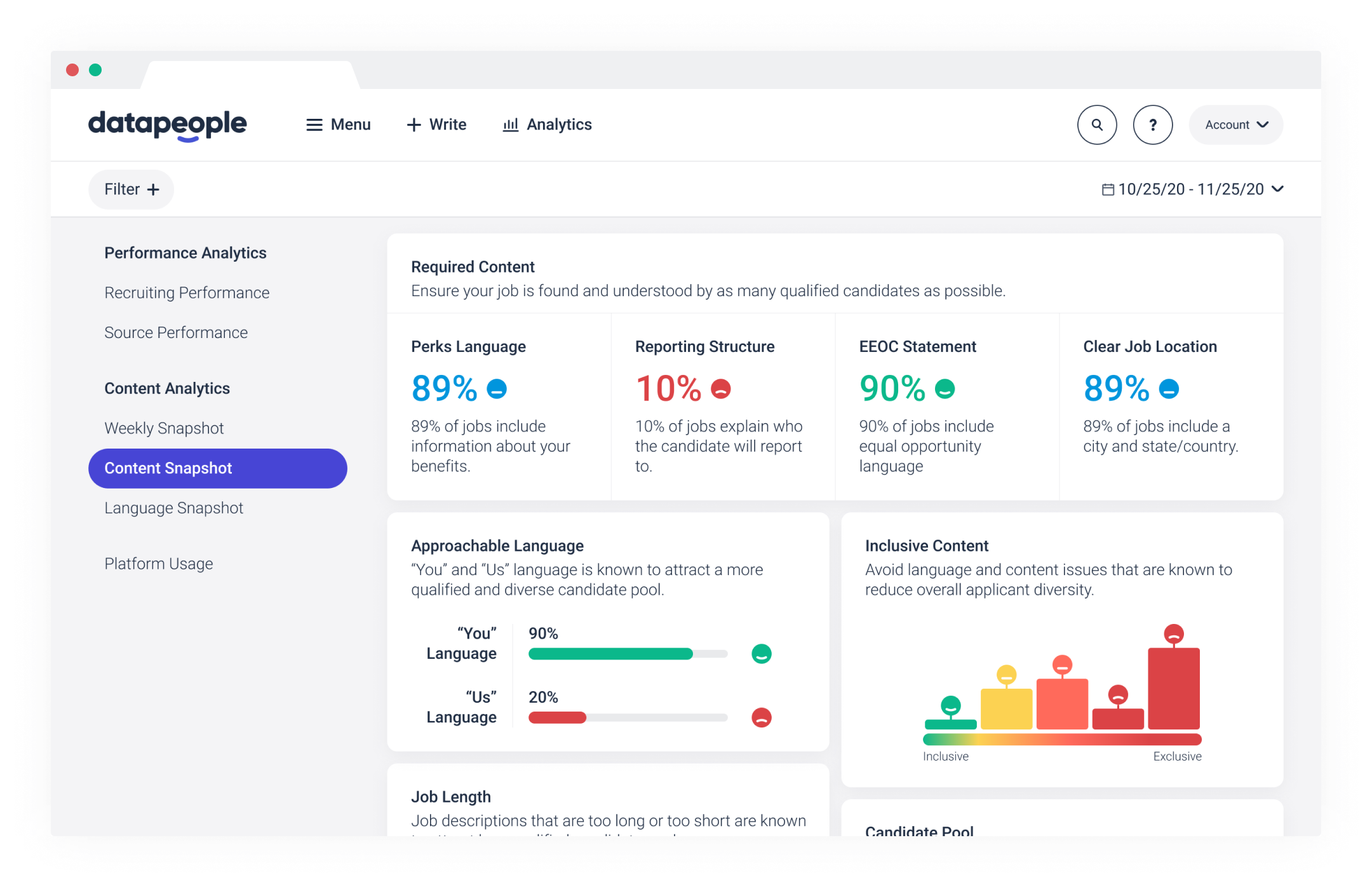 We know from our own research that qualified candidates are more likely to apply to job descriptions that include certain pieces of content.
Can job seekers find your jobs in searches and clearly understand the requirements you list? Also, should your job descriptions include common things like diversity information, perks, and reporting structure?
Content analytics can show you what critical pieces are missing from your job descriptions (e.g., diversity info, perks and reporting structure). They can also show which content may prove confusing or problematic for qualified candidates.
---
---
4. Use language that candidates can understand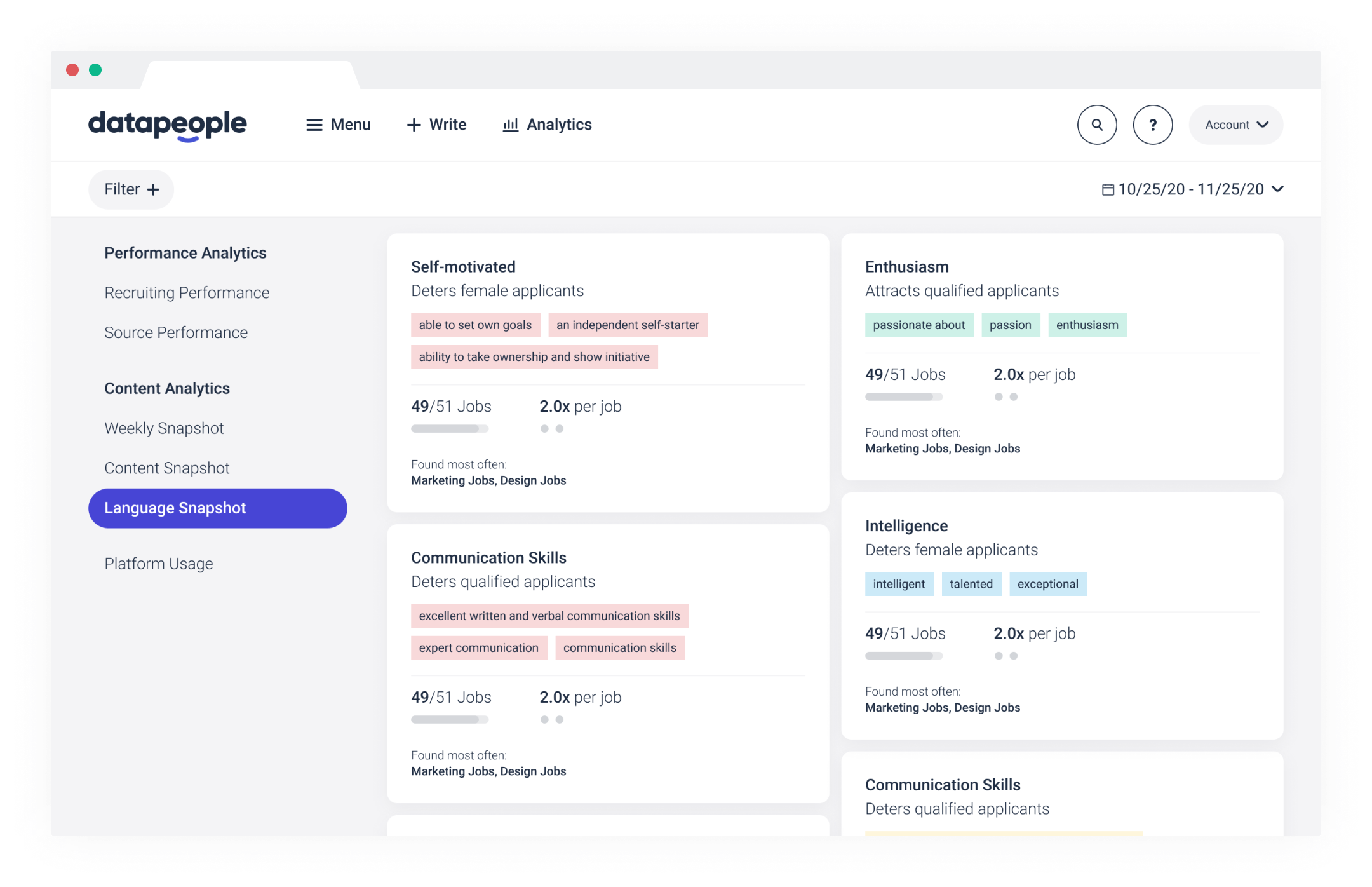 We also know from our own research that language impacts candidates in different ways. Language analytics can, therefore, help you write job posts that are clear to a greater number of candidates. Are you using sports metaphors or other types of metaphors that some candidates won't understand? Or are you listing requirements like multitasking and communication skills that are known to deter qualified candidates?
Our Language Snapshot provides a detailed overview of the types of language used most often in your open job descriptions. It also shows how they may impact candidate pool diversity and quality.
5. Use analytics to improve open job health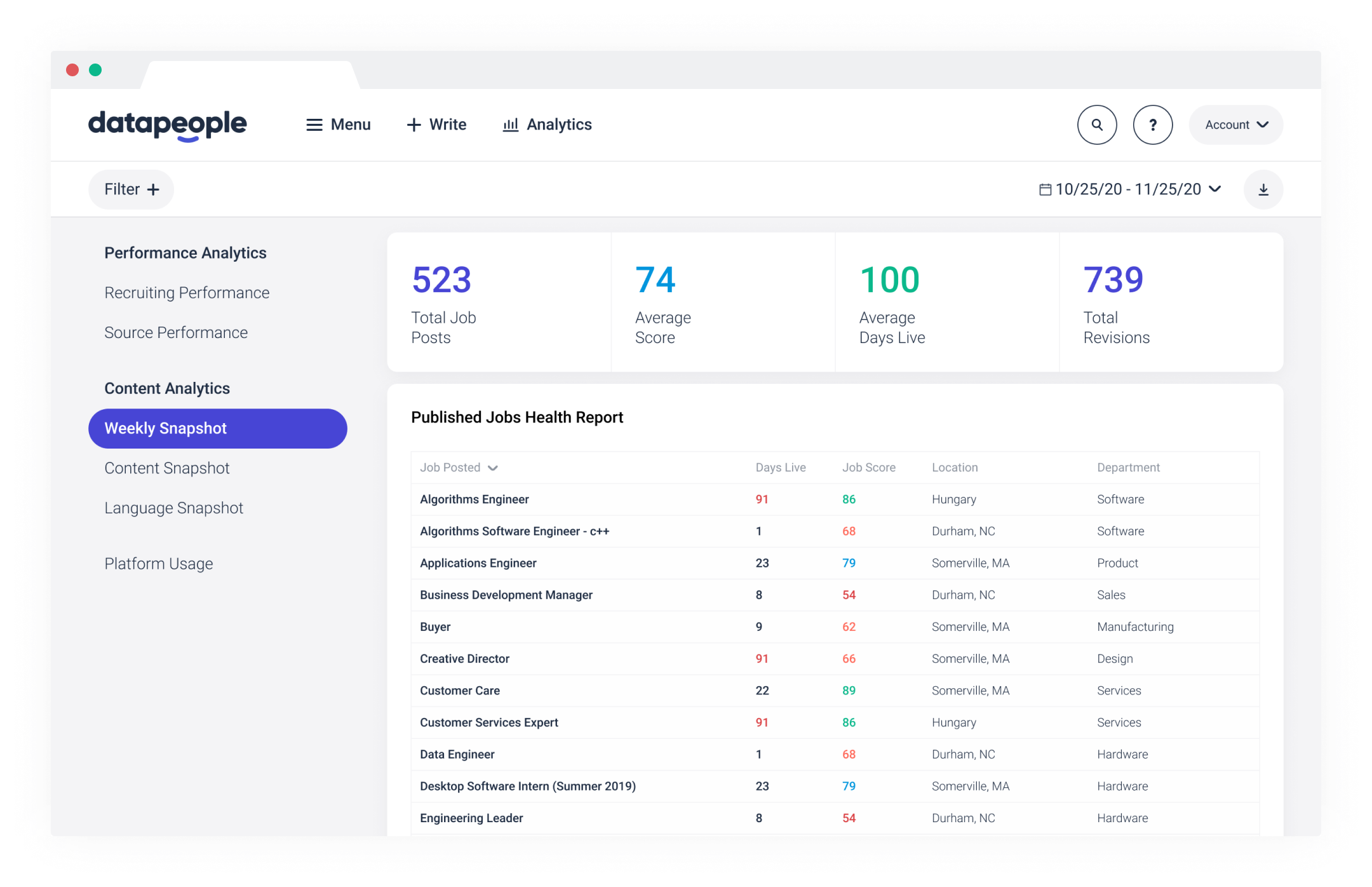 Recruiting operations analytics help hiring teams keep tabs on open jobs and how well they are performing.
A job health report provides a quick weekly snapshot of current live jobs and also any issues with the corresponding job descriptions. Recruiting operations can then use this to bring issues to the team's attention and set priorities.
6. Why create a representative candidate pool?
A representative candidate pool includes qualified applicants of every ethnicity, self-identified gender, and background. It's the widest net you can cast and also your best chance for finding qualified, diverse candidates.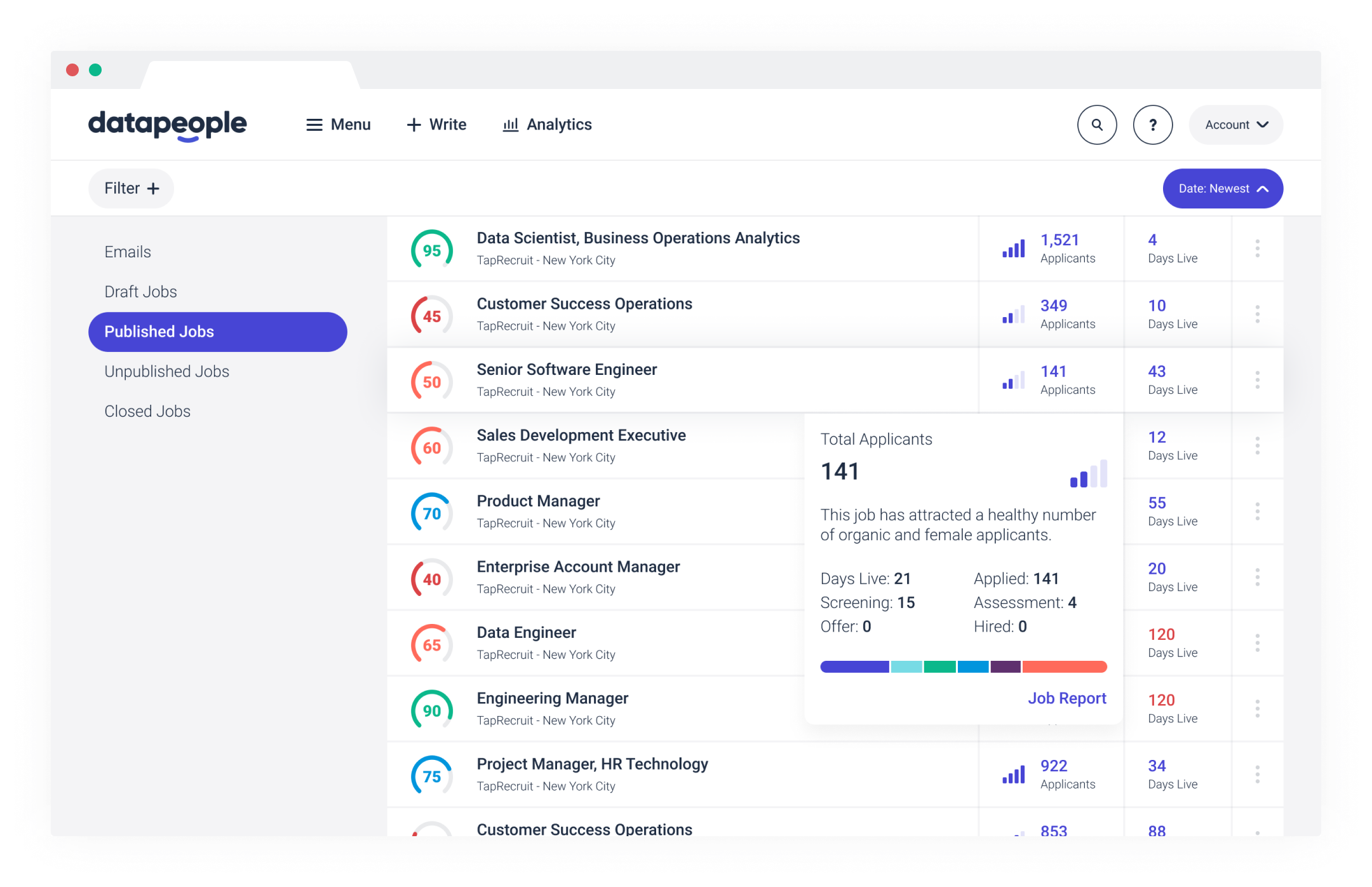 Research shows that a representative candidate pool is a fairer one. Analyzing your talent pipeline health can subsequently help you answer some important questions about your hiring funnel. 
Has your job description attracted enough candidates from organic job boards to ensure a representative candidate pool? Also, is your job content attracting enough qualified candidates?
When combined with behavioral research and industry knowledge, recruiting analytics can provide some surprising, useful insights into your talent pipeline.
---
Recruiting analytics
A central repository of your own real-world job descriptions. Also, data extracted from that repository and organized into useful reports presented on thoughtful dashboards. And actionable data that everyone in your team can use.
Job posts shouldn't just disappear, especially when they can tell you so much about your recruiting efforts. In fact, the real-world insights into your talent pipelines they provide can help you make stronger, evidence-based hiring decisions. For more qualified, diverse candidate pools.