DoorDash is part food delivery service, part technology company, and part last-mile logistics infrastructure for local businesses. The company currently has 30,000+ employees in over 7,000 locations across the United States and abroad. And it's growing, quickly. As it does, the DoorDash hiring team is using Datapeople to attract qualified applicant pools and create an inclusive hiring process.
---
DoorDash's challenges
The DoorDash team wants to provide equitable hiring experiences while not excluding themselves from job seekers' searches because of inconsistent messaging.
Unqualified applicants
Before Datapeople, the team was rejecting a lot of applicants. The pass-through rate from application to preliminary screening with a recruiter was something like 1%.
Confusing job titling and content
The team was also eliminating itself from job seekers' searches because of niche job titles (i.e., DoorDash-specific titles that didn't match those in the job market) and confusing job post content.
"I saw how many times a prospect would say that they don't know what a job title means," says Sean Ellis, Talent Sourcer for the DoorDash sales teams. "It happened frequently enough for me to realize that our job posts weren't landing."
Lack of visibility into performance
One not-so-secret reality for hiring teams is how difficult it is to run reports and analytics in applicant tracking systems (ATSs). This was no different for the DoorDash team.
Rapid growth, international growth
With growth comes challenges, particularly in creating an inclusive environment for workers of all stripes, in all locations.
DoorDash's growth between 2019 and 2021:
Hires made increased 700%
Total applications increased 304%
Expanded from the U.S. and Canada to Australia, Germany, India, Japan, Mexico, New Zealand, and Puerto Rico
And with international growth, it's important to connect with job seekers in unfamiliar geographies.
Decentralized workflow
Having to track down documents in various places was also a pain. According to Sean, he often found himself on wild goose chases without knowing which documents were the most recent.
---
Datapeople's solutions
From the outset, Datapeople provided a view into DoorDash's hiring processes that the team had never seen before.
Inclusive messaging guidance
With Datapeople's guidance, the team began to understand why their postings weren't landing with job seekers.
---
---
After DoorDash started using Datapeople regularly, the hiring team became much more conscientious about content and its impact on diversity, equity, and inclusion (DEI) efforts.
"And having a tool that ensured the language in our job posts was inclusive and read well to a variety of audiences immediately helped us better attract diverse applicant pools," Sean says.
Measuring success with analytics, easily
Datapeople also provided an easy way for DoorDash to analyze performance. By tracking job scores and filtering by location, recruiting operations could identify which hiring teams could improve, catch drops in job scores quickly, and track trends over time. All without any expertise in data science.
"We appreciate how intuitive and straightforward the analytics pages are," says DoorDash Senior Program Manager, Recruiting Technology, Hanna Micks. "It doesn't require a ton of training because it's so obvious where everything is and how to navigate it all."
Offering an easy-to-use platform
In fact, Datapeople's overall user-friendly platform, including its Google Chrome extension (that enables users to get Datapeople guidance without leaving the ATS), was helpful, in general.
"Datapeople is one of the more intuitive and user-friendly tools in our tech stack," says Sean. "And with the Chrome extension nestled nicely into our ATS, I can just type in the job title and go right to the page."
Sean isn't alone in his opinion.
---
---
Speaking locally, internationally
Since 2019, DoorDash has expanded abroad, and they've taken Datapeople along.
"I think it's awesome that it's a global tool that can make suggestions based on location," Hanna says.
---
The results
Using Datapeople, the DoorDash hiring team now has a level of confidence in their hiring process that they didn't have before.
Inclusive messaging
"If I was going to explain Datapeople, I'd say it's a way to put your messaging up against a mirror," says Sean. "You get to see what you're saying as the recipient, not the author."
DoorDash's hiring teams now have improved messaging overall. Potential applicants understand Sean's job posts better these days. And he's even getting more responses to his prospecting emails, enabling him to establish relationships and improve his sourcing efforts.
---
---
Improved performance
With clear analytics, the before and after numbers on job posts show clearly how changes in Datapeople impact both the quantity and quality of applications.
"Not just how many applicants are coming in," Sean says. "But also the number of applicants who are getting to those later stages like assessments, offers and, ultimately, hires."
In fact, the average number of applicants per open DoorDash job increased 117% from 2019 to 2021. Meanwhile, DoorDash jobs that scored highly in Datapeople saw a 30% decrease in time to fill.
Better workflow
Datapeople also helped the team tidy up the job description writing process. They were finally able to eliminate multiple versions and track revisions in real time.
---
So what's next for DoorDash and Datapeople?
At this point, Datapeople is 'wired' into DoorDash's process. It's a formal part of recruiter and sourcer onboarding, and all jobs have to be optimized in Datapeople before publication. In the not-too-distant future, though, usage will become a part of key performance indicators (KPIs) and performance reviews.
"Datapeople is a must-have that we will all need to know," Sean says. "Every recruiter or sourcer at DoorDash will know from the start what it is and how it fits into our process."
And as the team moves forward, Hanna says it gives her confidence to have 'a partner to work with' in Datapeople ─ someone to provide advice on topics such as DEI, pay transparency, remote working, and other evolving issues.
---
---
Try Datapeople for free
Want to take Datapeople for a spin? If so, you and your team can try Datapeople for free! Then you can see for yourself how easy it is to write job posts that attract more qualified and diverse candidate pools. You can also schedule a demo, and we'll show you around.
---
About Hanna and Sean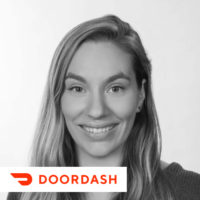 Hanna Micks is a Senior Program Manager for Recruiting Technology at DoorDash, focusing on the overarching recruiting operations umbrella. Her work involves introducing 'really bright and motivated people' to DoorDash's DEI approach and offering them tools that drive accountability and improve hiring processes.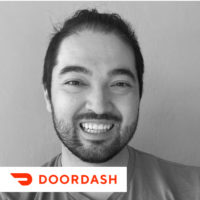 Sean Ellis is a Sourcer for the sales teams at DoorDash, responsible for building strategy and measuring its impact across the sales recruiting organization. He joined in 2020 as a contractor. Since then, the team culture and camaraderie convinced him to convert to full-time. Sean focuses on the top of the funnel, sourcing qualified talent through inclusive job posts and outreach emails.