John Germinario, New Avon's Head of Talent Acquisition and HR Shared Services, has always valued empathy and kindness towards employees, which starts in the recruiting process. He spoke with us about empathy, the challenge of writing job descriptions, and the future of technology in recruiting at New Avon.
---
John's impressive journey so far
John began his recruiting career doing commercial and scientific staffing at Aerotek during the Great Recession. But after three and a half years, he decided an internal recruiting role might suit his personality better.
John moved to global accounting firm KPMG, where he honed his chops recruiting for a wide and ever-changing variety of roles─from IT to financial management to HR to accounting and more. He said the constant change taught him how to adapt recruiting strategies to different jobs. Meanwhile, he learned how to lead an effective domestic and global recruiting team.
After about six years, though, John wanted to create something of his own. He came to New Avon Company to build a talent acquisition team from the ground up. Since April 2017, he has built out processes and guided strategy during significant organizational change, including reductions in his own team.
"We've had periods of explosive growth while reducing force at the same time, which is challenging from a strategic standpoint. I've hired people for the recruiting team, then had to leverage resources when we lost recruiters because of reductions. We've gone through a lot of dynamic change here."
---
Empathy in recruiting at New Avon
Early in his career, John found it rewarding to provide opportunities to people who needed them. But he also found it challenging to advocate for candidates.
"It was difficult managing clients who felt like they should see 30 candidates because unemployment was at 9 percent. Or pushing them to pay fairly when they wanted to get better people for less money. Is that kind? Is that the right thing to do? Probably not."
John has always believed in following the Golden Rule when it comes to hiring. While there's always lots to do and some conversations are hard, recruiters should still carve out time to take care of candidates.
How can recruiters put job seekers first?
Writing job descriptions for job seekers, not companies. Reaching out to rejected candidates to let them know. Responding thoughtfully to questions from rejected candidates. Avoiding long bullet lists and "ambiguous qualifications" that confuse job seekers. And more.
John believes that simple gestures like these put job seekers first and help improve the recruiting effort overall.
"I think the biggest issue is that recruiters write internal job descriptions and try to leverage them as external job descriptions, and they're entirely different."
---
"Very naturally, people of different gender, skin color and backgrounds have different experiences and look at problems in different ways."
---
Writing good job descriptions is really hard
John understands the challenge that recruiters and hiring managers face when writing job descriptions. But he's convinced candidates respond better to ones written in a careful way.
"The thing I struggle with the most is not using the same word over and over in qualifications like 'Experience in… Experience with…' Like I was just jotting things down. I want it to be thoughtful."
Another way to convey thoughtfulness is to skip ambiguous soft skills like 'strong communication skills.' Instead, John will think carefully about specific qualifications to avoid "taking the easy way out."
"Does that person need management experience? If they're gonna lead five people, yes. So: 'Prior experience leading team members, doing performance reviews, et cetera."
Job description writers tend to list obvious requirements like 'bachelor's degree in engineering' and then run out of ideas, said John.
"I don't think it's anything blatant. If you're a hiring manager, you're like: 'Well, this is what I need them to do.'"
So they fall back on soft skills and push things into the responsibilities section instead of qualifications. For John, this is why it's important to have strong HR professionals working alongside hiring managers on job descriptions.
---
Using recruiting technology thoughtfully for Avon
"I think the future in recruiting is automation. But it has to be thoughtful."
New Avon Company's organizational changes have impacted John's own HR team, which has gone from 28 employees down to 9. In situations like these, technology can help recruiting departments do more with less.
"Just last week we opened up seven or eight roles, and every one was like a new role. So to have a platform like Datapeople that can guide us along is helpful."
Managing heavy workloads and creating consistency is really important, especially during reorganizations when hiring managers and even recruiters can change.
"Datapeople saves us hours per week. Truly it does. Also, we have consistency and uniformity in our job descriptions that I have seen directly impact the types of candidates we're getting."
Yet John never loses sight of the candidate experience and how job seekers are using technology themselves. He encourages recruiters to write job descriptions as the short advertisements they are, thereby enabling job seekers to search on mobile or whichever devices they prefer.
By leveraging technology in thoughtful ways, John and his team are able to write job descriptions that attract as many qualified candidates as possible. Which is their purpose.
---
Try Datapeople for free
Want to take Datapeople for a spin? If so, you and your team can try Datapeople for free! Then you can see for yourself how easy it is to write job descriptions that attract more qualified and diverse candidate pools. You can also schedule a demo, and we'll show you around.
---
About John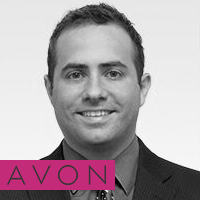 John Germinario is Head of Talent Acquisition and HR Shared Services at New Avon, the iconic peer-to-peer cosmetics sales brand. In 2016, New Avon Company split off from Avon Products into a privately held company and, in 2019, became part of the LG consumer goods family of businesses. Since April 2017, John has built, torn down, and rebuilt processes while navigating organizational changes to build a strong recruiting effort for the brand.