Ensure everyone feels welcome to apply
Your ticket to greater diversity, higher candidate quality, and lower costs start with your jobs and the process behind them.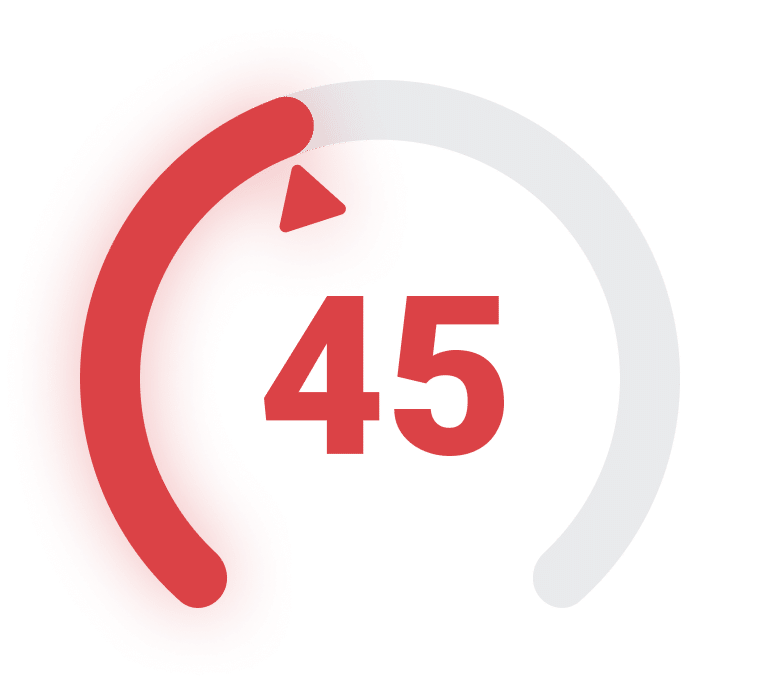 We've combined everything you need to know about job content into a single predictive performance score. 
Reduce confusion and mitigate candidate confidence issues by using job titles that match your job requirements.
Job titles play an important role in ensuring that qualified candidates click through and read your listing. Make sure you're using job titles that qualified candidates can understand.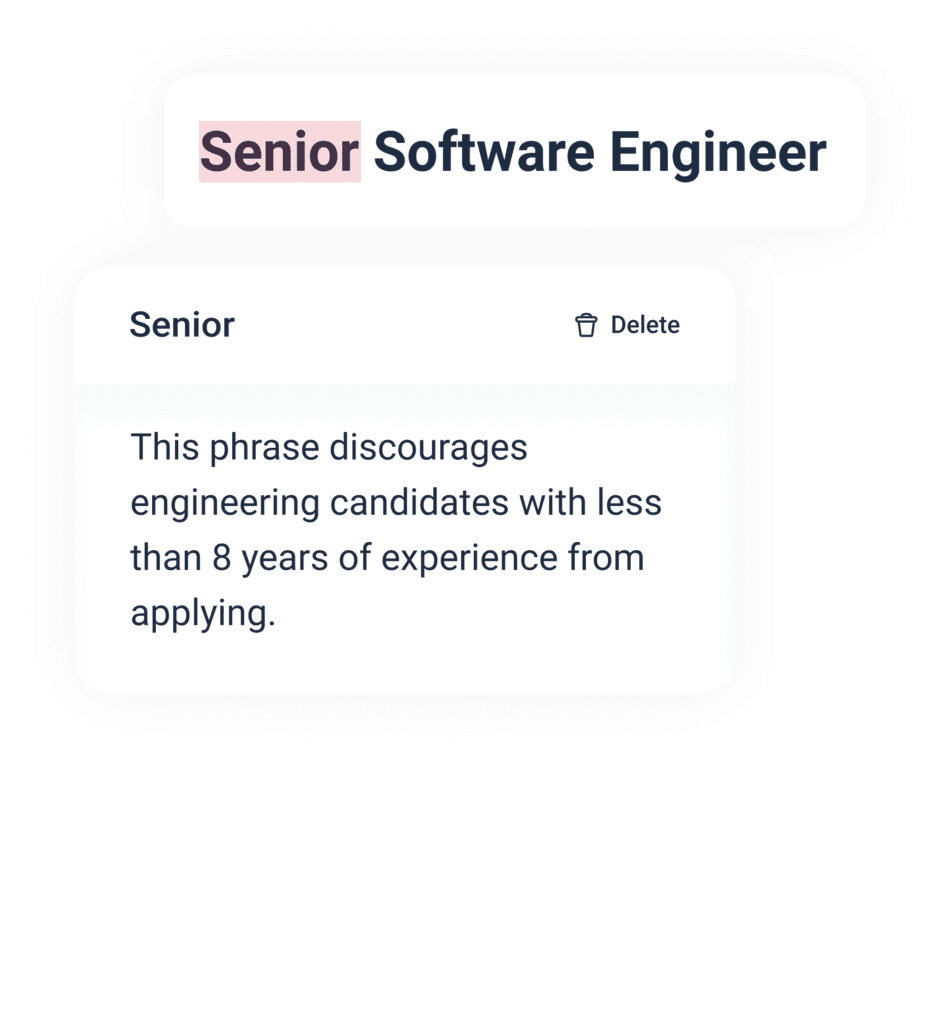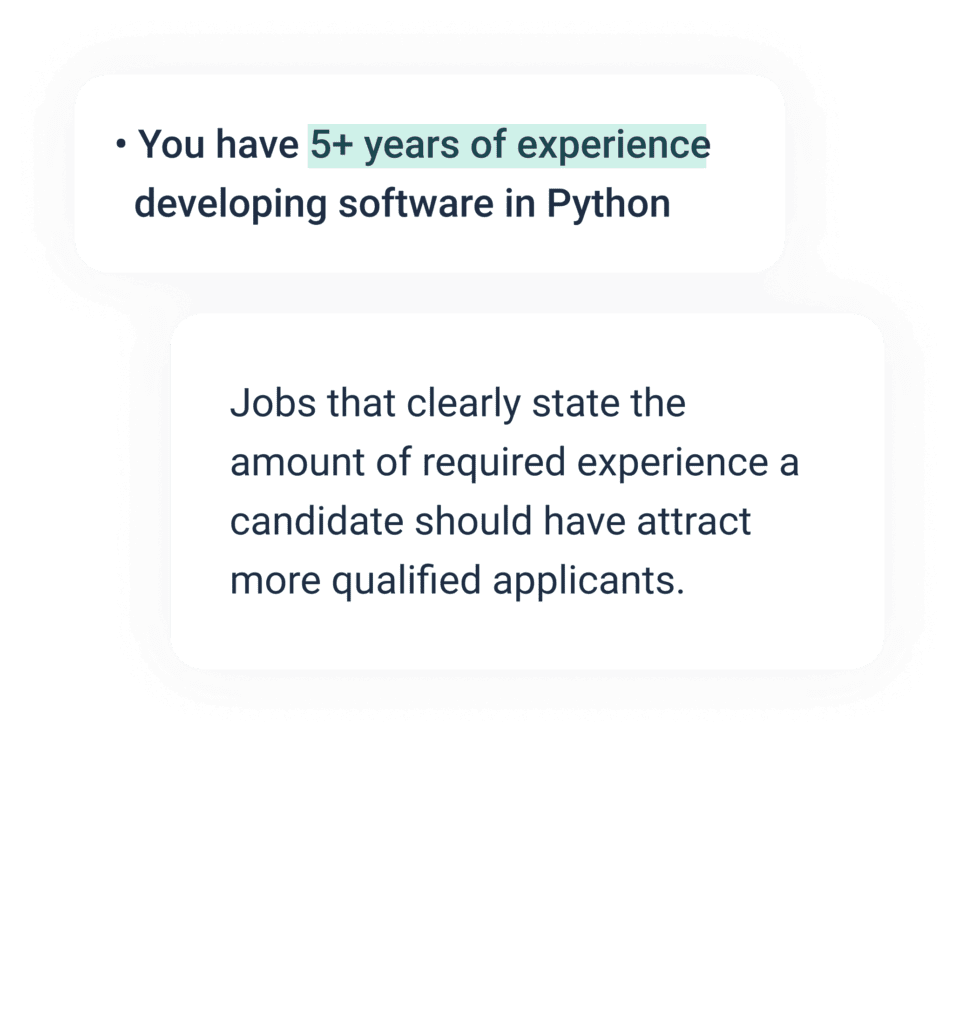 Set reasonable requirements
Setting clear and appropriate job requirements is the easiest way to include qualified candidates from every background.
We help you avoid confusing requirements, remove unnecessary education or experience requirements, and even redact well-intentioned but confusing soft skills.
When marketing to a diverse candidate pool, it's important to use language that everyone can understand. 
Corporate cliches, superfluous language, even using the indirect voice can create unnecessary barriers for candidates.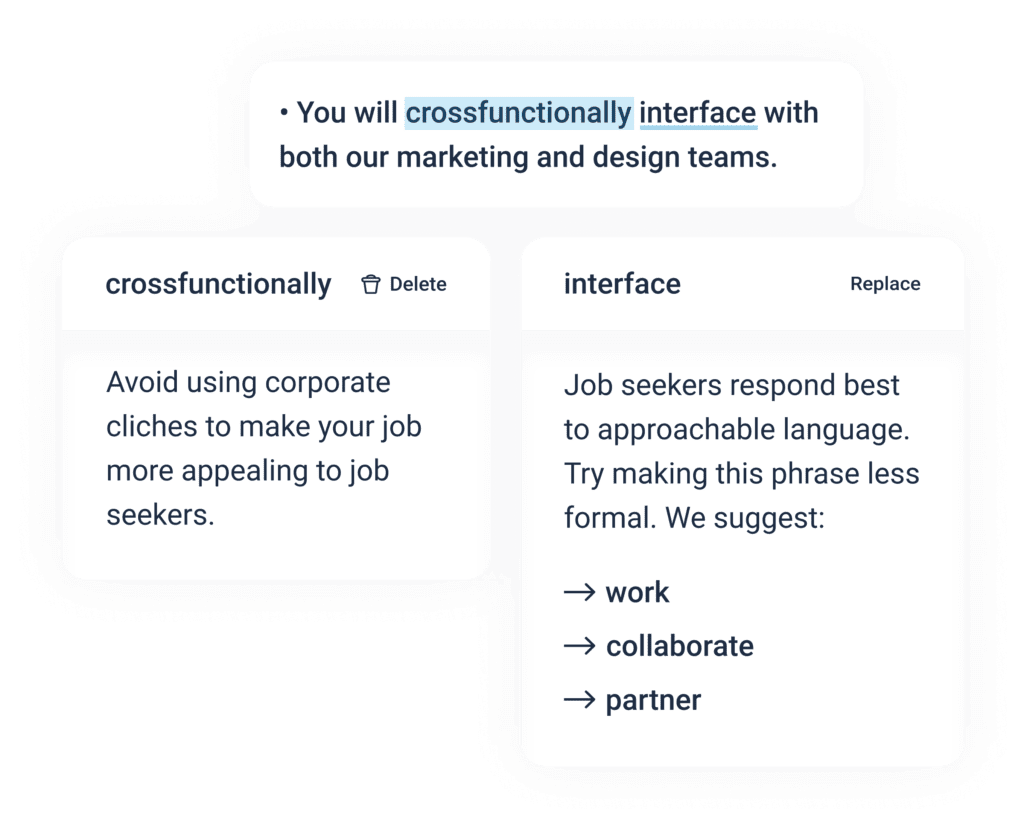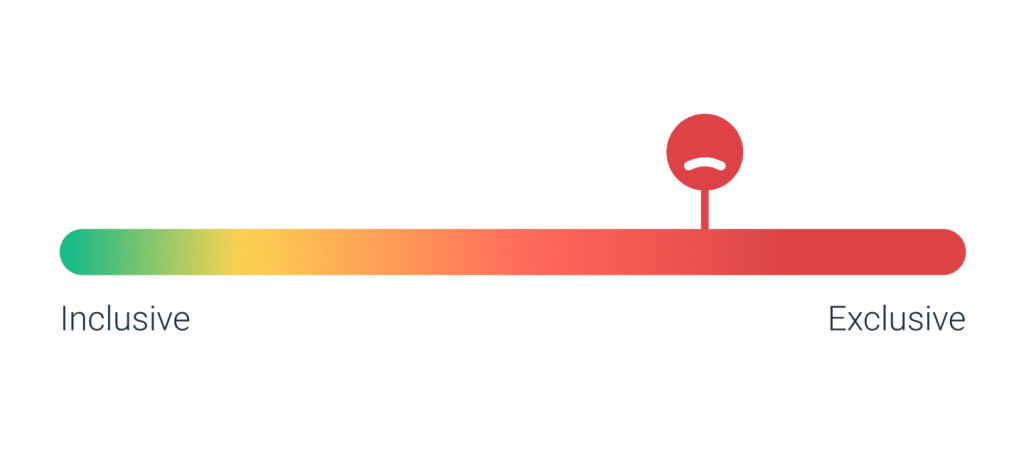 Inclusion isn't spell check
Add empathy to your recruiting process to attract a diverse and qualified candidate pool. Our Smart Editor includes bias guidance that helps you avoid small mistakes that could have a big impact on how candidates perceive your communications.
He/she will join a 4-man team
Gender-coded content that could exclude candidates based on gender identities.
Understanding the master/slave clusters
Racially insensitive content and language that tokenizes groups. 
Must be able to lift 20 lbs
Language that could exclude people with physical disabilities.
Young professional
with lots of energy
Ageist content that could exclude people based on age, both young and old.
Strong preference for Ivy League graduates
Content that excludes people from different socioeconomic backgrounds.
You share our
Christian values
Language that excludes people from different religious backgrounds. 
Increase your recruiting pipeline
Job posts that score an 85+ or higher using our Smart Editor attract a more qualified and diverse candidate pool.
Attract more organic candidates

High-scoring jobs in the Datapeople job editor can bring in 2-4X as many organic candidates as low-scoring jobs.

Increase candidate quality

High-scoring jobs have 50-92% more organic candidates that reach the phone screen stage and 30-100% more candidates reach the interview stage.

Open the door for diversity

High-scoring job listings attract 2X as many female applicants as low-scoring jobs and increases the offer rate for female candidates by 100%.
Make your recruiting process a team sport
Give your team a workflow with templates and libraries to make getting started less intimidating and post listings faster.
Use templates with saved "about us," perks, and diversity statement sections to standardize listings.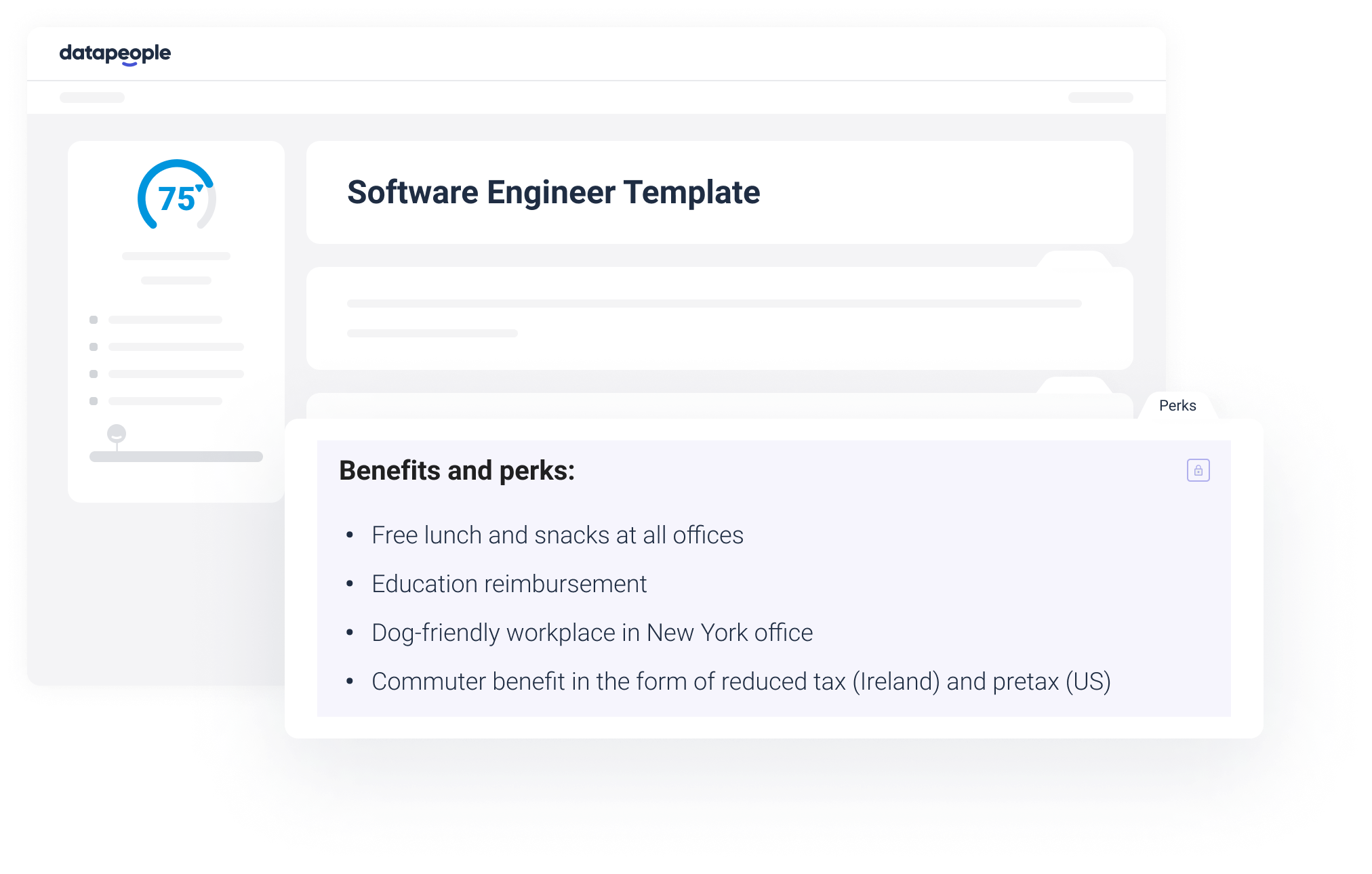 Keep job documents in a centralized library to make it easy to find and clone past job listings.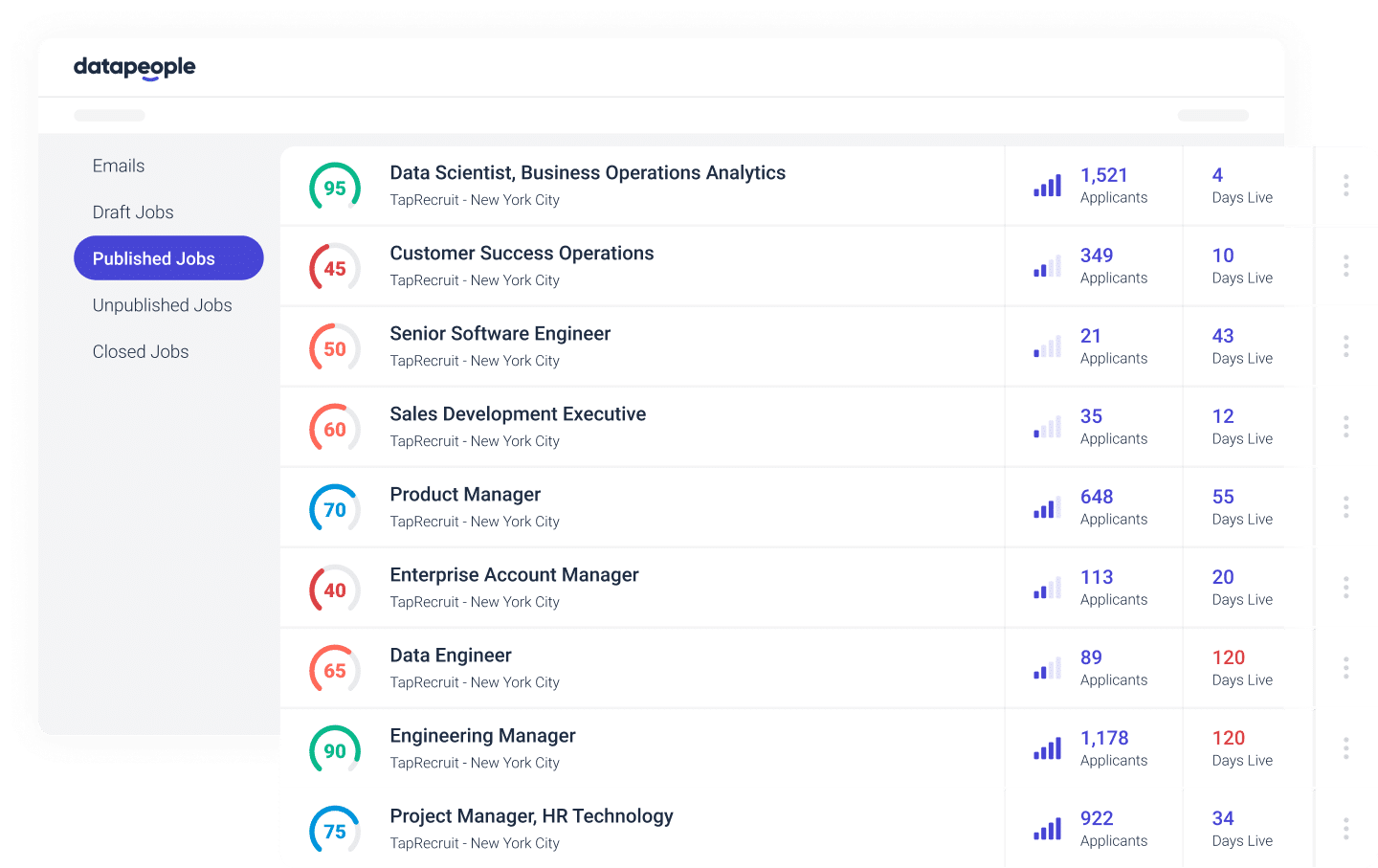 Track editing history and view past revisions to help teams collaborate on job listings.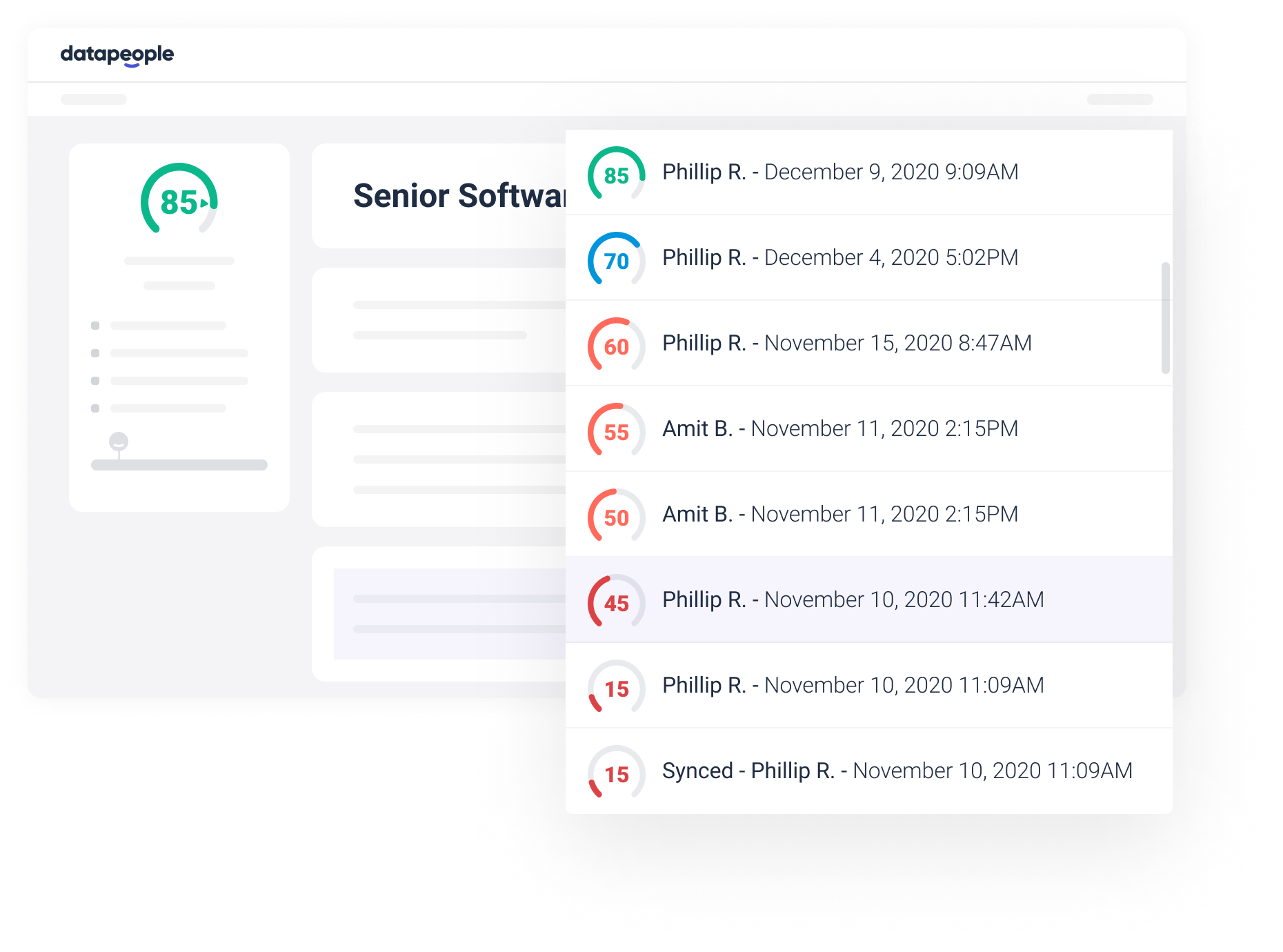 Monitor content reports to ensure that job listings are complete and spot issues that can adversely impact your candidate pools.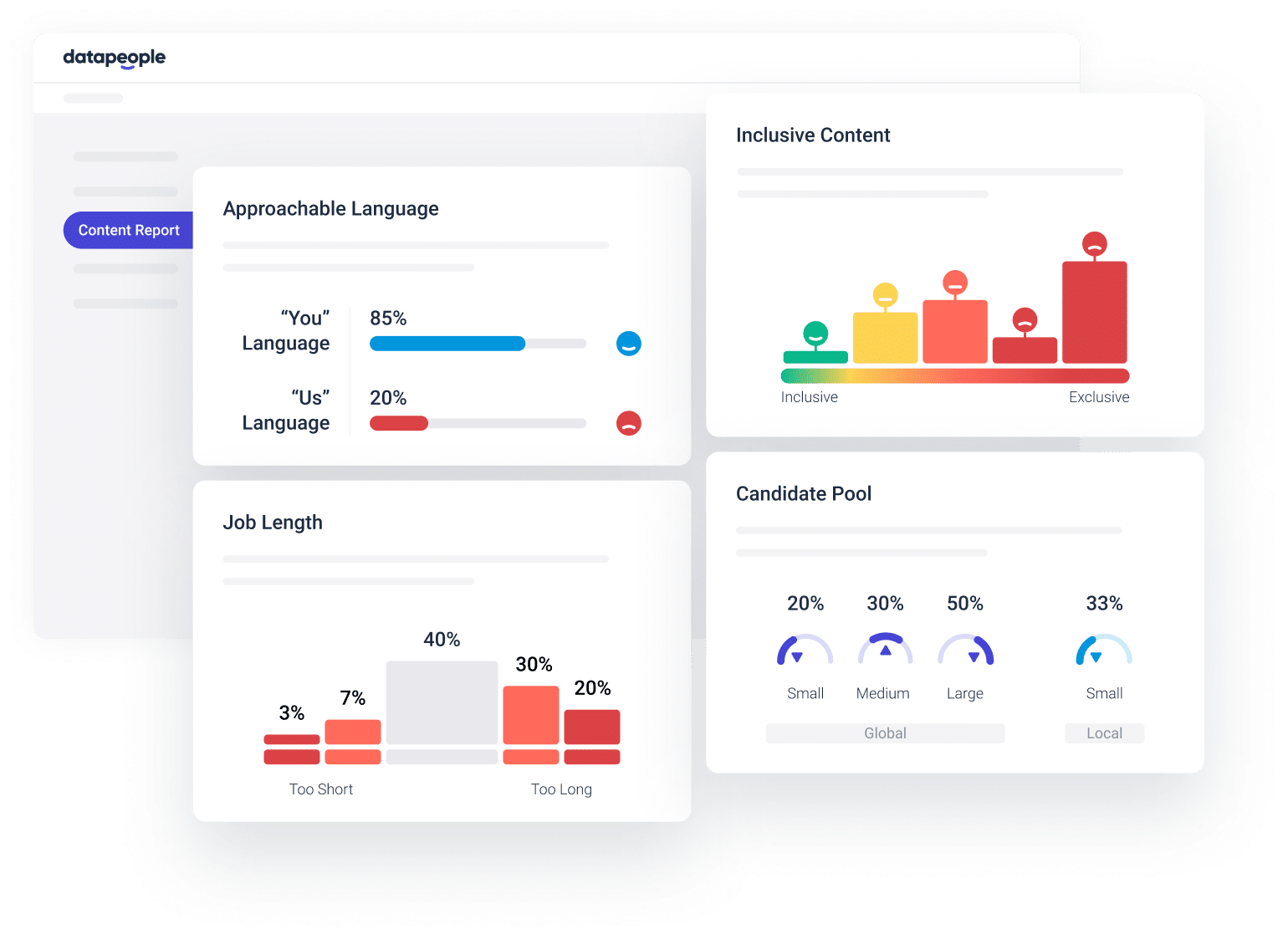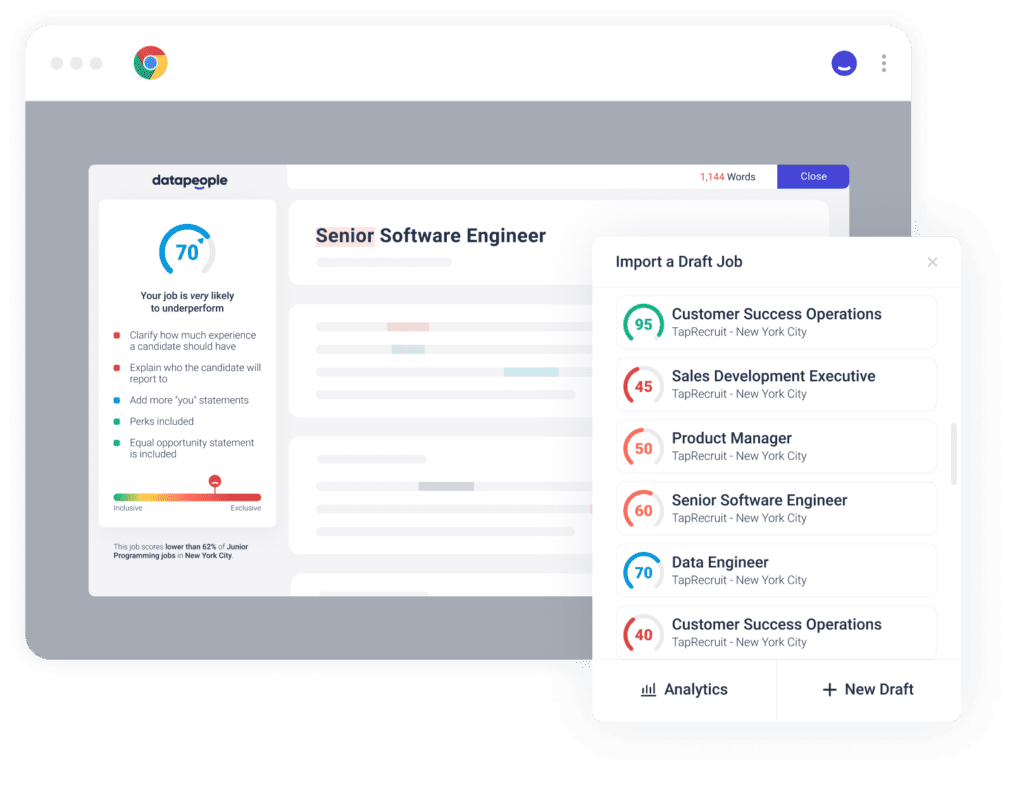 Works everywhere
you work
Use our browser extension, Datapeople Anywhere, to bring our job score and editing guidance directly into your applicant tracking system.
Works with (almost)
every ATS
Integrate with your applicant tracking system to better organize your recruiting data.