Choosing between two top-rated recruiting platforms isn't easy. Each platform is worthy of consideration, but by honestly considering your own goals and needs you can make a confident selection. Datapeople and Gem each offer a range of distinctive features that meet the different needs of talent acquisition (TA) teams. Let's find out which is best for you.
---
Datapeople: an enterprise-level full-funnel recruiting platform
Gem alternative Datapeople gives you intelligence and control over your entire hiring process, from the job posts you write to the applicants you attract and their candidate experience. The Datapeople platform is purpose-built to help talent acquisition teams and their hiring manager partners craft a fair and efficient process.
Our job post editor helps hiring teams write job posts that are market-calibrated, free of bias, and compliant with the latest employment laws so you can build a strong inbound pipeline. Our recruiting analytics suite then provides detailed insights into the performance of your entire pipeline, illuminating actions that can immediately deliver results.
Datapeople's full-funnel recruiting platform integrates with major applicant tracking systems (ATS) and fills the gaps on parts of the hiring process that are notoriously difficult to manage, collaborate on, and extract insights from.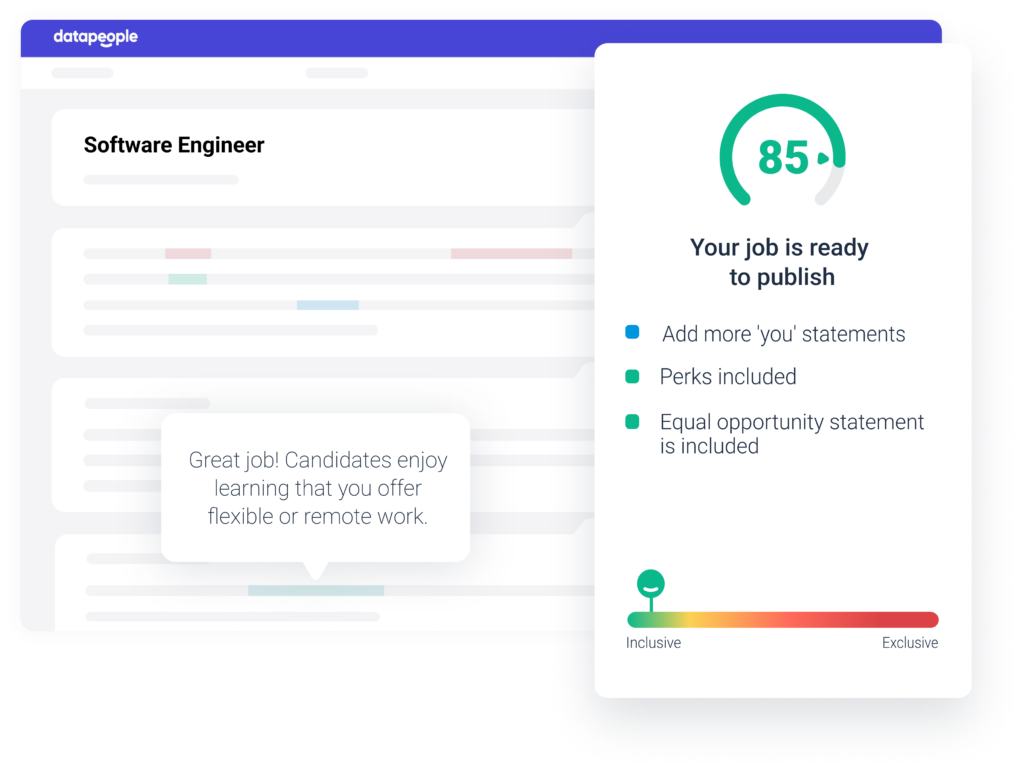 Datapeople has earned a strong reputation in the TA world due to a combination of sophisticated features and ease of use. Here's some of what Datapeople offers:
Full-funnel recruiting analytics suite (and we mean full-funnel)
Some of the most important hiring steps, decisions, and data actually live outside the ATS. Job requisition creation and TA capacity planning, for example, happen in other places — documents, spreadsheets, and emails (just to name a few).
Datapeople gives you intelligence and control over the entire recruiting process, beginning with job post writing (not just publishing) all the way through forecasting for the future. (We're proudly the only platform to do so.)
Data integrity and accuracy for candidate pipeline clarity
The reports your ATS provides are only as good as the raw data they're built on, and that data can get messy. Datapeople automatically cleans up and organizes your ATS data to give you an accurate picture of your pipeline, without any manual effort. And our pre-built reports help address common questions while offering insights into where your actions and those of your hiring teams will be most impactful.
Datapeople Insights enables you to:
Consolidate your recruiting tech stack with a single view of your recruiting performance.
Pinpoint problematic hiring stages that hinder your DEI goals with visibility into the candidate gender breakdown at every stage of the hiring process.
Gauge ROI on candidate sources with in-depth source performance insights.
Forecast your pipeline and set realistic goals with historical funnel data.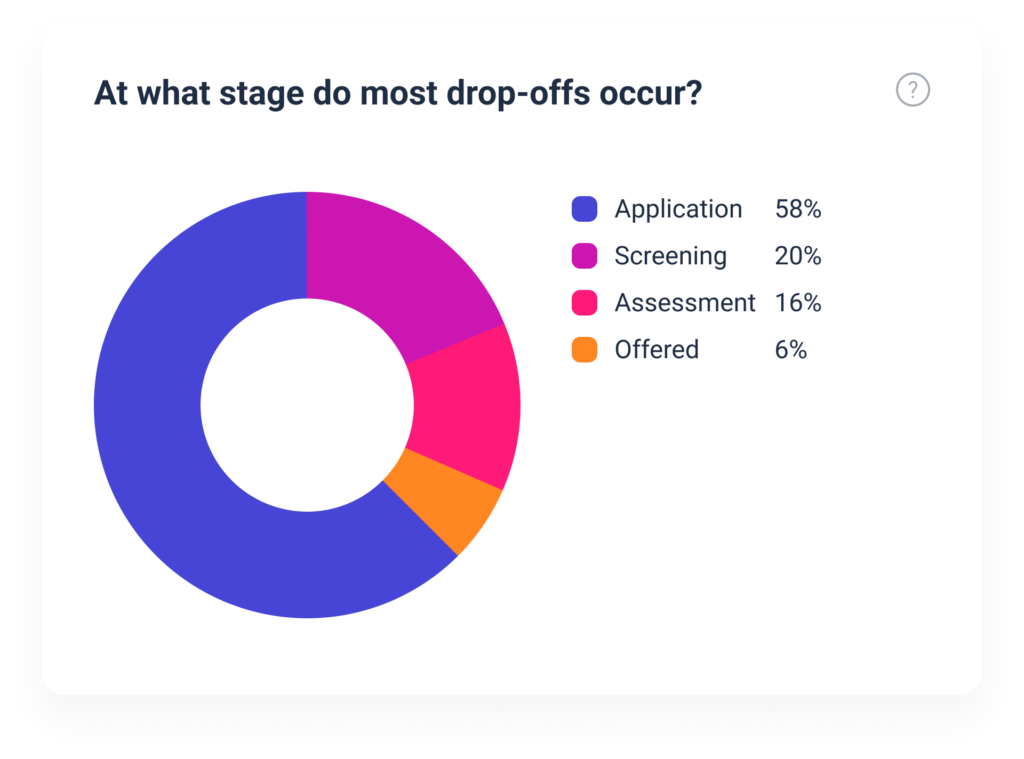 Real-time guidance for job posts
Datapeople's job post editor offers suggestions that help you write more clear, inclusive job posts – in real time. It flags things like jargon, cliches, wordiness, mismatched requirements and job title, and mismatched responsibilities and requirements – so your message is clear. And it nudges you to include crucial content that job seekers want to see like job location, benefits, and a DEI statement.
Each job description receives a score predicting how well the current version of the content will do to attract a diverse pool of qualified candidates. This benchmark is particularly helpful for large talent acquisition teams – it keeps everyone focused on the same goal and fosters consistency.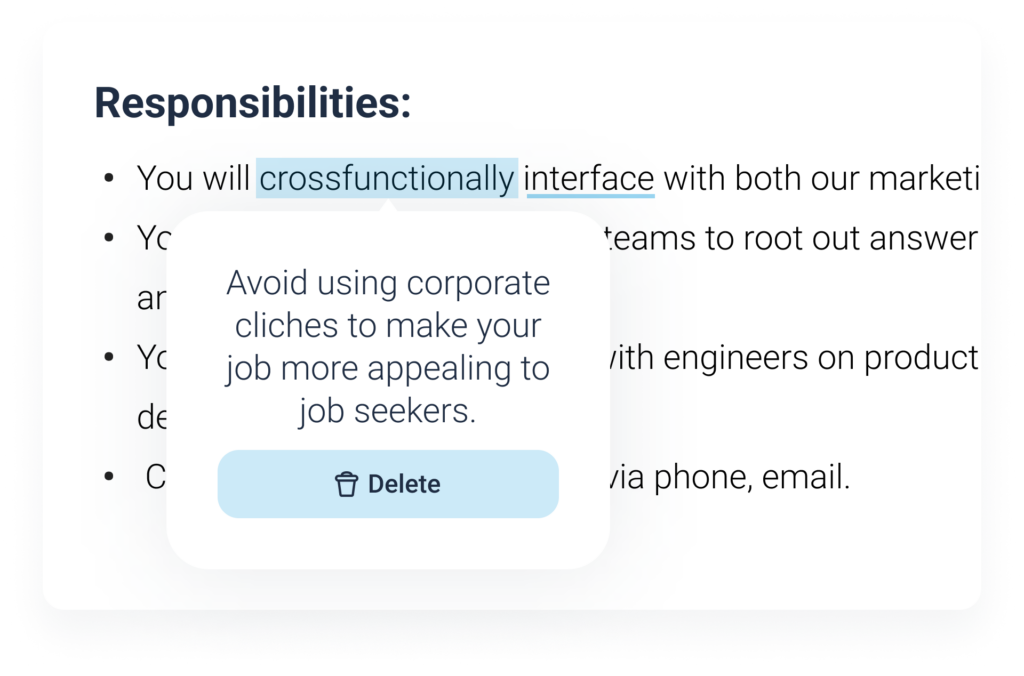 Job post compliance
Datapeople checks your job content for compliance with local salary transparency laws and alerts you to missing salary information.
You can also "feed" your company's salary disclosure policy to Datapeople to allow the platform to proactively notify recruiters and hiring managers whenever they forget to include salary information.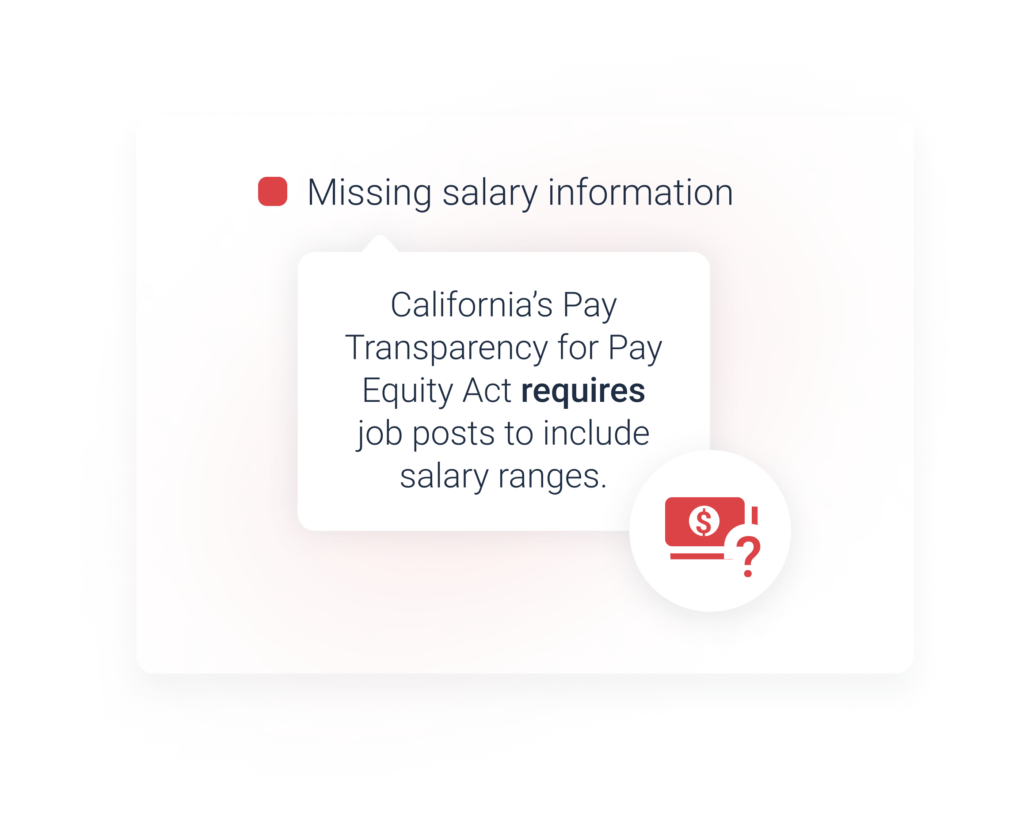 Email writing assistance
Datapeople provides real-time suggestions for refining language in your candidate outreach emails, ensuring you don't miss critical information. And once you land on "the one" you can create shared email templates to improve effectiveness and maintain consistency no matter who clicks the "Send" button.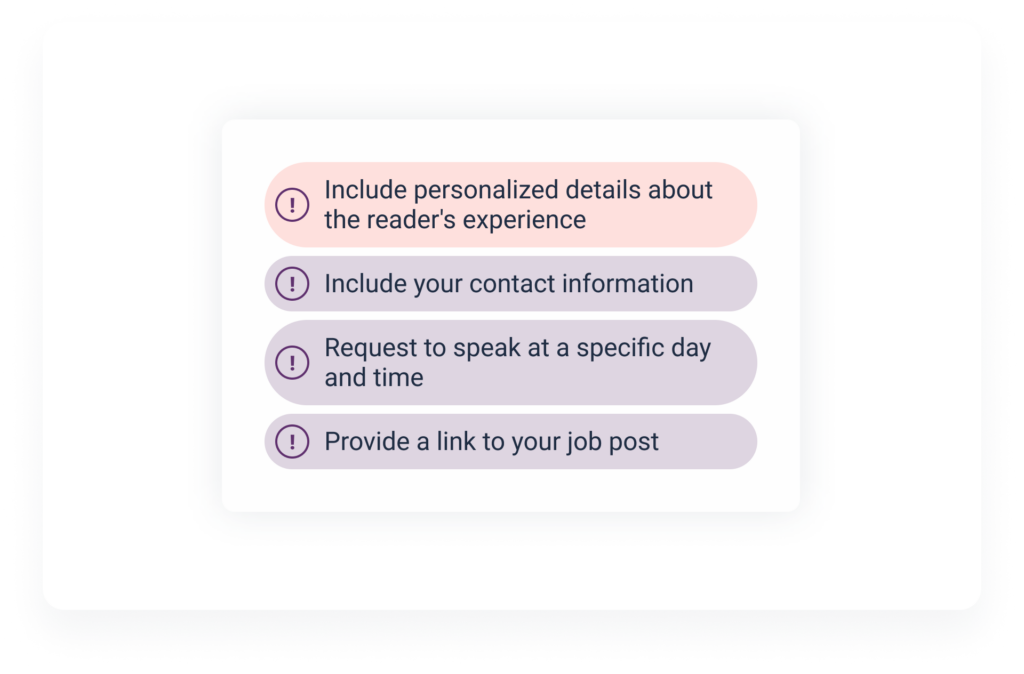 Inclusive language analytics
Datapeople goes far beyond grammar checks with statistics on both the content (what you say) and language (how you say it) of your job postings and how they affect the diversity of your pipeline. Simply focusing on gendered language isn't enough – that's why the Datapeople platform detects eight forms of bias – sexism, racism, tokenism, mental and physical ability, nationality, socioeconomic background, and religion.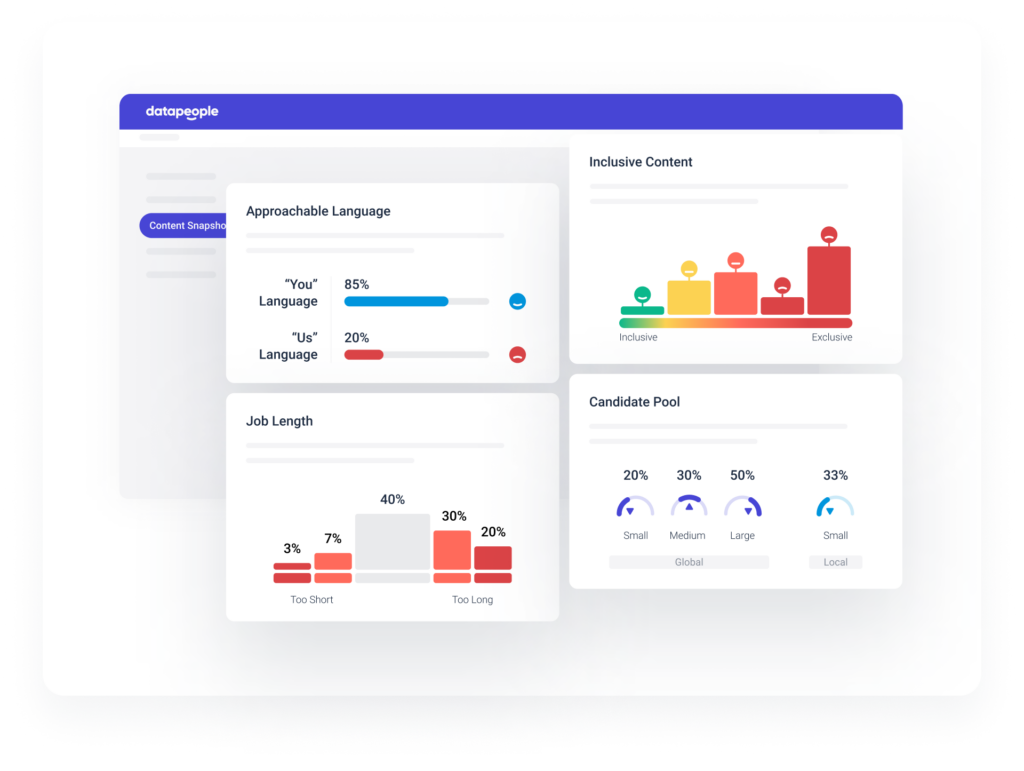 Efficient recruiting workflows and collaboration
Datapeople knows that successful recruiting is a team sport. The platform has been built to allow Talent Acquisition to orchestrate seamless engagement and management with hiring teams. Helpful features include:
Job post guidance in your ATS so you can minimize login fatigue and increase user adoption by writing jobs where you already work
Accelerated workflow powered by a centralized library for accessing, repurposing, or cloning any open, closed, and draft job posts
Job templates for ensuring that crucial employer brand content like company information, benefits, and a DEI statement are present and consistent in all listings
Revision history for tracking who has made changes to job content and when, and requesting edits from team members right in the interface
Operations analytics for tracking how jobs from different recruiters, hiring managers, departments, and office locations perform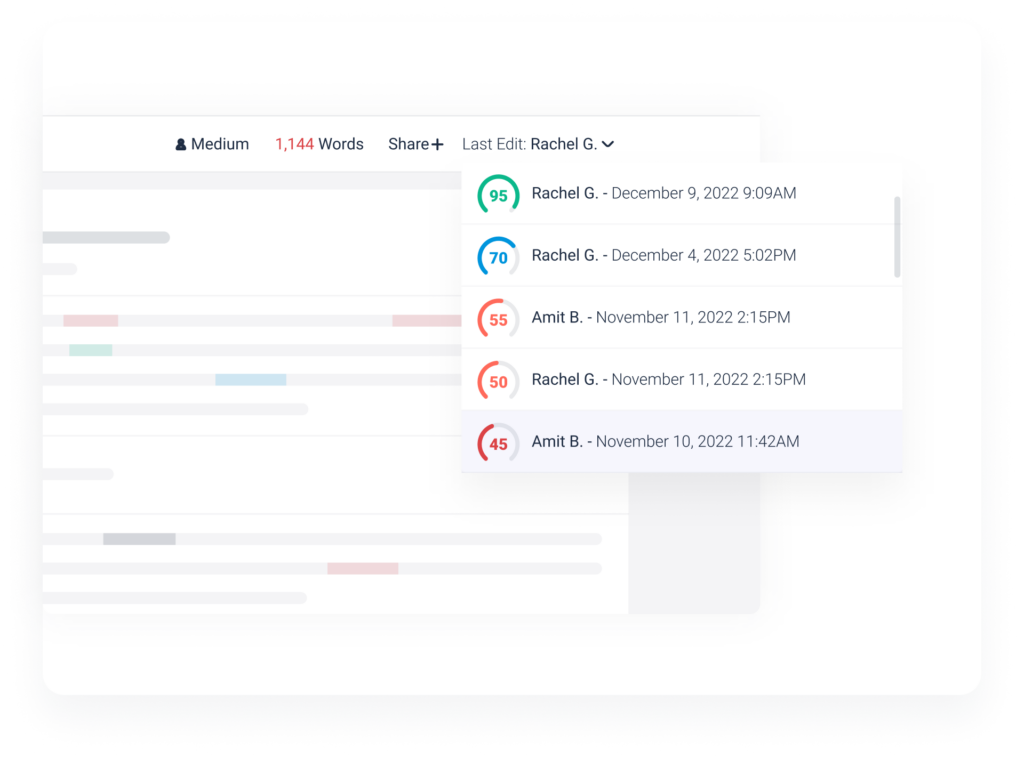 Pipeline health tracking
Datapeople includes a range of reports for monitoring your hiring funnel from the moment you post a job to the moment you close the req. These reports are intended to answer common yet difficult-to-answer questions about inbound source contributions, pass-through rates, drop-offs, and pipeline health, among others.
The Pipeline Health Meter indicates whether your job post is attracting a qualified and diverse pool of applicants compared to other similar jobs on the market.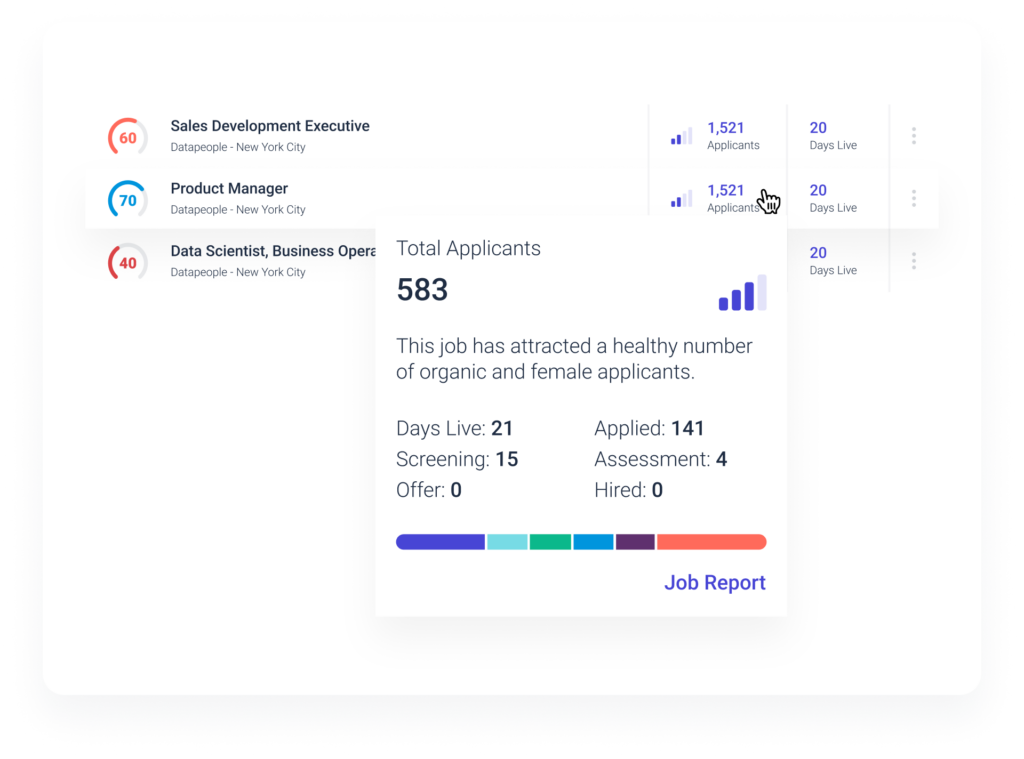 ATS integration
And of course, Datapeople integrates with the most popular ATSs on the market. Our ATS integrations allow you to work more collaboratively and efficiently while also ensuring everything is compliant and up-to-date with your core systems.
---
Gem: an outbound recruiting CRM
Gem is primarily a candidate relationship management (CRM) system that helps TA teams with outbound sourcing of passive candidates. It incorporates data analytics to help recruiters improve their outbound pipelines and create better hiring forecasts.
As most talent professionals can attest, success often requires hiring teams to do both inbound and outbound sourcing. While focusing on outbound is important, it represents only a piece of the puzzle. Even in an efficient recruiting process, outbound candidates drop out twice as often as inbound candidates.
Gem is a popular choice among mid-market companies that prioritize outbound hiring, particularly for tech jobs. Here's some of what Gem offers:
Talent CRM
Gem's main dashboard, Talent CRM, offers a centralized space to track candidate interactions and journeys with the goal of creating personalized engagement throughout the recruiting process. Recruiters can use it to access and contribute to candidate profiles, share notes, and maintain consistent messaging.
Note: Gem gets the data from LinkedIn and doesn't search the web for candidate data.
Automated pipeline management
Gem offers automated workflows and AI-powered personalization. It gives you the ability to set up automated email sequences so you can more easily follow up with candidates, ideally delivering higher response rates.
Recruiting analytics
Gem's recruiting analytics offers a comprehensive view of your recruiting pipeline:
Executive overview for a bird's-eye view of your recruiting efforts, including high-level data like time to hire and total hires
Internal operations analytics for visualizing your recruiting funnel end to end
Performance benchmarking for comparing performance to industry benchmarks based on data from similar companies
Pipeline diversity for evaluating DEI efforts based on gender and race/ethnicity data
Pipeline forecasting for scenario modeling and resource allocation
Recruitment marketing
Gem enables organizations to communicate with candidates through polished landing pages, events, and campaigns. It also provides reports for each marketing campaign.
ATS integration
Gem integrates with ATSs, sourcing sites, and communication platforms to create a unified outbound recruiting ecosystem. Using Gem, you can create comprehensive talent profiles by pulling data from various sources, including but not limited to LinkedIn, and seamlessly pass the candidate data between platforms in your ecosystem.
---
Should you choose Datapeople or Gem?
Gem specializes in helping companies improve their outbound sourcing. To do so, it provides pipeline analytics and helps you automate a great deal of the sourcing process, allowing recruiters to focus on managing candidate relationships.
Meanwhile, Datapeople offers a Gem alternative designed to help you build more qualified and diverse inbound pipelines. It also provides pipeline analytics for the entire hiring process – not just the steps that occur within the ATS (again, we're the only vendor to do so).
Datapeople takes a more comprehensive perspective on opportunities to unlock efficiencies and make hiring more fair from sourcing through to job offer acceptance. Their focus on the complete process allows talent professionals and their hiring team collaborators to zero in on opportunity areas unique to their business and talent markets.
The verdict
Choose Datapeople if you're looking for:
An efficient, fair, and scalable way to increase the quality and diversity of your inbound pipelines
Data-backed guidance for writing inclusive and effective job posts
Assistance in writing candidate emails
Full-funnel recruiting analytics that consolidate ATS data from your inbound and outbound talent acquisition efforts
Data-driven DEI insights to make your hiring process more fair
Choose Gem if you're looking for:
Recruiting analytics with a focus on outbound acquisition
A platform to build and manage candidate relationships
Automated sourcing workflows to reduce manual work
Tools for recruitment marketing and employer branding
Learn more about Datapeople
Does it sound like Datapeople may be just what you need to bring better intelligence and control to your entire recruiting process? Request a demo to get one step closer to more fair, efficient, and successful hiring outcomes.
This is based on our research as of November 2023 and may be inaccurate, incomplete, or outdated.