When it comes to building a diverse workforce, platforms like Datapeople and Mathison can both help you get there. Each platform is designed to propel your DEI goals forward and worthy of consideration. But by honestly considering your own goals and needs you can make a confident selection. Let's find out which is best for you.
Datapeople provides you with the intelligence and control you need to bake fairness into your entire hiring process, from job post to offer and all the steps in between. In doing so, Datapeople systematically improves the diversity of both your candidate pipeline and the workforce you hire – all while making the recruiting process more efficient, effective, and successful overall. Mathison, on the other hand, has less emphasis on recruiting and is primarily focused on helping you improve DEI throughout the employee lifecycle.
---
Meet Datapeople, a full-funnel recruiting platform
Mathison alternative Datapeople gives you intelligence and control over your entire hiring process, from the job posts you write to the applicants you attract and their candidate experience. The Datapeople platform is purpose-built to help talent acquisition teams and their hiring manager partners craft a fair and efficient process.
Our job post editor helps hiring teams write inclusive job posts that are market-calibrated, free of bias, and compliant with the latest employment laws so you can build a more diverse and qualified candidate pipeline. Our recruiting analytics suite then provides detailed insights into the performance of your entire pipeline, illuminating actions that can immediately deliver results.
Datapeople's full-funnel recruiting platform integrates with major applicant tracking systems (ATS) and fills the gaps on parts of the hiring process that are notoriously difficult to manage, collaborate on, and extract insights from.
Datapeople offers a range of features to systematically bake fairness into every step of your hiring process, advance your diversity recruiting goals, and optimize your hiring outcomes: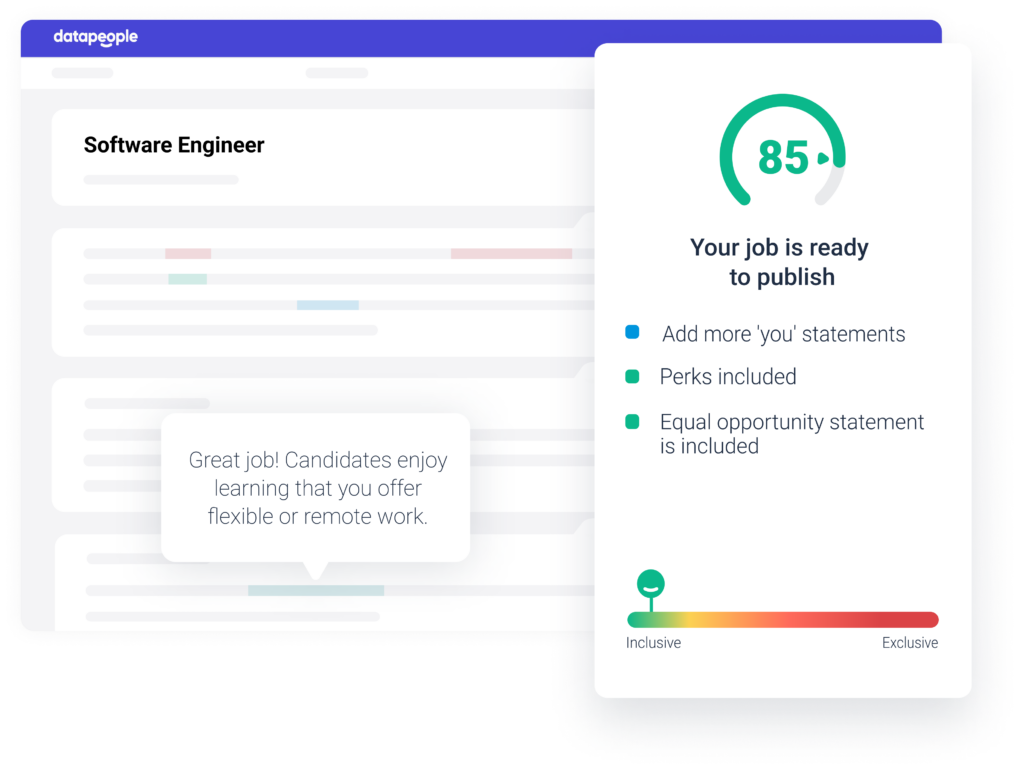 Real-time guidance for job posts
Datapeople's job post editor offers suggestions that help you write more clear, inclusive job posts – in real time. It flags things like jargon, cliches, wordiness, mismatched requirements and job title, and mismatched responsibilities and requirements – so your message is clear and compelling. And it nudges you to include crucial content that job seekers want to see like job location, benefits, and a DEI statement.
Each job description receives a score (based on historical data from over 65 million job postings and thousands of hiring outcomes) predicting how well the current version of the content will do to attract a diverse pool of qualified candidates. This benchmark is particularly helpful for large talent acquisition teams aspiring to standardize – it keeps everyone focused on the same goal and fosters consistency.
Inclusive language analytics
Datapeople helps to create inclusive job posts that are rooted in fairness and free of potential biases. With Datapeople's recommendations, you can establish a strong employer brand and build a more diverse workforce.
Datapeople goes far beyond grammar checks with statistics on both the content (what you say) and language (how you say it) of your job postings and how they affect the diversity of your pipeline. Simply focusing on gendered language isn't enough – that's why the Datapeople platform detects eight forms of bias: sexism, racism, tokenism, mental and physical ability, nationality, socioeconomic background, and religion.
Full-funnel recruiting analytics suite (and we mean full-funnel)
Some of the most important hiring steps, decisions, and data actually live outside the ATS. Job requisition creation and TA capacity planning, for example, happen in other places — documents, spreadsheets, and emails (just to name a few).
Datapeople gives you intelligence and control over the entire recruiting process, beginning with job post writing (not just publishing) all the way through forecasting for the future. (We're proudly the only platform to do so.)
With Datapeople, you can easily understand how your job ads are affecting the diversity and quality of your applicant pool, track how candidates from different demographic groups are progressing through your funnel, identify sources that result in the most (and fewest) qualified candidates and hires, and more. All of this data offers actionable insights into how fair and effective your hiring process is and optimization opportunities for more inclusive practices among your hiring teams and diversity among your new hires.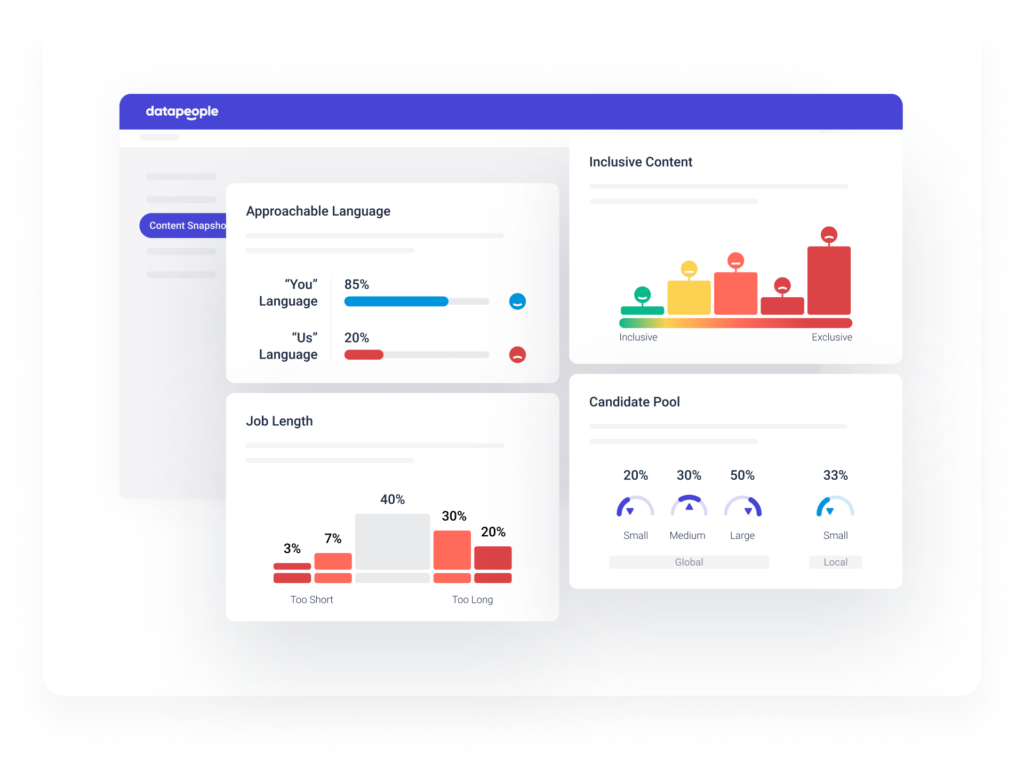 Data integrity and accuracy for candidate pipeline clarity
The reports your ATS provides are only as good as the raw data they're built on, and that data can get messy. Datapeople automatically cleans up and organizes your ATS data to give you an accurate picture of your pipeline, without any manual effort. And our pre-built reports help address common questions while offering insights into where your actions and those of your hiring teams will be most impactful.
But when it comes to understanding the diversity of your pipeline, the demographic data in your ATS – if it exists at all – is spotty and difficult to measure. Many applicants choose not to respond to voluntary self-identification questions, leaving a gap in your data and making self-reported EEOC data notoriously incomplete and inaccurate.
Data integrity and accuracy are of the utmost importance to us at Datapeople, so we augment self-reported EEOC data using our proprietary gender inference model that analyzes your entire pipeline in aggregate. Informed by over 65 million job posts, our algorithm predicts the gender makeup of your entire candidate pool using first names and our global probability model – with over 90% accuracy, which far exceeds self-reported EEOC data.
Fairness at every stage
With Datapeople, you're able to measure the impact of your DEI efforts throughout the entire hiring process, from the content of your job ads to population pools' progression through the funnel to the demographic breakdown of the candidates you hire.
Our job post editor identifies both content and language that may deter underrepresented groups from applying to your roles. You can instantly spot where your job post may be unintentionally sexist, racist, or ageist (and beyond) and follow our simple guidance to ensure your optimized jobs welcome candidates from all backgrounds.
You can even create and save templates to lock the information that should remain uniform across different job ads such as company benefits and your diversity statement. This way, all your job posts will follow a standard structure and, most importantly, use a consistent, inclusive tone and language aligned with your brand voice.
After a job is posted, our Gender Report (part of Datapeople Insights) analyzes gender representation at each stage of the hiring process, ensuring that you can track and optimize for fairness and gender diversity throughout the entire candidate experience, from application to offer acceptance.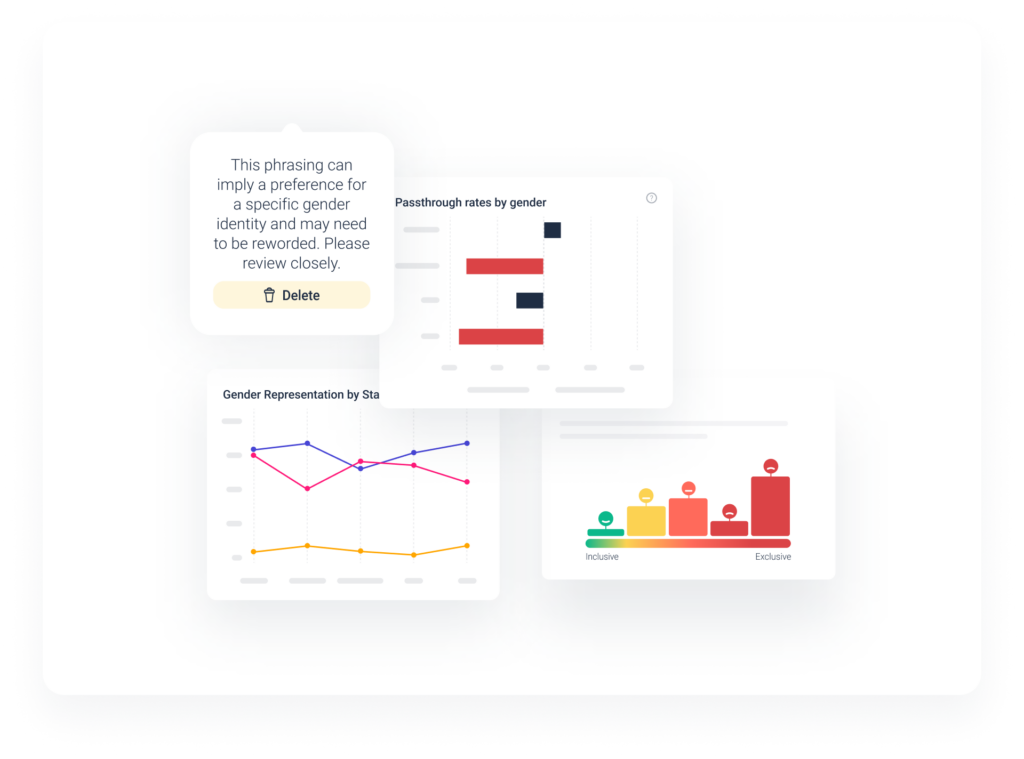 ATS integration
And of course, Datapeople integrates with the most popular ATSs on the market. Our ATS integrations allow you to work more collaboratively and efficiently while also ensuring everything is compliant and up-to-date with your core systems.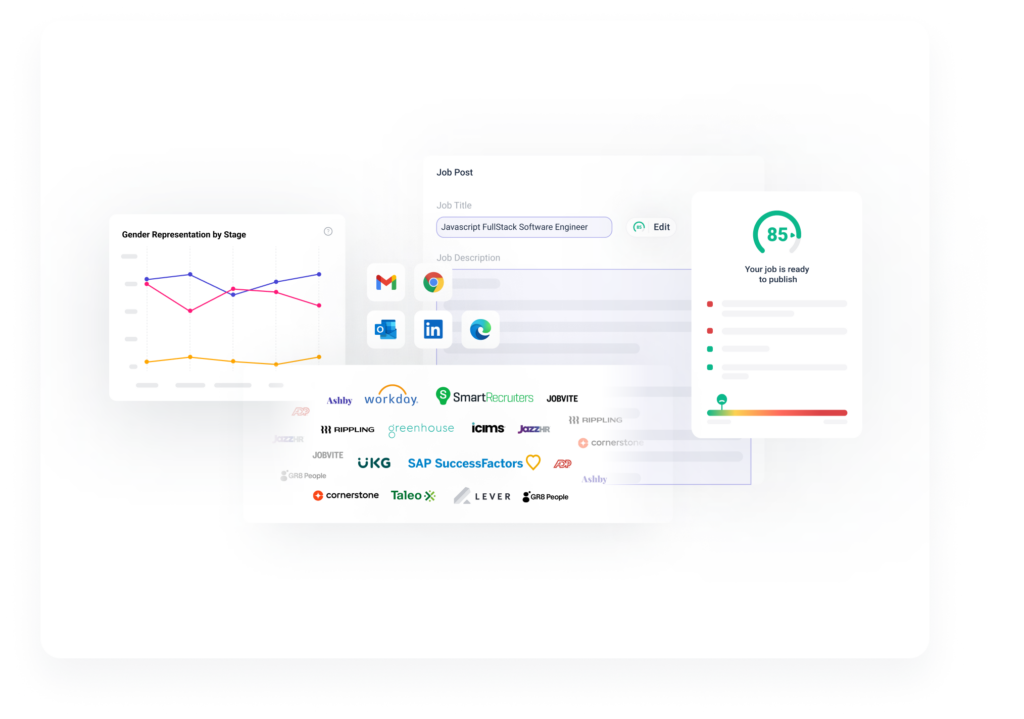 ---
Meet Mathison, a holistic DEI platform
Mathison is exclusively a DEI platform that helps organizations maintain diversity, equity, and inclusion within their existing workforce, including some limited support for the hiring process.
It analyzes the health of DEI in your organization through the language of your content, employee survey responses, and your own responses to the Mathison Equity Index assessment in order to offer insights into your DEI gaps.
Job post language analysis
Mathison uses its Bias Scanner to review your job posts and flag exclusionary language.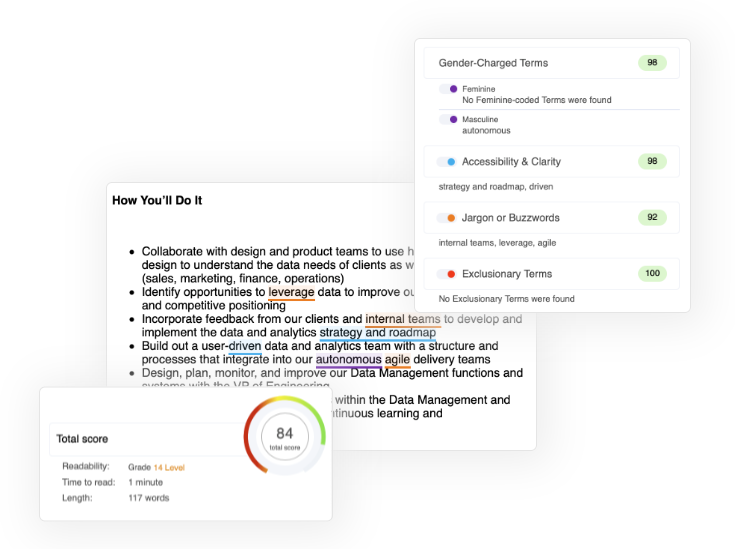 Mathison points out problematic phrases in your job posts, but unlike Datapeople, it doesn't provide recommendations on why or how you should fix those or if there are any other problematic attributes with the content (such as unnecessary qualifications) in addition to the language that can affect the diversity or quality of your pipeline.
Support for ongoing DEI efforts
Mathison assists HR leaders in creating a custom DEI strategy for their current workforce. To do so, some of the features Mathison offers include:
Mathison Equity Index Assessment. Mathison's assessment analyzes your organization's DEI policies and systems across the entire employee lifecycle. This assessment is designed to help you build a foundation for your DEI strategy and provide direction on areas that have the greatest room for improvement.
Each category includes a questionnaire that evaluates your efforts in that particular field. You're asked about the current state of DEI at your organization, your future plans, the tools and practices you use to foster diversity in the workplace, and more.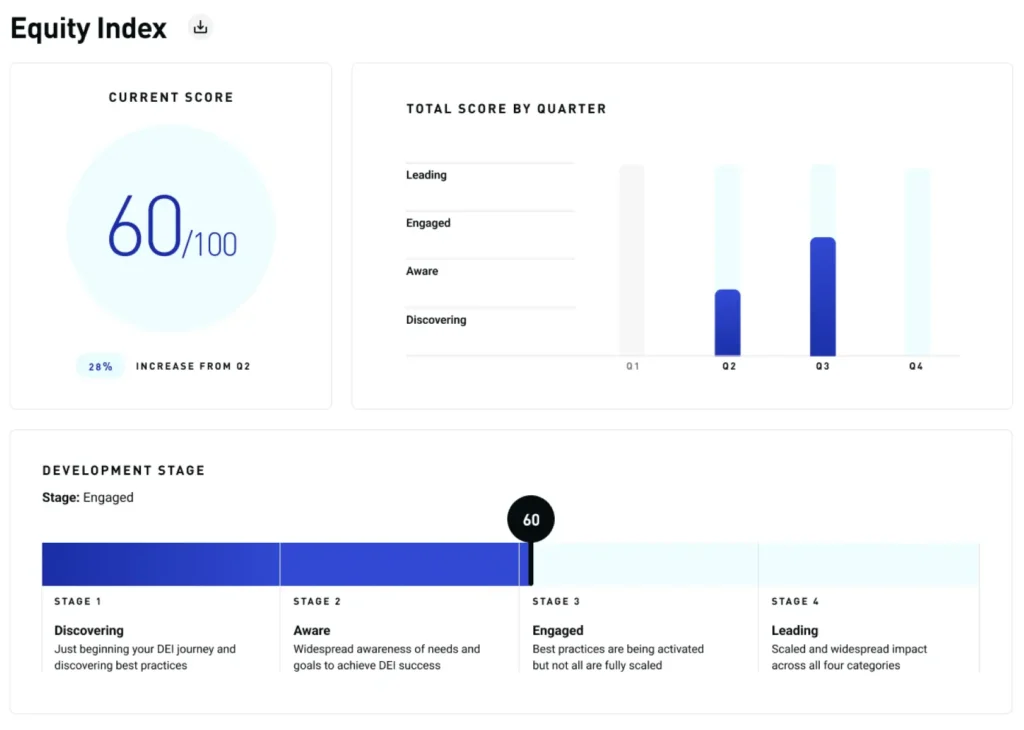 Goal tracking and sharing. Mathison provides a dashboard featuring all of the DEI aspirations and goals you've reached (or have yet to reach).
Employee surveys measure how well your DEI policies are being adopted by employees and evaluates feelings of inclusion and belonging in the workplace. Mathison Diversity Surveys focus on three key metrics:
Employee representation: What demographics are present in your workforce?
Equitable behaviors: How do an organization's DEI efforts affect employees?
Inclusion & belonging sentiments: Do employees feel included in your organization?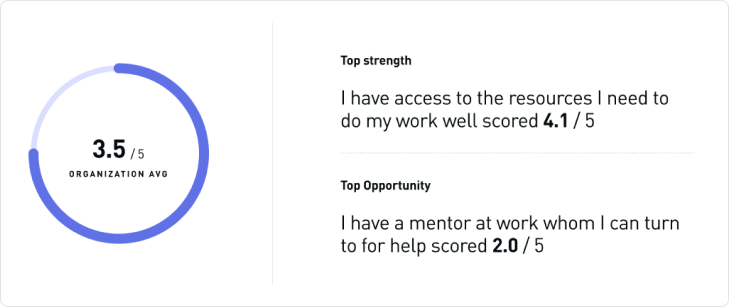 Action Plan
Action Plan is a Mathison product that provides HR teams with tailored recommendations on next steps based on the results of their Diversity Surveys. You get all of the helpful resources and best practices in one action plan – all you need to do is review the suggestions and prioritize your next steps based on their importance to your organization.
---
So, Datapeople or Mathison?
Both platforms are robust in their own way and will help support your DEI efforts, but are uniquely different in the purposes and goals they serve.
Mathison specializes in helping companies improve DEI throughout the employee lifecycle. To do so, it collects and analyzes data from a number of sources, letting HR teams confidently benchmark how diverse and inclusive their organizations currently are. Mathison then offers customized action plans to guide HR leaders toward better representation and feelings of belonging among employees.
Datapeople, meanwhile, is purpose-built for recruiting to help you improve the fairness and efficiency of your entire hiring process. The result is a more diverse candidate pipeline – as well as more qualified candidates overall, faster time to fill, and lower cost per hire.
Datapeople offers a broad range of features for talent acquisition teams and their hiring manager partners – including real-time guidance for writing job posts and candidate outreach, full-funnel recruiting analytics, and ATS integration – so you can not only attract more diverse and qualified candidate pools but unlock efficiencies and predictably improve your hiring outcomes.
The verdict
Choose Datapeople if you're looking for:
An efficient, fair, and scalable way to increase the diversity and quality of your candidate pipeline
Data-backed guidance for writing inclusive and effective job posts
Features like lockable job templates to enforce and elevate your inclusive employer brand
Full-funnel recruiting analytics that organize your ATS data – and augment it with data from our gender inference model for even more accuracy and confident decision-making
Data-driven, actionable DEI insights to make your hiring process more fair
Choose Mathison if you're looking for:
A way to measure and improve DEI throughout the employee lifecycle
A job post scanner that flags exclusionary and potentially biased language
Employee surveys on their own DEI experiences
Customized action plans tailored to your specific DEI challenges and goals (and in-app goal tracking to keep you accountable)
Learn more about Datapeople
Does it sound like Datapeople may be just what you need to bring better intelligence and control to your entire recruiting process? Request a demo to get one step closer to more fair, efficient, and successful hiring outcomes.
This is based on our research as of November 2023 and may be inaccurate, incomplete, or outdated.