Unlike sales and marketing departments whose tech stacks are often robust and integral to building data-driven strategies, talent acquisition teams have endured a uniquely manual and time-consuming process extracting helpful hiring and recruiting data from their applicant tracking systems (ATSs) and many point solution add-ons.
However, in today's recruiting landscape with its labor market tightness, competition for talent is fierce, and recruiting teams are asked to do more with less. Talent teams need to move with unprecedented speed, bring precision to the hiring process, and easily understand their recruiting data to see what's working and what isn't in order to achieve their hiring goals – especially when building a diverse workforce is a priority.
Introducing Datapeople Insights, the recruiting analytics suite that turns ambiguous recruiting data into real-time insights. Datapeople Insights provides answers to your hiring questions and enables you to propel DEI goals forward, improve recruiting efficiency, track your team's efficiency, and make strategic, data-driven recruiting decisions – without the manual effort.
---
"We're thrilled to empower TA teams, especially during such a turbulent time, with instant insights into their hiring process that show where to optimize recruiting efforts and, ultimately, offer the intelligence they need to make hiring more fair and efficient."

Amit Bhatia, Co-Founder and CEO, Datapeople
---
It's time for TA to get a seat at the table
Whether you need to drill down to department-, location-, or seniority-level details or you need the 10,000-foot view of your talent acquisition efforts, Datapeople Insights provides the clarity and intelligence talent teams need to be strategic partners within their organizations.
Identify bottlenecks in your hiring process with an easy-to-digest view of how candidates pass through or drop out of your hiring funnel.
Deliver on DEI goals by pinpointing and remedying problematic hiring stages that affect gender representation.
Maximize ROI by doubling down on the sources you receive the most applicants and hires from (and reallocating spend from low-performing sources).
Accurately forecast your pipeline with clarity on how candidates have historically moved through your funnel from application to acceptance.
Gauge the success of your hiring efforts with high-integrity external benchmark data.
Control the entire hiring process with actionable recruiting insights that fall outside of your ATS (e.g., the job post creation process, compliance, and recruiting operations).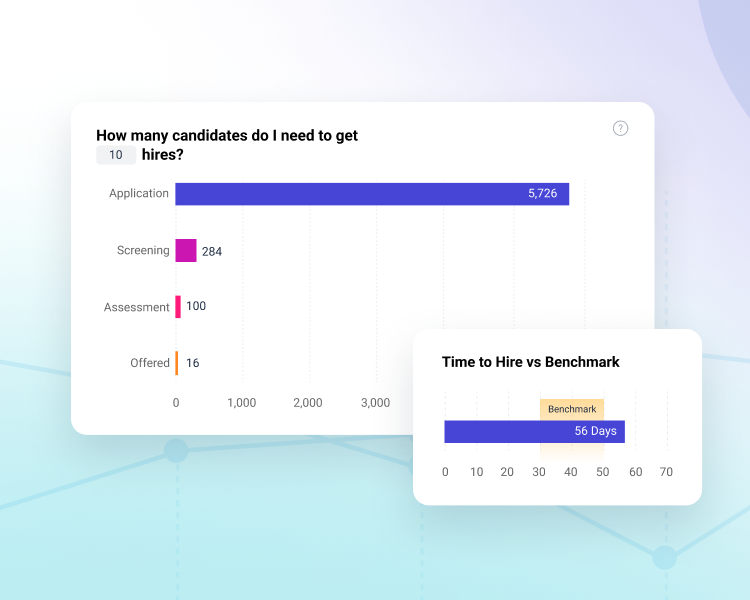 ---
Say goodbye to hours wasted cleaning up recruiting data
The tedious days of exporting recruiting data to spreadsheets, combing through it, and crossing your fingers that it's accurate are over. (So are the days of transferring your recruiting data to yet another system – or even another team.)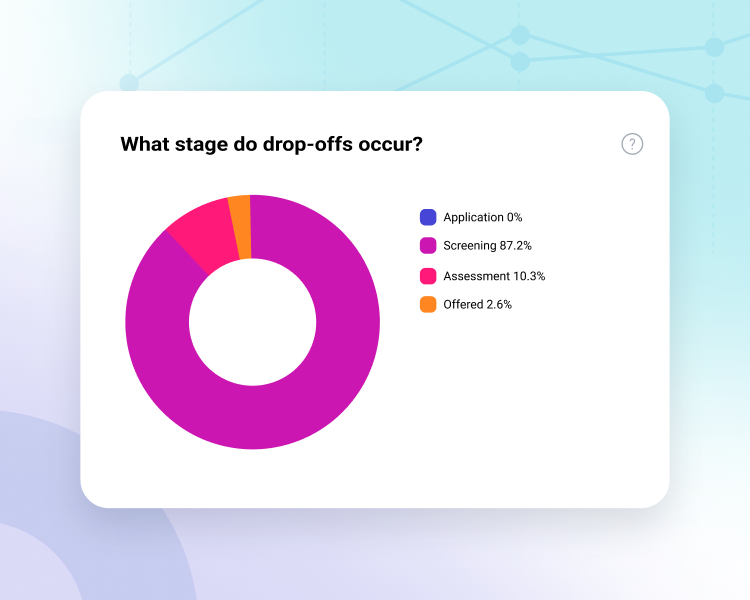 With Datapeople Insights, TA teams spend zero time manually manipulating data.
In fact, our reports automatically organize and map all of your ATS sources and stages (whether there are dozens or thousands) into core categories that align with HR best practices.
This standardized view of recruiting data means you have the bandwidth to actually refine your hiring process (not just analyze it).
And you can confidently benchmark with apples-to-apples comparisons internally (one department compared to another) as well as externally (your company versus others).
---
"We map all of your ATS data into core categories that align with HR best practices."

Amit Bhatia, Co-Founder and CEO, Datapeople
---
Build a fair and equitable hiring process
According to a 2023 survey conducted by Goodtime.io, 26% of talent acquisition leaders say that making DEI a measurable priority has been a core focus area. But how do companies actually achieve this goal? In order to attract a diverse candidate pool, it's mission-critical that every step of the hiring process is rooted in fairness. Yet so many talent teams lack the visibility they need to pinpoint problematic stages in their hiring process – until now.
With a gender probability model that is over 90% accurate and effectively fills in the gaps where ATS gender data is lacking, the Datapeople Insights Gender Report enables you to identify and root out bias at every stage of your hiring funnel. So your DEI goals can become DEI realities.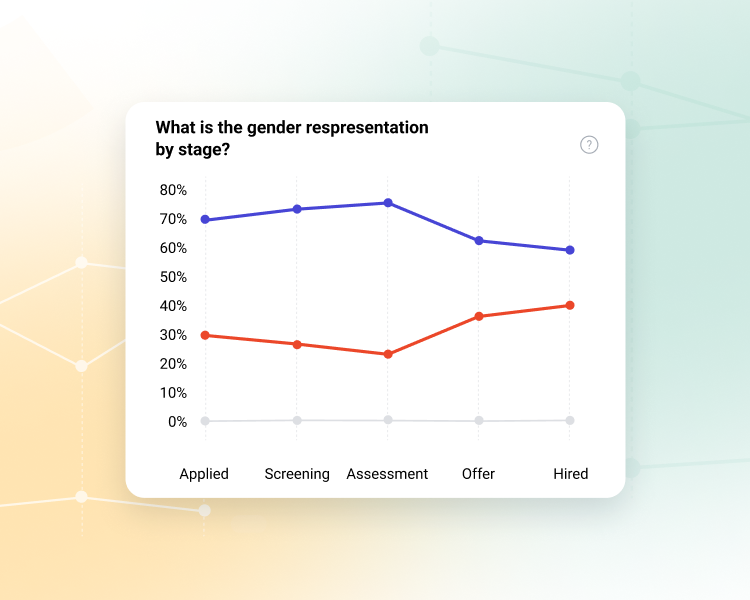 ---
---
Perfect your (entire) hiring process
We tend to think of the hiring process as only the steps captured in the ATS, but the reality is that your hiring outcomes depend on so much more. Unless the start of your hiring process is optimized for success, challenges like attracting stronger candidate pools, reducing time to fill, or minimizing cost per hire are likely to persist.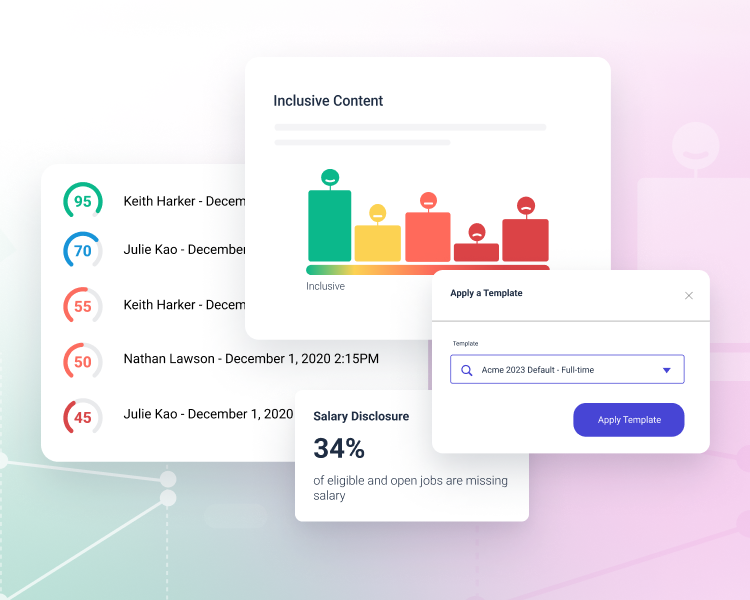 With Datapeople Insights, we give you the intelligence and control you need to uplevel these critical (yet often overlooked) steps in your hiring process, ensuring that you achieve hiring goals faster:
Hiring manager education and engagement
Simplified intake processes
Real-time job writing guidance and content recommendations
Guardrails to protect your employer brand, ensure compliance, and hold hiring teams accountable
…and so much more.
---
Supercharge your existing recruiting data
Getting the insights you need to level up your recruiting strategy doesn't mean throwing in the towel on your existing data set. Your ATS is full of rich pipeline information that, when combined with optimized job posts and efficient recruiting operations, can dramatically improve your hiring outcomes.
So, rather than mess with a system that's already collecting valuable information, Datapeople Insights integrates seamlessly with your ATS to summarize, augment, and make sense of it all. Our turn-key API integration requires minimal setup, so your team is up and running quickly.

(Is your ATS not listed above? You can still leverage Datapeople Insights!)
---
Ready to make sense of your recruiting data and achieve your hiring goals?
With Datapeople Insights, we take the leg work out of recruiting data analysis so you can spend your time doing meaningful work, not manual work.
Get the insights you need from the tech you already use (with our ATS integrations).
Uplevel your job posts, recruiting operations, and hiring process for maximum ROI.
Ensure your hiring process is optimized for fairness and inclusivity.
Request a demo of Datapeople Insights to get one step closer to more fair, efficient, and successful hiring outcomes.