As a talent acquisition professional, you're passionate about finding qualified candidates who are excited to work for your company. So why is it that you're spending a huge chunk of your time combing through recruiting industry advice for what to include or not include in a job description? Or searching for your company's old job posts? Or switching in and out of browsers, copying and pasting content?
At Datapeople, we believe you shouldn't have to do any of that.
Our platform has automated and collaborative features that save you time and help you scale your recruiting processes. Oh, and we get your searches started earlier ─ which means new hires in seats faster.
Let's take a peek at a couple of new feature enhancements that make researching, locating, and writing job posts easier than ever for hiring teams everywhere:
Copy content from 'Similar Jobs' ─ without searching the internet
Side-by-Side Similar Jobs Feature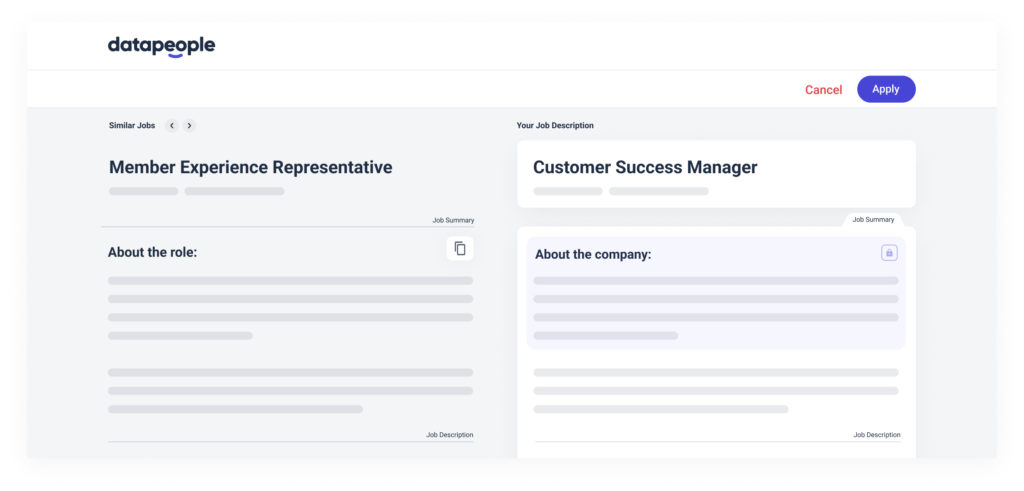 Say goodbye to sifting and searching through posts from other companies to help you or your hiring managers write your next job post. Our side-by-side Similar Jobs feature automatically populates with related job posts that you can use to inspire your own – all from one window!
Save time: Add hours back to your week by not having to search for similar jobs or agonize over what to write in your job post.
Reduce time-to-fill: By optimizing the efficiency of your job writing process, your post will be published days (if not weeks) sooner, ultimately filling the role faster.
Consolidate your workflow: One window is all you need to write an inclusive job post, snag ideas from others, and sync back to your ATS.
Remain competitive: Easily ensure your job post stacks up (or stands out!) in the market as you compete for talent.
Find the job post you need, in seconds
Job Post Repository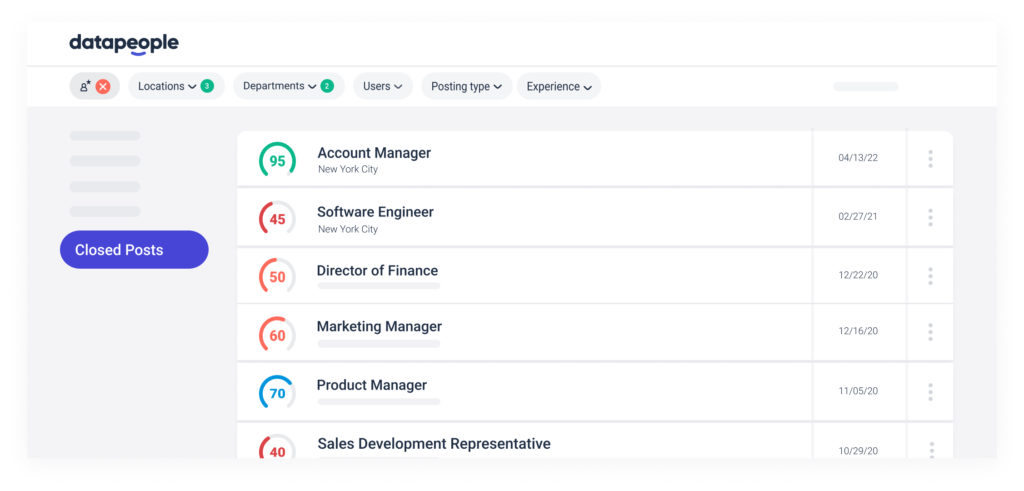 We've all been there: You wrote a job post a year ago and are hiring for the same role again, but you can't find the job post and have to start it from scratch (sigh). Or, perhaps worse yet, you do find that old post, but it contains outdated requirements and responsibilities and your company's old benefits package.
Whether it's a job posting that's been closed for years or a job post that is live right now, our Job Post Repository locates it in seconds with advanced search and filtering capabilities.
Create a single source of truth: Store, view, and reference all of your company's closed and current job postings in one platform.
Save time and money: Enable hiring teams to focus on furthering business goals, not spending valuable time re-writing a job post that already exists…somewhere.
Increase business continuity: No matter what changes occur in your team or company, rest assured that your job posts are in an accessible and centralized location no matter who the original owner was.
Peace of mind: Standardized job post templates and custom user permissions ensure your job posts remain consistent and editing is regulated.
"When you have 200 to 300 jobs posted and everyone is writing differently and there's no consistency, that's my worst nightmare. Datapeople has allowed us to create that consistency which is extremely important, especially as we continue to grow."

─ Head of Talent Programs at Square, Amy Berlin
Save time and scale your recruiting processes
When it comes to building a scalable, efficient, and effective recruiting process, our stance is firm. It all starts with your job posts.
Optimizing your job posts to contain the latest company information and a competitive responsibilities and requirements description should take minutes, not hours. Locating previously written job posts and getting them live to candidates should take a couple of clicks, not a few dozen emails. Using the Datapeople platform as your company job repository makes this possible.
So, what do you say? Ready to attract 2x more qualified inbound candidates and streamline your recruiting process?
If you'd like to learn more about Datapeople's platform, we invite you to schedule a demo. You can also read how our customers like Twitch, Square, DoorDash, and Riot Games are using Datapeople to write inclusive, effective job ads.