Recruiting Process for Qualified, Diverse Candidate Pools
Recruiting process can have a huge impact on the quality and diversity of your talent funnel. To help you refine yours, this guide offers an introduction to typical processes, their strengths and weaknesses, and new ways to think about the recruiting process in general.

What Is The Recruiting Process?
Recruiting processes are seemingly as varied as companies themselves. But the recruiting process isn't just a bunch of disparate options mashed together or a series of actions that kicks in when your company needs to hire someone. 
The recruiting process is, in fact, an ecosystem. Sure, when an employee quits, it triggers a series of chronological events to find a replacement. But that's just part of the story. The rest of the story is the moving parts that are always moving, before, during, and after a hire. To get us started, here's a quick high-level review of what the recruiting process is and who is involved.

Talent acquisition as part of company strategy
Talent acquisition (TA) has been maneuvering for a seat at the big table for a while now, and company leaders are finally giving it one. Progressive companies now consider recruiting an important part of the overall company strategy. 
According to the Society for Human Resource Management (SHRM), companies that factor recruiting into overall strategies out-perform companies that don't. And that goes for important recruiting metrics as well as metrics on candidate experience, internal career-pathing, retention, and company performance overall.  
"A business goal like increasing sales by 30 percent in Q4 needs to be translated into recruiting terms. Increasing sales by Q4 means having to hire more salespeople in Q2. Build the hiring plan backward from the business plan, and have the TA and HR [human resources] leaders in on those discussions."
– Proactive Talent Strategies Founder Will Staney, as told to SHRM
Typical recruiting team functions
So, who's on your hiring team? It really depends on the size of your company and your hiring budget. And, honestly, it may be better to think of these roles as functions rather than individual positions. (There's a lot of overlap between recruiting and HR, for example.) But here are a few of the key functions that hiring teams need.

Recruiters are the heart and soul of the hiring process. They're the experts and also the project managers, typically overseeing the entire recruiting operation. 
It's often a blurry line between roles when it comes to recruiters (even before you add HR), but some distinctions exist.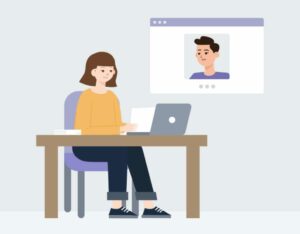 Functionally, it's the job of recruiters to, first, understand overall company strategy in the near and long term. Knowing where the company is and where it's headed, along with the resources available, enables recruiters to align the hiring roadmap with company goals.
Recruiters as liaisons
Recruiters can then liaise between hiring teams and other departments. Crucially, they manage the workflow among hiring managers, HR, finance, and any others. They connect all the dots during the hiring process.
But recruiters also tend to wear tons of hats, especially at smaller companies, and can spend as much time on the ground as they do at 30,000 feet.
At the same time, recruiters are the point persons between the company and job seekers.
Hiring managers are the department experts and are usually the ones asking for the hire. They're also the people with the deepest understanding of each role in the department as well as the department's overall needs. 
One part of a hiring manager's function in the recruiting process is to help establish the requirements and responsibilities for a job.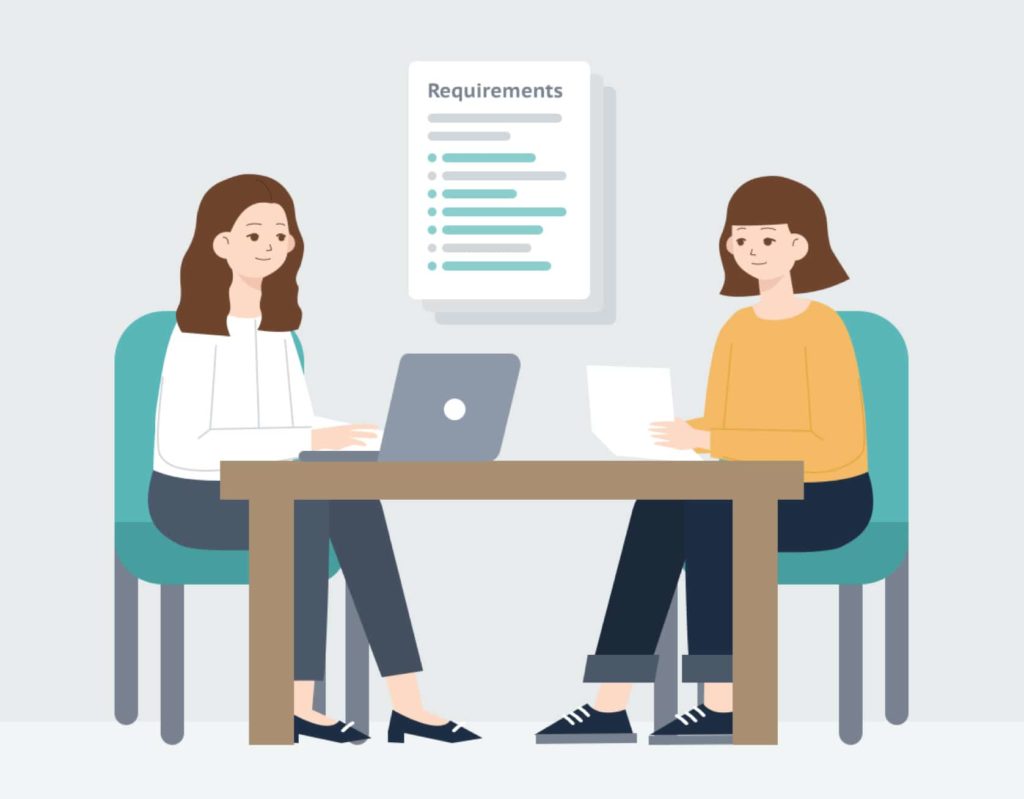 Other hiring team members
While recruiters and hiring managers make the recruiting world go round, they're not the only ones in your company who impact your recruiting efforts.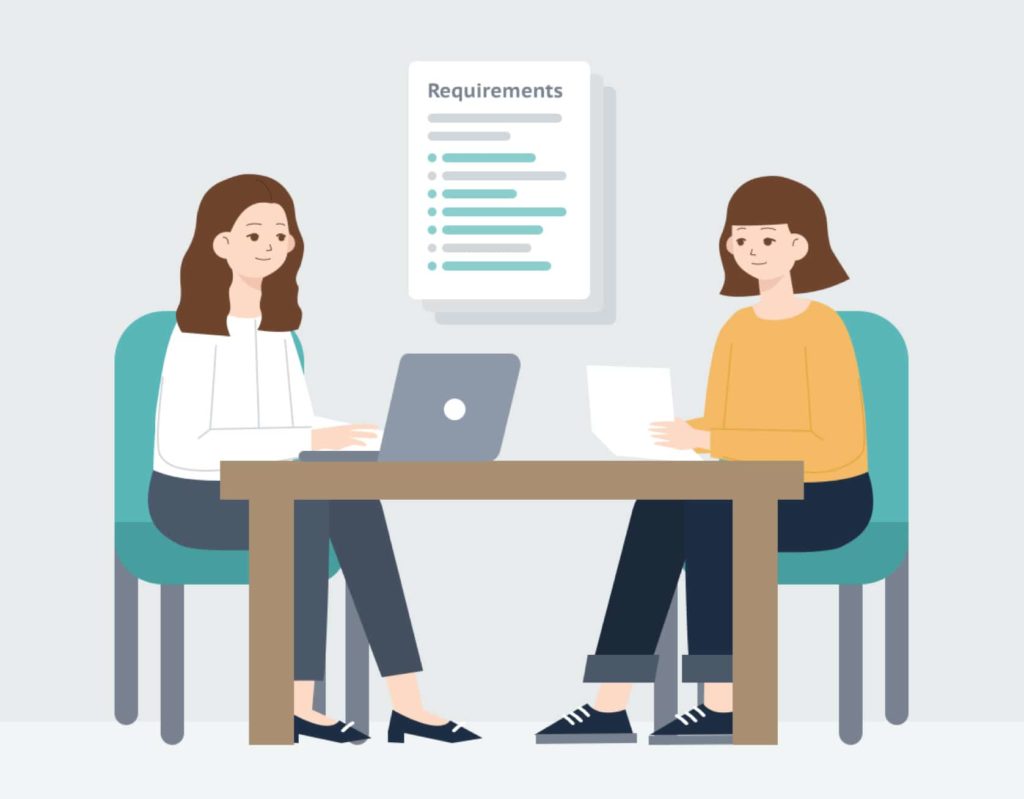 At companies with separate recruiting and HR, hiring teams may rely heavily on HR for documentation and other back-office items. Recruiters also need input from whoever is managing the budget to set salary ranges for positions. Meanwhile, an inviting, user-friendly careers page makes it easier to attract qualified candidates, which means involving the marketing team. And anything technology-related likely involves the IT team. Again, it's an ecosystem. 
Closer to home, a new hire's existing team members are an asset during the recruiting process. 
Recruiting process versus recruiting strategy, briefly
You could reasonably refer to all of the various actions that hiring teams take as the recruiting process. But there's a difference between strategy and process, and it's worth noting the distinction briefly.

What Software Do Hiring Teams Typically Use?
Technology is making companies more efficient and effective across a wide swath of industries, including hiring. While implementing recruitment software may require some change management, it brings automation and analytics to recruiting. Here are some of the platforms hiring teams typically use.

Human Resource Information System (HRIS)
An HRIS is your HR team's primary system for human capital management. It's typically an enterprise system with a wide variety of functions. And while it's not recruiting software, strictly speaking, your HRIS may have some recruiting functions. 
First and foremost, an HRIS is your company's main human resources database. HR teams use it to keep track of each employee's personal information like address, contact info, and birth date. It provides a record of employees' benefits selections as well as time-off requests and paid time off (PTO) balances. HR teams use it to manage every employee's job information including pay, department, and direct supervisor.
A few more typical functions:
Automatic and manual tracking of employee hours
Automated payroll processing
Self-service and manual PTO management
Benefits management, including self-service
Employee training and onboarding systems
Recruiting functions (like an ATS)
Dashboards for tracking recruiting and people metrics
Management of job profiles and compensation bands
Applicant tracking is the function that interests hiring teams the most. Some HRISs, like Workday and Ultimate Software, enable recruiters to better manage their applicant funnel through ATS features.
Applicant Tracking System
An ATS sits at the center of the recruiter's tech stack. The system enables hiring teams to better manage the recruiting process while also improving the quality of hires and reducing the time to fill. ATSs are part data collection and tracking, part outreach, and part workflow management. With an ATS, a hiring team can manage job requisitions, post open positions to online job boards, import and store candidate information, and streamline individual and group tasks.
Automated posting to job boards, emailing with applicants, and tracking of communications between candidates and hiring teams. Also, automated scheduling where applicants pick the time that works for them. 
Automated tracking of application and resume reviews, phone screens, hiring manager and department screens, take-home assessment tests, and onsite interviews.
Automated organization of individual user and also team tasks (e.g., 'needs attention,' 'complete,' et cetera). Easy communication and collaboration among team members (e.g., sharing notes on applicants right in the system).
Automated analysis and filtering of resumes using natural language processing and machine learning targeted at certain keywords.
Data collection and analysis
Dashboards that put key performance metrics and trends over time in front of ATS users. 
ATSs are ubiquitous. You can find dozens on the market that will offer some of the functions listed here and a few that offer all of them. Some of the biggest names in the market are Greenhouse, SAP SuccessFactors, SmartRecruiters, and iCIMS. 
Pre-Employment Assessment
Testing offers a way to gauge an applicant's skill set, personality, work habits, and other attributes. They range widely from actual tests (i.e., multiple choice, true/false) to 'no right answer' questionnaires to work projects that mimic the actual job, and more.
It's up to hiring teams to decide whether they want to use assessments, what type they want to use, and how they want to use them. For certain positions, prior work product can serve as a skills and abilities assessment (e.g., previous sales numbers for a sales position or a design portfolio for a graphic design position). But that's not always the case.
Regardless of the approach, the goal is to assess a candidate in measurable areas that are crucial to the job in question. Here's a few types of tests:
Intelligence and aptitude
Skills and technical abilities
The nuts and bolts expertise needed for a position (e.g., a coding test for junior programmers). 
Personality and temperament
The less tangible traits that can determine how successful a candidate will be in a role (e.g., Myers-Briggs® assessment). 
RECRUITING PLATFORMS / 04
Job description software is a relative newcomer to the recruiting world, but its advantages are already clear. Posting ads on internet job boards is still the primary way hiring teams attract talent. By assessing the key elements of a job description, language analytics enables teams to optimize their main recruiting method during the writing process.
Job description software improves job description workflow to increase the number of qualified, diverse applicants a job description attracts. The software can include natural language processing, language editing, machine learning, data science, workflow, and more.
Language analytics functions:

The Typical Recruiting Process
Hiring involves a lot of moving parts. How many depends on what kind of role recruiting plays in your company's overall strategic planning efforts. But even without a role in the overall strategy, there's a lot going on. Here are some typical setups for the recruiting process.

Before anything happens, your company needs some basic infrastructure in place. That infrastructure involves brand awareness, which hinges on marketing strategy and online presence. It includes a full-throated careers page that shows job seekers you're a real company worthy of an application. It also includes hiring strategies (i.e., job boards, employee referrals, third-party recruiters, sourcing, candidate nurturing, et cetera). 
If your hiring team already has a seat at the big table, then recruiting is likely a part of the overall strategy on a regular basis. So when the executive team talks about growth over the next four quarters, staffing up is part of that discussion. Executives, hiring managers, and recruiters are continually assessing hiring needs across all departments. They're also assessing the current talent on board and trying to identify internal candidates for promotion or lateral moves.
At the department level, strategic hiring requires knowledge of each position's role in the department. To make a hire, someone has to figure out what skills, knowledge, and other attributes are necessary for the job. And someone has to write a job description that lays all that out for potential candidates in a concise and accurate way. 
Once the wheels are in motion, there's a great deal of administrative work to do. (Anyone who has ever sifted through resumes knows this.) There's posting jobs online, communicating with applicants, phone screening, and other administrative tasks like scheduling and organizing background checks.
Hiring manager-led recruiting process
When a hiring manager leads the effort, they're the ones creating the job description and screening applications and such.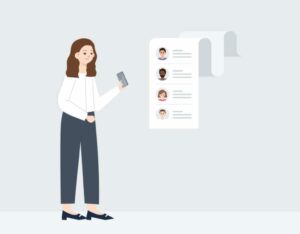 Digital rendering of a hiring team member in the recruiting process.
Without a recruiter filtering applications, it's up to the hiring manager to go through the mountain (if you're lucky) of applications. One benefit of having a hiring manager-led recruiting process is hiring managers' in-depth department knowledge. They're very familiar with the ins and outs of the role. The drawback, however, is that hiring managers don't typically have bias training. They may filter out qualified applicants because of an unconscious bias they don't even know they have. (Like overlooking a qualified candidate just because they don't have a prestigious internship on their resume.) 
Hiring team-led recruiting process
When a hiring team leads the effort, multiple people are sharing the effort to write the job description, filter applications, et cetera.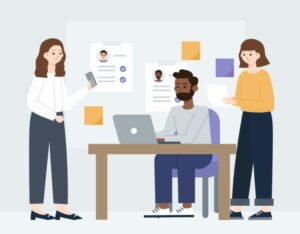 Digital rendering of a hiring team in the recruiting process.
A hiring team-led recruiting process is a bit of both worlds. It offers checks and balances on both bias and department knowledge. A recruiter's bias training can help counterbalance a hiring manager's unconscious bias. A hiring manager's expertise can, likewise, help counter a recruiter's lack of department knowledge. 
Also, taking a team approach tends to force conversation where it wouldn't exist otherwise. Team members often view applicants differently, and it can be constructive to talk about them. As long as the team avoids getting caught in groupthink, which can hurt outliers.

How Does the Recruiting Process Impact Diversity and Inclusion?
The recruiting process is an ecosystem where lots of individual elements influence the final outcome. Every part of the process is important, and individual choices can have a cascading effect down the line. Your hiring team's recruiting process naturally has an impact on your diversity and inclusion efforts. 

DIVERSITY AND INCLUSION / 01
Diversity and inclusion in recruiting
When it comes to recruiting, what does diversity and inclusion actually mean? To explain, it may help to highlight some of the inclusivity issues that crop up in recruiting and the groups most often impacted by those issues.
Gender bias has had millennia to burrough its way into society, and only recently (through research) are we really starting to understand it. Historically, women are an underrepresented group, for a variety of reasons.
Language is a big one. Many languages employ genders for most or all nouns (e.g., la plage, or the beach, in French). Others that don't still use the male pronoun more commonly than the female pronoun (e.g., policeman in English). Some also have gendered sentiments baked in. Seemingly innocuous phrases like 'independent' and 'competent' can convey sentiments associated by society at large as leaning masculine. But it's vital that companies don't convey a preference (e.g., by defaulting to male pronouns everywhere).

So, a job description listing desired traits that lean masculine can signal to female job seekers that the company may be looking for a man. That's an issue when you consider that women only apply to positions where they feel fully confident they qualify. (Men apply when they feel 'mostly' qualified.)
But it goes beyond that. Studies have shown that gender bias can have a major impact on the decision-making stage of the hiring process. When there are four finalists for a position and only one is a woman, she has almost zero statistical chance of getting an offer. Add another woman (so, two), and the percentage jumps right up to 50%. 
Ageism can be subtle, but its impact on recruiting diversity is real. No company is going to come out and say they don't want to hire anyone under or over a certain age. But they can still say it in so many words, without meaning to.
Words or phrases that emphasize energy, youth, or tech-savviness can cause older job seekers to think twice about applying. And it can be as simple as over-emphasizing or over-specifying technical requirements (e.g., Outlook rather than Gmail), which creates an unnecessary barrier. (Note: If you can teach someone a skill in a matter of weeks, there's no need to list it as a requirement for hire.) Similarly, words or phrases that emphasize experience, industry knowledge, or wisdom-related sentiments can cause younger job seekers to balk at applying. 
Bias against demographics, education, and culture is even more subtle than age bias, but it's there. With this one, it's important to remember that candidates interpret job descriptions through a unique lens colored by their upbringing, life experiences, education, and career path. 
Something like 'communication skills' will mean different things to different people. And it may give pause to job seekers who never thought of themselves as good speakers or simply learned English as a second language. (Note: Communication skills are a soft skill better left out of job descriptions altogether.) Also, socio-economic factors can play a part. Requiring internship experience will naturally exclude job seekers who couldn't afford to take a low-pay or unpaid internship. 
DIVERSITY AND INCLUSION / 02
Nowhere is the cascading effect of small choices clearer than in the relationship between candidate pool size and diversity. While well-meant diversity hacks like the Rooney Rule attempt to self-correct the system in later stages, they are no substitute for a larger applicant pool early on. Simply put, the larger your qualified candidate pool at the top of your talent funnel, the more diverse your pool of finalists will be at the bottom. 
Attracting a robust and diverse candidate pool (a representative candidate pool) requires casting a wide net. Of course you want to publish the job on your company's careers page, but that's just the start.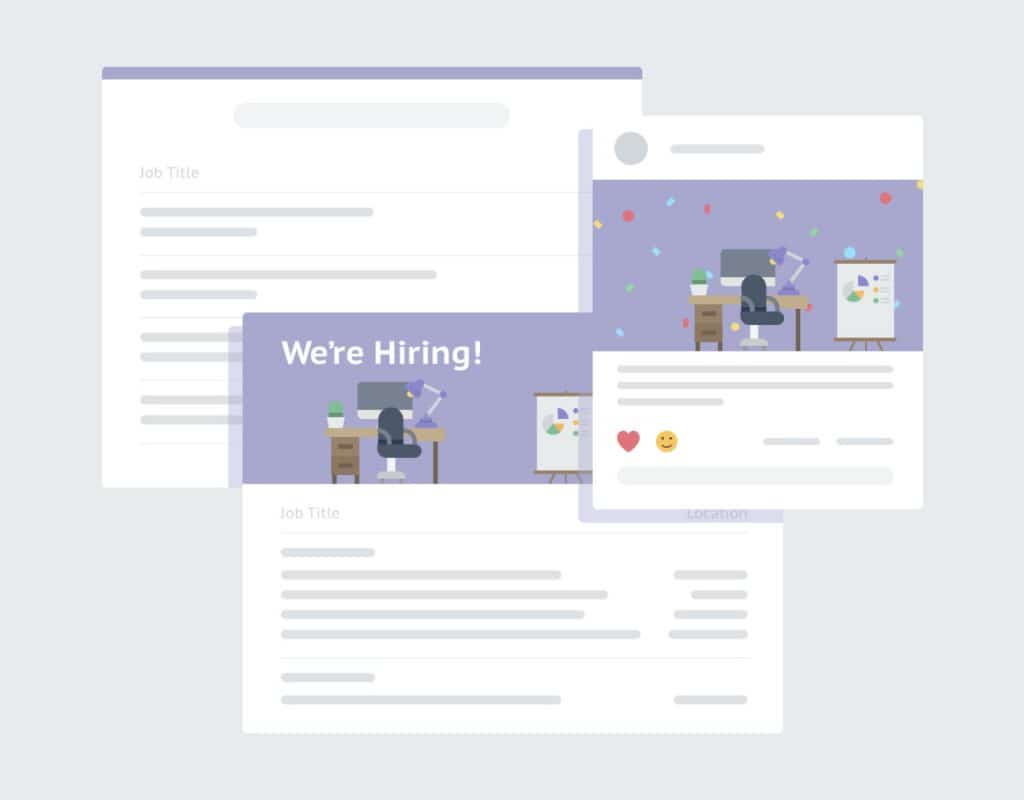 Job posts are often the only piece of messaging from your company that a job seeker will see. If there's anything in there that turns someone away, you've lost an opportunity. Or if there are details not there that should be, you've missed out. This is why post-and-pray recruiting doesn't work.
Drafting all new job posts from a standardized template or previously successful job description ensures uniformity. Every job description will include important content like diversity information, benefits, and perks in approved company text rather than ad hoc language thrown in.
Collaborating among multiple writers helps weed out anything that may deter job seekers. A hiring manager can ensure that the requirements make sense for the role and don't confuse job seekers. A recruiter can ensure the job post doesn't include biased language (e.g., 'independent,' 'energetic') known to deter qualified job seekers. The recruiter can also ensure that the requirements don't include soft skills (e.g., 'communication skills,' 'multitasking'). Soft skills can confuse job seekers and are better left for job interviews later on in the recruitment process.
DIVERSITY AND INCLUSION / 03
The interview process is a two-way street. Job seekers are interviewing companies just as sure as companies are interviewing them. And your interview process can have a direct impact on how a candidate interacts with your company.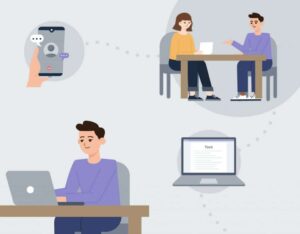 If your hiring team doesn't inform candidates about the interview process beforehand, candidates are left in the dark. Qualified candidates who expect to see some explanation of the process somewhere (e.g., on the careers page) may wonder where it is. Without knowing what to expect, they may choose not to apply to your job.
And the process itself can make or break a potential hire. Is this application process laborious or empathetic to applicants' time? Is the assessment testing irrelevant or applicable to the actual job? And how long is the overall hiring process─a week, a month, longer? It's important to keep the candidate experience in mind.
Once you get into the interview stage, candidates will expect your interviewers to increase in seniority as the interview steps progress. After an initial phone screening with a recruiter, applicants will expect to speak with the hiring manager, potential teammates, and─depending on the role─even senior leaders.
And the methodology of the interview is important. The standard over-the-phone, video-conferencing, or in-person conversation is great for extroverts, but not necessarily for introverts. A whiteboard interview (where candidates work out problems in real time) is great for candidates who can think quickly on their feet. (Although it's no doubt a lot of other candidates' worst nightmare.)
Meanwhile, a take-home project enables candidates to work at their own pace, which levels the playing field. Many companies employ this approach, which most closely replicates the work that a candidate would perform in the job. However, not enough companies pay candidates for time spent on this interview step. In that case, job seekers who don't have extra hours in their week to work for free (e.g., full-time workers, parents) simply may not apply.
DIVERSITY AND INCLUSION / 04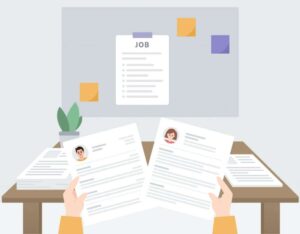 Pre-screening applications to pass along qualified candidates is fairly straightforward when job requirements are succinct and you keep unconscious bias in mind. However, assessing candidates in the later stages of the hiring process can be a subjective exercise. How you do it can directly impact the diversity of your candidate pool.
In the standard model, recruiters will pre-screen incoming applications, do phone screens, and pass the most qualified candidates on to the hiring manager. It's then up to the hiring manager to do the meat-and-potatoes interviewing and decision-making. Which makes sense because hiring managers usually know the position best, and they have skin in the game because it's their team. 
However, a team approach to candidate assessment, from the very beginning, can foster constructive conversations and help increase diversity. Basically, a hiring team representing a wider range of skills, genders, backgrounds, et cetera may naturally choose a more diverse candidate pool. 
DIVERSITY AND INCLUSION / 05
Employee retention depends on a lot of things that go way beyond recruiting, but it begins in the recruiting process. 
Many new hires don't work out because the job description emphasizes a certain set of skills, while the job actually requires another. A collaborative process between recruiters and hiring managers can help here. The closer the job description is to the actual job, the more likely you are to find a candidate who will succeed in the position. 
Meanwhile, retention depends a certain amount on good-faith investment in new hires. Job seekers want fair pay, of course. But they also want development opportunities and real chances for advancement. By including those things in recruiting discussions, hiring teams can reassure candidates that their company is willing to invest in them.

Why the Recruiting Process Fails
Any number of things can derail a recruiting process. Even things that don't appear related to recruiting, like company branding. Here are some of the reasons your recruiting process could fail.

Weak or no company branding
Branding is how you connect people to your company. It's your entire content marketing effort: all messaging and design on your website, social media, emails, press releases, and everything else. 
Unless your company is a household name or industry titan, a job description is likely the first piece of messaging a job seeker will see from your company. That's why it's important to incorporate company branding (i.e., treat your job descriptions as marketing documents). 
But you also need a branding ecosystem to back them up. A job seeker should be able to get a feel for your company just by checking out your website, blog, and social media. Without this, they won't know who you are and, subsequently, may not feel comfortable applying. Or worse, bad branding could outright drive them away.
Low quantity and quality of candidates
The more candidates your job attracts, the more qualified candidates your job will likely attract. One of the biggest issues that teams face in the hiring process is not attracting enough applicants, which can negatively impact the quality of their candidate pool.
At that point, the question becomes why your jobs attract small candidate pools. It could be issues with your job description itself or with its publication.
The makeup of a hiring team and how team members work together can have a big impact on the success of recruiting efforts. 
Is your hiring team big enough to handle the number of applicants you get for each job? Do you have open communication channels and effective discourse among team members throughout the process? How many pieces of software or steps in the process is your team using, and is there redundancy or bloat there? (It's worth noting here that the diversity of your hiring team itself can impact a candidate's impression of your company and your commitment to D&I as a whole.)
A team approach with open communication can help your hiring team:
Gut instinct or years of experience aren't enough for high-performing recruiting teams anymore. Today, high-performing teams are using data science to help make informed strategic decisions.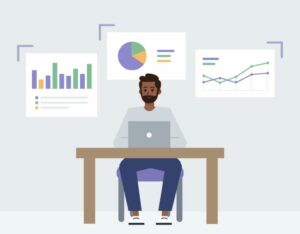 Digital rendering of a hiring team member in the recruiting process.
Analytics offer hiring teams hard data on their recruiting efforts. Metrics like cost per hire and time to hire enable every member of your hiring team to make evidence-based hiring decisions. So instead of guessing which online job board sends the best applicants, hiring teams can track that information to know for sure.
Common metrics include:
It doesn't make much sense to attract qualified candidates only to lose them in the recruiting process. Candidate experience should matter to every hiring team because it matters to every candidate. Think of it as thoughtfully guiding candidates through the process.
Digital rendering of a hiring team member in the recruiting process.
It starts with the job description. Does it speak directly to job seekers, value them and their time, provide the information they need, and provide a clear picture of the job? Or is it overly long, haphazard and unclear, demanding (i.e., only lists what's expected of the candidate, not the company), and otherwise kind of thoughtless? 
Does the application take 5 minutes or an hour? Are you requiring applicants to submit several hours' worth of work without pay? Do you explain the entire hiring process before you even begin (e.g., a step-by-step on your careers page)? What about introducing candidates to various team members or even company leadership during interviews? Are you in constant communication (automated or otherwise) with candidates throughout the process? All these things influence the candidate experience.
It's tempting to think the recruiting process ends once a candidate accepts an offer. But it may be better to consider it over once onboarding is over.
A bad onboarding experience can lead a new hire to question their decision or even continue looking for something else. A good onboarding experience can make a new hire feel really good about the company they just joined.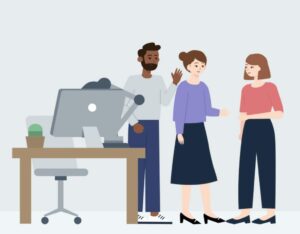 Digital rendering of a hiring team in the recruiting process.
Which makes a new hire feel more welcome? Showing up on Day 1 with no instructions about when to come in, where they'll be sitting, who they'll be working with, what they'll be doing, et cetera? Or showing up and having someone meet you at the front desk, show you to your desk, introduce you to your manager and teammates, take you for a tour of the office, et cetera?
Onboarding communications
Hiring teams can begin communicating with candidates before they start. They can:
On new hires' first day or during the first week, hiring teams can:
Throughout a new hire's first three months, hiring teams can:

How Do You Measure the Recruiting Process?
Analytics is transforming the recruiting industry. By tracking, measuring, and analyzing important metrics, hiring teams are able to improve performance based on hard data, not guesswork. They can set aside gut instinct and use data to make evidenced-based hiring decisions instead. 
While there are dozens of metrics your hiring team can track and analyze, they tend to fall into a few groupings: time, cost, source, and quality. These groupings provide a good framework for gauging the overall efficiency of your recruiting process.

RECRUITING ANALYTICS / 01
A long recruiting process is an inefficient one. Among other things, it leaves empty positions…well, empty. Also, it can cause qualified candidates to become impatient and drop out of the recruiting process.
So, how long does it take for things to happen in your recruiting process? Which steps seem to hold the entire process back? This type of information can help your hiring team streamline its recruiting process.
Before inviting candidates to apply for a position, it's important to understand how long the application process will take. Job seekers are busy with work and family too. 
Candidates may not want to spend an hour filling out an application. They may not want to spend two or more hours on testing or unpaid application projects. In fact, they may balk at any long application process because it feels like the company cares more about its own time than theirs. (Hiring is a two-way street, after all.) 
By tracking time to apply and unfinished applications, hiring teams can see whether they're losing candidates right in the application phase. As a general rule, it's better to keep time to apply on the shorter side.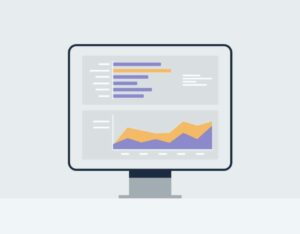 Time to hire is how long it takes a candidate to get through your recruiting process from application to offer. 
How long does a candidate typically wait for your hiring team to screen their application? What about interviews? Or a final decision? If your hiring team takes too long, qualified applicants may accept other positions or simply drop out. 
Time to fill is the number of days it takes your hiring team to get from approved job requisition to accepted job offer. While no one can control the job market, hiring teams have a lot of control over time to fill. 
Think of it this way. Once a candidate fills out an application, their work is mostly done. Meanwhile, your hiring team still has to screen applications, coordinate with the hiring manager, organize and conduct interviews, negotiate salary, compose an offer letter, et cetera. 
Your hiring team controls the vast majority of the steps in the recruiting process. By tracking time spent on each step of the process, you can address bottlenecks and reduce overall time to fill. 
This one is a little harder to measure and, strictly speaking, extends well beyond the recruiting process. But time to productivity is one indication of how successful a hiring effort was.
How long does it typically take for your hires to ramp up? A longer timeframe may signal lower quality applicants, while a shorter timeframe may suggest higher quality applicants. With a baseline metric, your hiring team can track whether changes to the recruiting process are increasing or decreasing the quality of hires. 
RECRUITING ANALYTICS / 02
Cost per hire is the money metric recruiters know best. In a nutshell, it's the total cost of recruitment divided by the total number of hires. How granular you get depends on the makeup of your recruiting efforts and how detailed you want to be. 
If you use advertising or third-party recruiters, you'll want to track those external costs. Meanwhile, internal costs include hiring team wages, hiring manager wages, and new-hire onboarding and training. By tracking all costs and dividing by total hires, your team can gauge how much each hire costs. 
RECRUITING ANALYTICS / 03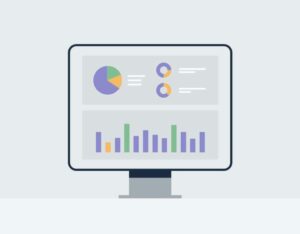 Which candidate sources are sending your hiring team qualified applicants? More importantly, how can you adjust your strategy to focus more on those sources to get the most qualified applicants possible?
The most common source for applicants are online job boards like Indeed and LinkedIn. But there's also company career pages, employee referrals, third-party recruiters, and social media, to name a few. Knowing where your qualified applicants are coming from enables your hiring team to put money and effort where they're working best. 
RECRUITING ANALYTICS / 04
Quality in, quality out, as the saying goes. Typically, more qualified, diverse applicants at the top of your talent funnel yields more qualified, diverse final candidates at the bottom. Unless qualified candidates drop out during your recruiting process, that is. 
The end goal of any hiring effort is a quality employee. But how do you know whether a new hire is that quality employee? 
One way is through hiring manager satisfaction, which you can discover by talking with the hiring manager. Another way is through new employee satisfaction. (A new employee may default to an 'everything is great' response, but you can use anonymous surveys for some objectivity.) A third way is through monitoring employee retention trends. If you're consistently losing employees in the first year, it would help to know why. 
Quality of the recruiting process
Again, more qualified, diverse applicants at the top of the funnel typically yields a more qualified, diverse final candidate pool. However, issues in your recruiting process may whittle down your pool. Candidate experience matters.
How many applicants started but didn't finish their applications? How many candidates dropped out after the initial phone screen or the first round of interviews or the last round of interviews? What percentage of candidates make it from one step to the next? (In other words, what are the conversion rates for applicant to screening, screening to interview, interview to offer, offer to acceptance.) By measuring each step, you can see exactly where the issues lie and take steps to mitigate them.