It's a confusing time for hiring teams and job seekers alike. The pandemic permanently shifted where office employees want to do their work. Companies are vacillating constantly between remote and return to office. And the huge array of policies on offer and varying definitions of job location are simply dizzying.
Lack of clarity is leaving candidates feeling catfished and recruiters facing less qualified applicant pools. It's more important than ever for hiring teams to be clear about core job location requirements – starting in the job post.
The confusion around job location
There's no question that remote and hybrid jobs have made the market even more confusing. Looking at remote jobs data since 2019, we see these jobs rise sharply and then fall just as sharply.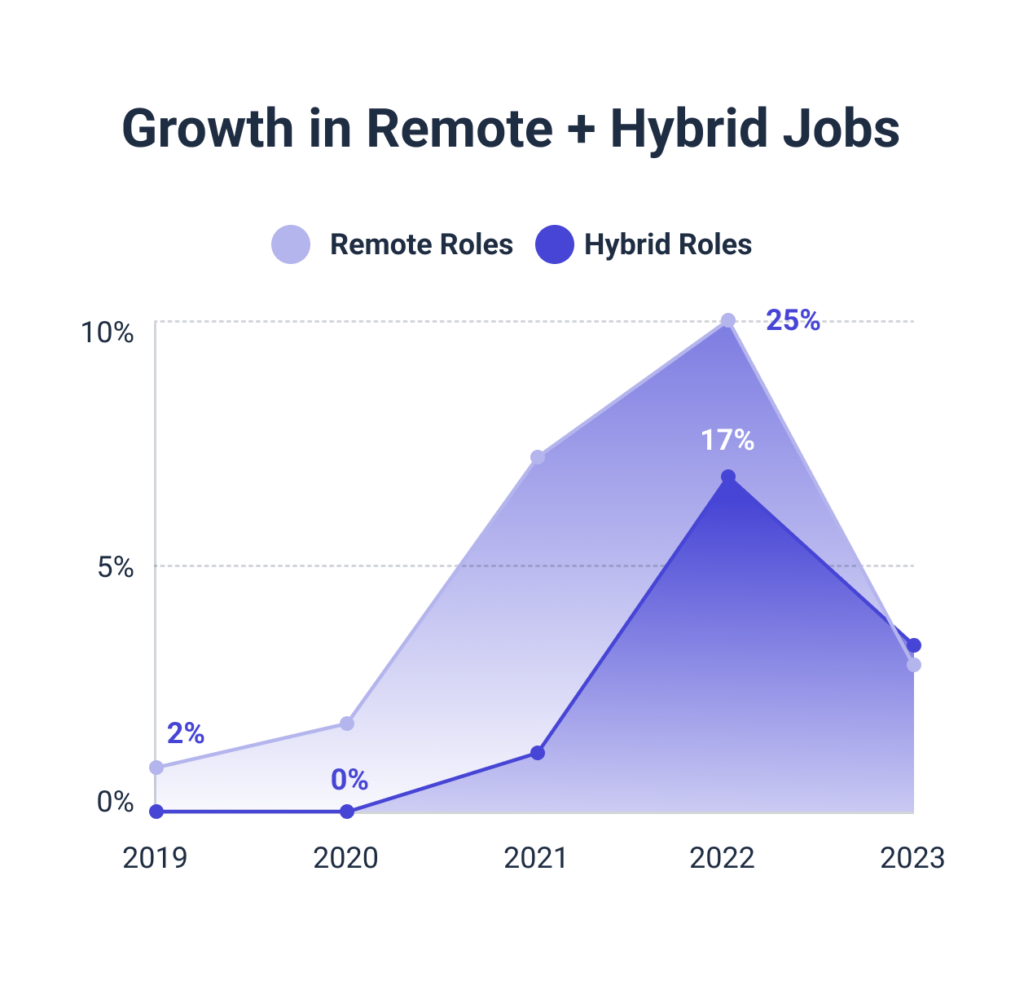 And there's a lot of confusion around job location these days. The confusion stems partly from companies using pre-pandemic approaches and partly from companies using non-standard definitions. Both are causing bottlenecks in recruiter productivity and reduced candidate satisfaction.
Before the pandemic, it was enough for companies to include a specific location in their job posts (e.g., "Los Angeles, California"). But that dynamic has changed, and today's job seekers are looking for information on remote possibilities.
Meanwhile, the definition of job location varies depending on the company. We're seeing situations where a role defined as "remote" requires some in-office work, or it's a stop-gap before a return to the office, or it's time-bound (e.g., "work from anywhere for a month").
At Datapeople, we define remote jobs as fully remote, always (i.e., the person can work from anywhere, at least within the country, at all times). We define hybrid jobs as requiring some in-office work (e.g., two days per week at the office) or periodic in-person attendance (e.g., quarterly gatherings). Onsite jobs are at the office or facility, always.
The negative impact of confusion on applicant pools
Using pre-pandemic approaches and company-specific definitions of job location instead of industry-standard definitions confuses candidates. It also makes recruiters' jobs harder.
If a job post's location is "Boise, Idaho or Remote" and flexibility isn't detailed (or accurately explained) anywhere else in the post, candidates are left wondering whether the role is onsite, hybrid, or remote. Some qualified candidates won't apply. Other candidates may apply even when not all the options are right for them (e.g., a single parent looking for remote work).
Onsite, hybrid, and remote are distinct categories of work. Onsite and hybrid are geographically restricted; remote is not. Yet we're seeing confusing combinations of terms like "hybrid remote" or "onsite/remote" in job posts.
The confusion results in recruiters wasting time and bandwidth screening ineligible or uninterested applicants. It also results in applicants feeling catfished when they discover a "remote" role isn't really remote. That, in turn, creates candidate dissatisfaction and higher drop-off rates.
"They're using it almost as clickbait, to draw people to look at the job listing," said Nicole Wellington, 34, of some postings.

The lab research technician is looking for a research-analyst job she can do from her Temple Hills, Md., home and eliminate her commute. Over six months of searching, she said she had seen at least 20 listings labeled as remote but ultimately required in-office work. In one instance, she found out during a pre-interview screening call.

If she discovers an on-site work requirement, she said, she will withdraw her application. "It does feel like catfishing, now, with jobs," she said, referring to the practice of creating a fake online persona to trick others.

– Wall Street Journal
Things to keep your eye on
Job posts are for specifics, not generalities. Potential candidates want to see a clear picture of your job, company, and culture so they can make an informed decision about applying. (They also want to see a pay range rather than "competitive salary" or a similar phrase, so it's not just about location.)
Generalities can create confusion, which can deter qualified job seekers and attract unqualified ones. Here's a few dos and don'ts:
When location is a requirement, state it clearly
Do: Communicate any location requirements in job posts and in communications with candidates.
Don't: Invite applications from job seekers who aren't actually interested. Savvy candidates read job posts carefully so that they invest their time wisely. They're unlikely to apply if they don't meet a location requirement.
Why: Being clear about job location reduces hours spent screening candidates who don't want what you're offering.
Describe what applies to the job, specifically
Do: Get granular about where you expect the person to work, such as: "This job will work out of our office in Los Angeles, California."
Don't: Write something vague such as: "At Acme, non-exempt roles are required to work onsite. Consult with the hiring manager if the policy applies to this job."
Why: Job seekers want to know where you expect them to work, and job posts are the place for specifics like that. Including location in the job post shows that you care about the candidate. You're explaining the conditions or requirements of the job rather than telling them to figure it out themselves.
Just remember to be consistent. We've seen companies include a location policy in boilerplate copy like the About Us section, only to contradict it in the job post.
Don't catfish applicants with confusing messages
Do: Be clear about the strictest requirement in the job post, such as: "This is a hybrid role, and you will be onsite three days per week at our Los Angeles office." Reinforce that message during the phone screen, being explicit that coming into the office is an actual requirement.
Don't: Confuse things with a generic statement such as: "This is a remote role, but you will be in the office sometimes."
Why: Being vague about location flexibility (e.g., a generic statement in the perks or benefits section) reeks of catfishing.
When job location is negotiable, say so
Do: Mention core location requirements in the job post but, if applicable, tell candidates during the recruiting process that flexibility is a perk that can be negotiated.
Don't: Assume that candidates will ask whether job location is flexible.
Why: Job seekers want to know if job location is negotiable alongside other material issues like compensation – and, if so, when they should bring the subject up.
Also, vagueness can cause downstream equity issues. Women already expect starting salaries that are 20% less than men's, and Black men already expect lower offers than other men. If you're not considering location perks in equity audits, it's a good idea. You can clarify policies around the job types that are eligible and measure the process to ensure equity (e.g., what types of candidates get the perk most frequently).
Be clear about job location
The pandemic ushered in a new era of onsite, hybrid, and remote jobs, and job location is now a key piece of information for today's candidates. They want to see it in job posts because they're looking for a clear picture of the job, company, and culture.
Be clear about what type of job it is: onsite, hybrid, or remote. Be consistent throughout the job post so that the title, location, and description all say the same thing. And repeat the message in multiple places in the job post and throughout the recruiting process.